By Graham Oliver, JUNG UK
JUNG UK is one of 19 subsidiaries of the German parent company Albrecht JUNG GmbH & Co KG. JUNG products have been available in the UK for many years, but not through dedicated JUNG channels, which led to insufficient specification business. My own company, Door Entry IP Ltd (DEIP), was the Siedle distributor, and started to work with JUNG when it made its Synergy agreement with Siedle to integrate JUNG indoor stations to work with Siedle door entry panels. It soon became apparent that our track record of working with specifiers, designers and architects would be ideal for JUNG, and in 2017 DEIP adopted the trading style of JUNG UK, responsible for all sales in the UK and Ireland. Our consistent progress eventually culminated in the formation of Albrecht JUNG UK Ltd in April 2019, which now incorporates the business of DEIP and moves forward proudly as a JUNG subsidiary.
As such, we work very closely with our German HQ in Schalksmühle and also with many of the other subsidiaries. Although the current team in the UK is comparatively small, we have all of the resources of a large manufacturer of more than 1200 employees, and whilst we may be 400 miles away from the HQ, it is as if we are in the same office. This works very well for us and our customers.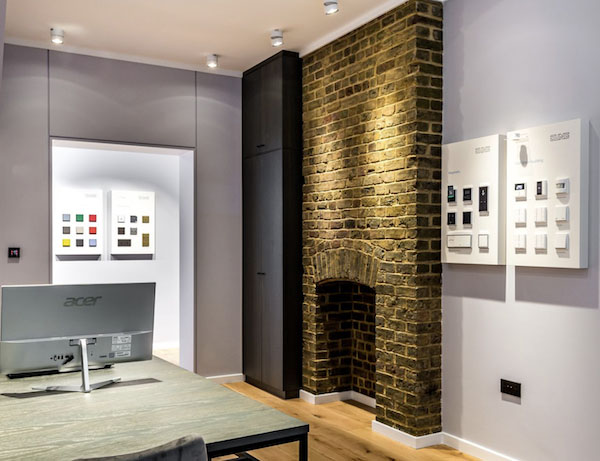 JUNG product offer
JUNG is a premium supplier of modern building technology. Lighting, blinds, air-conditioning, energy, security, door communication and multimedia – the functional diversity of JUNG systems covers all areas of modern electrical installation. Of course, JUNG has been a major manufacturer of KNX products from the outset and although we are famous for our award-winning switches and room controllers, we are also a major manufacturer of actuators, controllers and power supplies – indeed everything required for a KNX project! It is important to note that we also have a huge range of 230V products. We regularly provide solutions for homes, apartment blocks, offices, hotels, ocean going vessels… the list goes on.
The London showroom
The decision to open a showroom was easy. We have a very wide range of products and finishes and also a considerable amount of technology. Our clients, be they designers, engineers, installers or end users, always like to see and touch the product, but they also wish to see it in operation. Experiencing, at the touch of a button, a lighting scene, lowering of the blinds, turning on the TV, controlling heating etc makes it an easier concept to understand. Seeing the range of finishes in plastic, metal and also in the Les Couleurs® Le Corbusier colours is only possible in such an environment.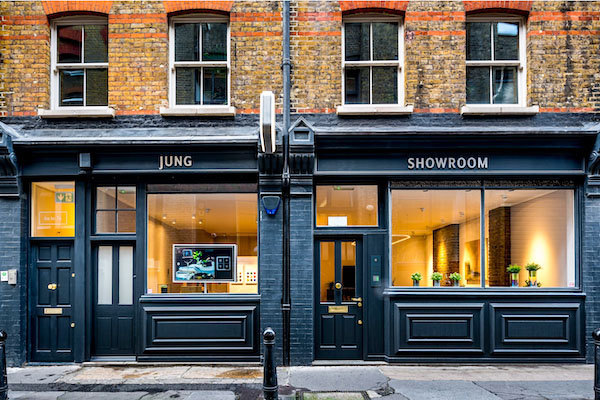 A key part of our work at the showroom is to support the international market, and since London is world-renowned as a major centre for architects, designers and building engineers, we chose a double-fronted building in Albemarle Way – a very busy walkthrough in the heart of Clerkenwell, where a high density of these 'top end' designers can be found.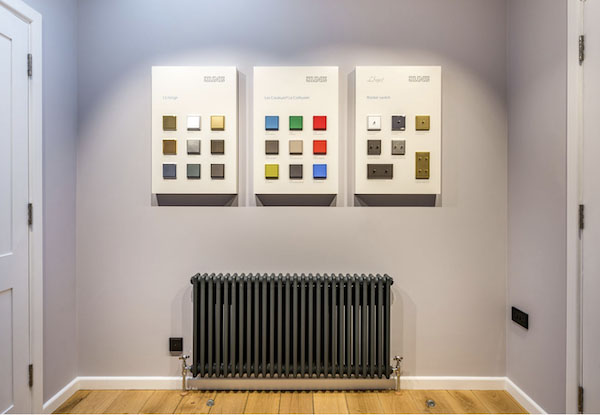 The showroom was designed together with our colleagues in Germany who worked closely with us and used their invaluable experience to help us create an outstanding workspace and showroom facility. We occupy the ground floor and basement, and a considerable amount has been invested in a complete refurbishment to provide the best possible environment for our products.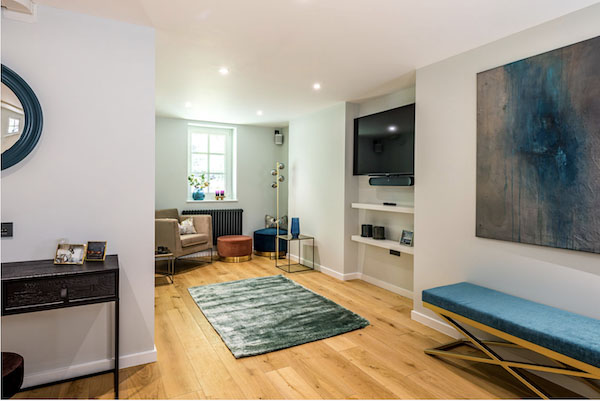 We have created a full mock-up bedroom with JUNG KNX switches, touchscreens and 'Plug & Light' lighting, and a living room with similar functionality including Alexa light control. Obviously, we are showing off our various ranges of 230V and KNX switches, including new products for 2020 in matt black and white finishes, and of course, the entire premises, including lighting, heating, blinds etc, is KNX-controlled.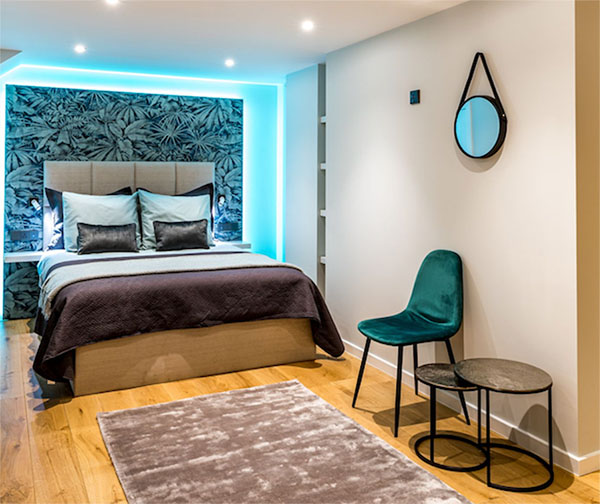 We also have a meeting room as well as 'break out' areas. We offer regular product training at the showroom and also allow the use of the showroom by our clients for client meetings with their customers. Indeed, we actively encourage installers to bring their clients to see what is available and to see in practice how professional smart home systems work.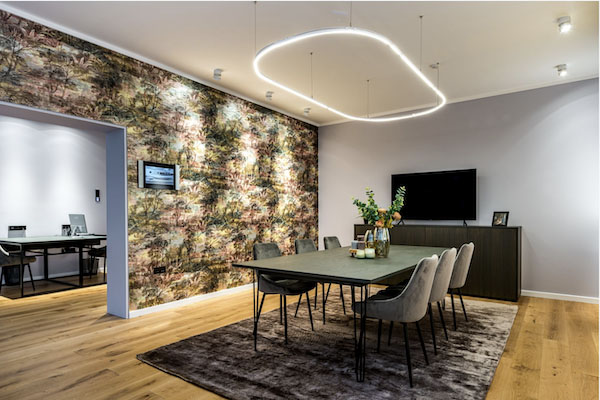 Adapting to lockdown and social distancing
We had planned a formal showroom opening, but COVID-19 got in the way! We anticipated lockdown well in advance and ensured that all staff were prepared and fully-equipped to operate from home. Regular meetings using Microsoft Teams became the norm early on, and still continue. We also used the Government's COVID-19 resource which was really useful both before closing, during and in advance of re-opening.
Business during lockdown, has been surprising. Inevitably the delivery of orders in the UK slowed because of construction restrictions, but our level of activity for future projects didn't diminish. We closed the showroom temporarily, but as we did not furlough staff, we have been working with existing contacts as well as others new to us, who were perhaps unable to find support elsewhere.
The showroom re-opened on June 15th under strict social distancing rules, and we have already been visited by designers, architects and installers, many of whom had expected to visit pre-lockdown, whilst others requested an appointment during the lockdown period. Indeed, the showroom is gaining quite a reputation!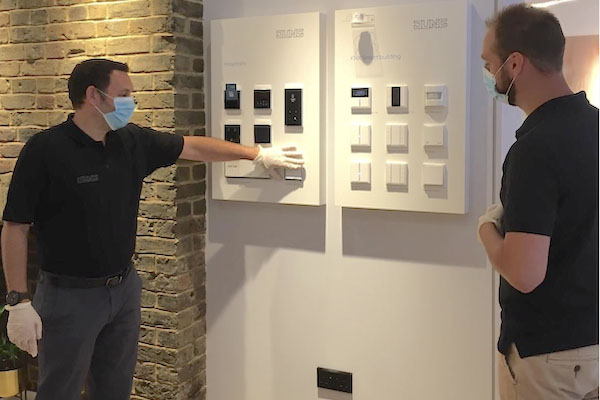 At the moment, to maintain social distancing, we have two 'slots' per day which are carefully controlled by our Showroom Manager, Amelia Cain. Visitors must book an appointment and are sent an email in advance confirming that we operate to government guidelines. The email also outlines what to expect, and confirms that masks, gloves and sanitiser will be made available.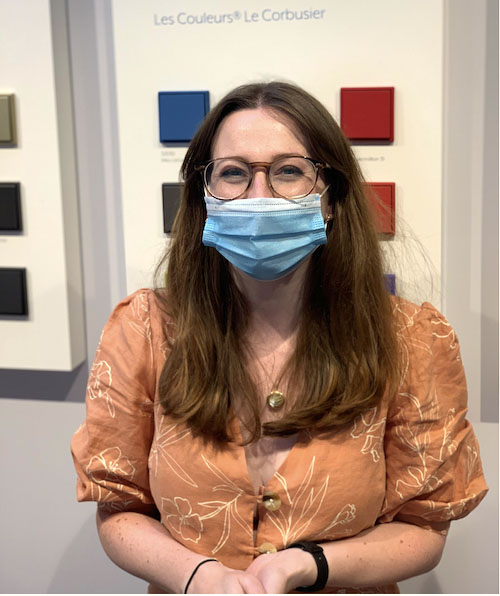 The opening week was booked to capacity, and bookings are constantly being added. One of the surprising challenges is that around 90% of visitors do not wish to wear masks or gloves, although our staff are required to do so, and social distancing is compulsory. In addition, Islington Council is making more and more pedestrian and cycle ways, which makes life even easier for visitors.
Looking to the future
Colleagues overseas are now regularly referring their London-based designers to visit the showroom to see the products that they have specified. However, we are often independently approached by designers to help them choose the best products for their overseas projects. In these instances, we work through the project with them until it reaches the point where it is time to hand over to another subsidiary for pricing, contractor discussions and finally the order. So far, during 2020, in addition to our domestic projects, we have worked with designers on projects based in Austria, Germany, France, Italy, Spain, Switzerland, Qatar, Georgia, Portugal, Faroe Islands, Denmark and Dubai.
Looking ahead, we are confident of positive growth and expansion. In the meantime, I believe that larger installers/practices will become leaner and fitter and many new start-ups, as a result of those job shrinkages, will become potential customers. Over the longer term, once we move further out of the damage to the economy that the pandemic is doing, the outlook for the future is positive.
Graham Oliver is the Director of Albrecht JUNG UK Ltd with a trading style of JUNG UK. JUNG is a premium supplier of modern building technology, including lighting, blinds, air-conditioning, energy, security, door communication and multimedia.