Out with the old, in with the new. That's the philosophy innovative SMEs like Haigerloch-based Theben AG are adopting as they face the new world in front of them, viewing it as something to embrace rather than fear. It was this spirit that propelled Theben into the 27th edition of Germany's TOP 100 competition to find the country's most innovative businesses – and as of 19 June, it can officially count itself among those ranks. Theben was assessed in class C (for companies with more than 200 employees) during the rigorous selection process, and performed particularly well in the categories focusing on the promotion of innovation in upper management tiers and open innovation. This marks the second time that the company has been selected as a top innovator.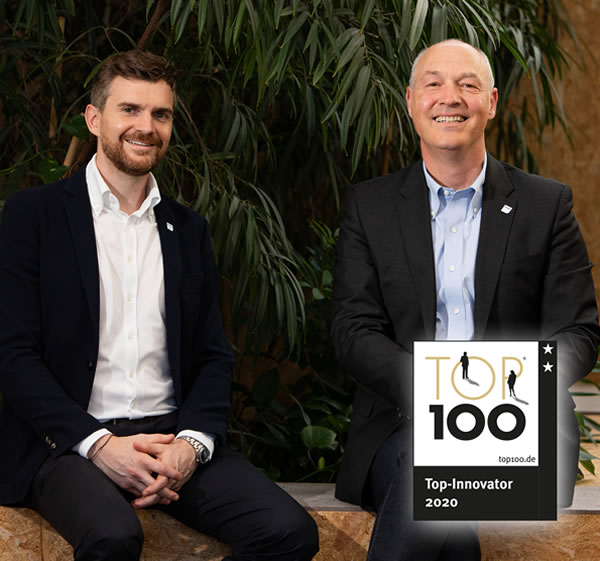 Located in the Swabia region of southern Germany, Theben develops and produces products for time and lighting control, climate control, and building automation. Its two Management Board members, Paul Sebastian Schwenk and Thomas Sell, consider the process of improving and enhancing its products to be a vital element of its work and devote around 13 percent of the TOP 100 company's annual turnover to the development of innovations.
Recently, Theben established a new Platform & Innovations development department with a focus on image processing, sensors, artificial intelligence (AI) and intelligent electricity meters – also known as smart meters. "There's a lot we can achieve with AI algorithms, especially in the areas of network control and energy management," explains Schwenk, who is now the fourth generation of his family to manage the company. The CONEXA 3.0 smart meter gateway marks the first product that is ready for market and Theben hopes that it will herald a large jump in turnover over the next three years. Designed to coordinate electricity supply and demand in real time, it fulfils a key need in the development of e-mobility solutions.
The two-time TOP 100 company also collaborates with other businesses in developing and marketing its smart home innovations, and in creating smart city technologies. In addition, it is the co-founder of a school for start-up businesses and a member of the regional organisation Startup Angels Alb-Bodensee.
The TOP 100 competition
Since 1993, competition organiser compamedia has been awarding TOP 100 accolades in recognition of SMEs with highly innovative achievements and outstanding stories of innovative success. Its scientific method of assessing competitors has been managed since 2002 by Professor Nikolaus Franke, the founder and director of the Institute for Entrepreneurship & Innovation at Vienna University of Economics and Business. Science journalist Ranga Yogeshwar acts as a mentor to the TOP 100 rank-ing, while the Fraunhofer-Gesellschaft organisation for advanced research and the German Federal Association of Small and Medium-Sized Enterprises (BVMW) serve as project partners. The ranking process is also supported by media partners in the form of manager, Impulse and W&V magazines. For more information, visit