2020 had a dazzling start to celebrate the 30th anniversary of KNX. With excellent results in market studies in KNX's core countries, as well as in ETS sales, confirming what everyone already knew: KNX is the number one system for smart home and building if one is looking for a vendor neutral and fully integrated solution.
In spite of lockdown measures in place in many countries worldwide, KNX remains fully operational and sales activities show comparable figures as in previous years.
"Whatever the situation, KNX never stops thinking out of the box", confirms Franz Kammerl, President of the KNX Association, "but never forgetting to always build on top and ensuring upward compatibility."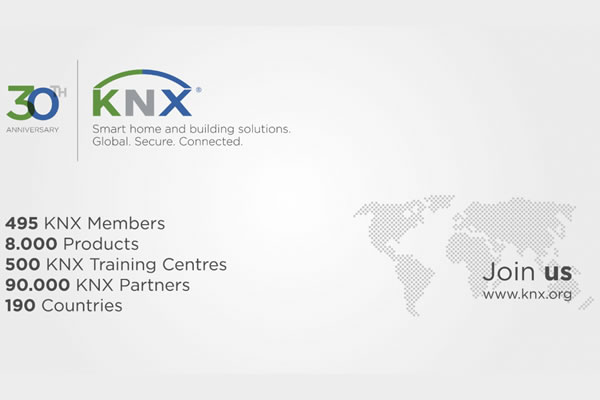 Highlights include:
KNX Secure – the first products by KNX members are now available and in high demand for environments where cyber security comes first.
the KNX IoT specifications are being finalized. As the first ever vendor neutral standardized IoT interface in the world of home and building automation, KNX IoT gives unprecedented 'IT friendly' access to data in the millions of existing KNX installations worldwide, and opens up a world of potential service offerings on top of this data.
In the age of renewables, e-mobility, e-storage etc., KNX is extending its offering towards energy management applications.
The new Generation ETS 6 is under full development with clear system improvements, such as KNX Secure Proxy, KNX Segment Coupler and KNX RF Multi S-Mode.
KNX is lowering the threshold for newcomers to get acquainted with the technology via eCampus and KNX Virtual, with an imminent launch of a new version with extended HVAC functions.
Despite these innovations, the technical working groups are already debating further improvements such as standardized firmware update, easier handling of security keys, power consumption improvements for KNX RF, KNX couplers with applications, RF extensions for the US market and many more.
"The above clearly shows that KNX intends to stay ahead of the competition at all times, and is constantly improving its offering", says Mr. Joost Demarest, CTO/CFO of KNX Association. "On top of that, the current situation will give a substantial boost to the further digitalization of our society, where KNX was already a forerunner 30 years ago and is still today".
"There is no question," says Mr Heinz Lux, CEO of KNX Association, "that having spent so many hours in the home environment in the last months, will have a positive effect on what people will be ready to invest in improving this environment. Many thousands of home and building owners, installers, integrators, training centers, universities, national group organizations, user clubs have already taken the decision that KNX is the right horse to bet on. I am sure that many will follow suit."
If you are already a proud member of the KNX community, many thanks for being with us. If not yet, why not join now?