By Yasmin Hashmi, KNXtoday.
The built environment touches on almost every aspect of human life, from home to healthcare to education, leisure, commerce and industry. In this era of major challenges, KNX is showing how technology can help shape a new relationship between buildings and the wider world, that benefit both occupants and service providers.
KNX is a worldwide standard with a thirty-year pedigree, and is well-proven as an overarching control system within a building or group of buildings. Not only is it supported by thousands of backwardly-compatible KNX-compliant products covering a wide range of applications, it can interface with many other control protocols in order to integrate them into a coherent, robust and reliable whole. The logic that runs a KNX control system is programmed through one software tool, namely ETS, and this includes the control of devices that use the other protocols too.
The driving force behind KNX, namely the KNX Association, has always been forward-thinking. It engaged with the idea of the 'smart city' some time ago, and sees KNX as not existing in the silo of a building, but taking advantage of the Internet of Things (IoT) to reach out to systems and services beyond.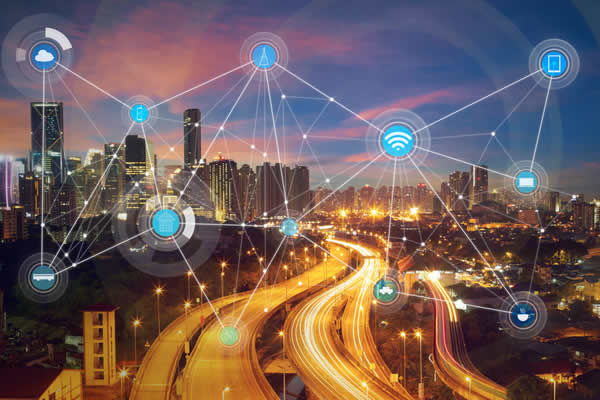 What are services?
In a nutshell, a service is a setup that is external to a KNX system, that generally involves human or AI intervention as a result of data received from the KNX system. For example, an external carer could be alerted to a problem with a vulnerable person thanks to KNX sensors and alarms within the home, and could then take remedial action.
This could equally apply to a maintenance service provider, who might well be monitoring several premises from a remote location, perhaps using a PC and visualisation, or tablets and smartphones. If critical levels in temperature, air quality, carbon dioxide or humidity are sensed, appropriate alarms can be sent to the security firm which could then act appropriately. In the case of remote monitoring and diagnostics, problems could even be anticipated before they occur, and preventative measures taken.
In the case of an alarm received by a security service provider who is monitoring technology such as smoke detectors, leakage and glass breakage sensors, earth leakage circuit-breakers, motion detectors, etc, they could choose to activate security cameras, indoor and outside lighting, roller blinds, ventilation and/or other loads via KNX, and inform appropriate parties such as the building occupier or owner, neighbours and emergency services.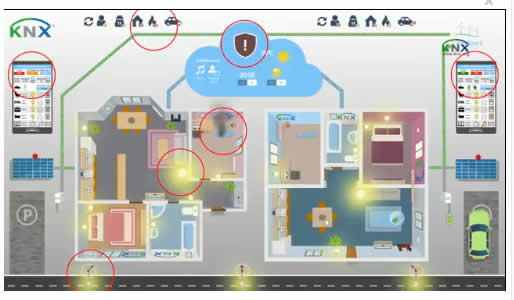 Another example is where, using cloud services, your local power generating system communicates with the regional energy supplier in order to optimise energy usage. The local system could inform the supplier that thanks to current and forecast conditions, you will be using your own energy for a given time, or will require their energy as a supplement. Additionally, it could determine in real time, whether to use the locally-generated power and store the external power for later use, because it is currently cheaper.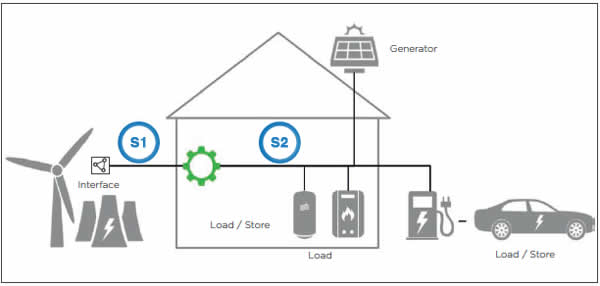 Data is the oil of the future
Many of us are already able to enjoy the benefits of an automated interventional relationship with an external service. On a tiny scale, I am thinking of my new printer. Thanks to the IoT and a monthly subscription, I no longer need to concern myself with ink levels. When they get sufficiently low, the printer orders new cartridges for me. This service is contingent on my printer being connected to the Internet. If it is not, my cartridges will be disabled. Even with this relatively simple service however, a surprising amount of data is generated, remotely monitored and stored. This includes my ink levels, page counts, types of documents printed, types of devices that initiated print jobs, printer serial number, cartridge provenance, etc, and that is all in addition to my personal data.
Imagine then, how much data an entire building generates! Indeed this is relied upon in the field of BIM (Building Information Modelling) and the digital twin, where models are used across the entire project lifecycle, including design and construction to operations and maintenance. If KNX installations are to exploit this data and share it with external systems and services, then a standard form of communication must be adopted.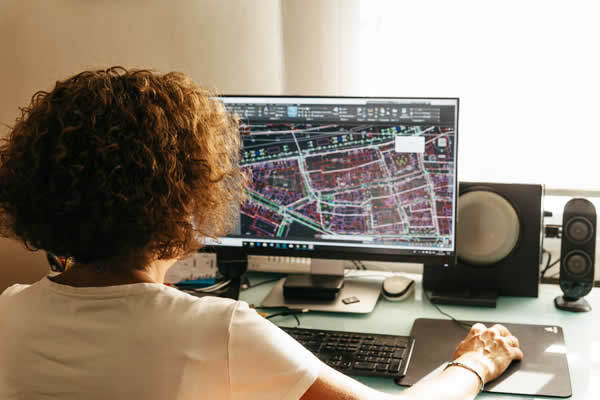 Implementation
The two major strands that KNX Association is working on to facilitate interworking between KNX installations and external services is the development of KNX IoT and ETS6 Professional software.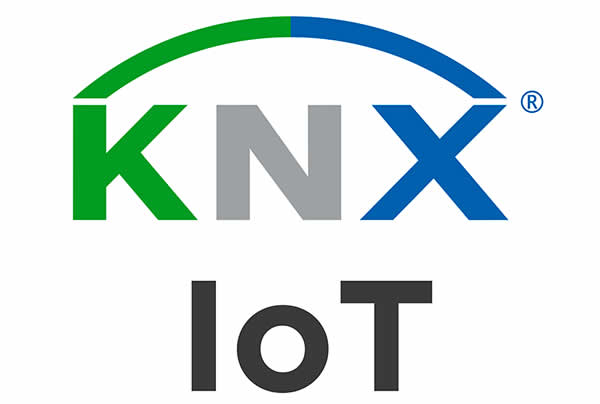 The IoT world needs data in a universally-understandable, machine-readable data format. A REST (Representational State Transfer) API (Application Programming Interface) can accommodate this, allowing external devices and systems to communicate with a KNX installation easily, in a format that is clear and understandable across the IT industry. The KNX IoT solution is being defined in coordination with key KNX manufacturers, and its specification includes the definition of semantic interworking principles.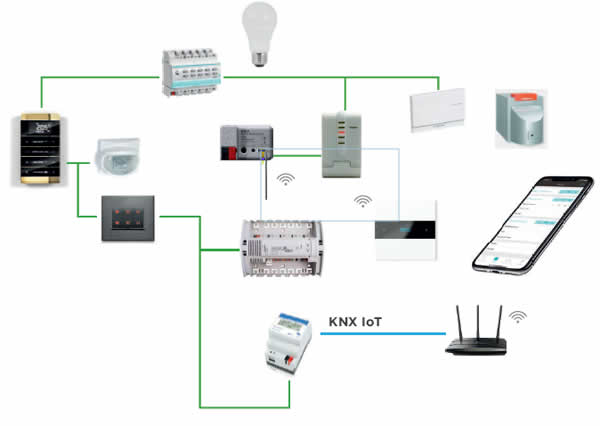 ETS6 Professional premiere, due to be presented in October 2020, is KNX's response to new requirements from the IoT environment, as well as KNX RF (wireless KNX), KNX Secure (encryption) and browser-oriented user interfaces. As already alluded to, for KNX projects to be understood outside the KNX world, the information they contain must be prepared in a machine-readable format that is comprehensible to third parties, allowing it to be understood and further processed by higher-level control systems. KNX projects also need to be documented in the BIM environment. To that end, ETS and all KNX products will be progressively equipped with internationally-standardised descriptions and tags, and ETS6 will provide this information as an export file.
Safeguards
A major requirement from KNX IoT is that once a project is handed over by a KNX professional, the customer can use things from the Internet without negatively impacting on the KNX project. Part of the service may also be to provide the customer with controlled access to certain KNX data, and granting them the necessary authorisations. Whilst access to KNX data from the outside traditionally entails an interface such as visualisation on a PC with USB, it is now possible to provide a secure connection with smart phones and tablets via VPN.
Communications with external services are likely to occur in the public domain, so they will be exposed to hacking. Fortunately, the connections within the building and between the building and the service provider can be protected using KNX Secure, ensuring the encryption of telegrams and data and therefore secure data exchange between the parties. Indeed KNX Secure has become the world's first vendor-independent security standard for building automation.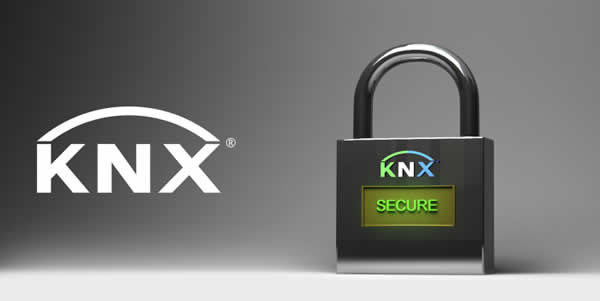 Benefits of KNX with services to professionals and their customers
Having the flexibility to integrate KNX with services to keep customers safe, comfortable and energy-efficient means an increase in business opportunities for the systems integrator. Using a standard that has a proven track record and is driving development in this field reassures customers that their installation will be reliable, sustainable and fit for the future. As an increasing number of functions are carried out remotely, KNX with services offers the possibility of heading off problems before they occur, facilitating appropriate responses should they do so, and improving efficiencies and comfort.
Since a single KNX IoT interface is all that is required, interactions with service providers are simplified, meaning more opportunities for the systems integrator to concentrate on perfecting their projects through ETS. Indeed the KNX IoT interface causes no additional work if KNX projects are documented properly.
KNX professionals can offer limited access to KNX project data and still guarantee system performance without the threat of problems caused by third-party interference. In addition, having semantic data as part of the KNX product data makes planning and design more transparent, which benefits collaboration between planning offices and installers.
From the customer's point of view, they can engage the services of a KNX professional with confidence, knowing that external devices and systems can communicate with a KNX installation easily – not in a proprietary format, but in a format that is clear and understandable across the IT industry. So, whilst a KNX system can remain an interoperable world in its own right, it can readily interact with other worlds too.
Conclusion
We do not live, work and play in silos; we need to engage with the wider world. Thanks to KNX IoT and ETS6, KNX professionals can offer their customers just this – the opportunity to reach out and seamlessly and safely interact with a whole range of external services to make our buildings, neighbourhoods and indeed cities smarter than ever.
We will keep you updated in the coming months on how you can get involved with services and KNX.