By Simon Buddle, Future Ready Homes.
Exhibitor stands have been dismantled, Wi-Fi networks switched off, VIP lounges emptied, flight cases packed and carried out of the RAI conference centre. This is the final curtain for Amsterdam. ISE has finally outgrown it. The entire city has been creaking under the weight of ISE for a long time now, but it has been a wonderful host over the past fifteen years (yes, FIFTEEN years!)
I've grown old with this show. I've only missed one, my children went to university and left home, and technology has taken huge leaps forward. In 2005, the first show at the RAI, the iPad didn't exist! Remember all of those GBP£5000 touchscreens we used to install? The first 1080P TV sets came to market in 2006 and HDBaseT was still just an engineer's pipe dream.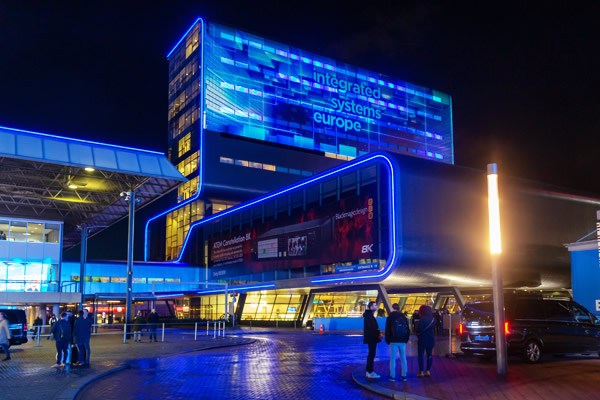 This year's show presented delegates with several challenges, not least of which was the Coronavirus outbreak. There was also the torrid weather at the beginning of the show, with flights being cancelled and many people, me included, having to resort to train travel in order to get to Amsterdam. And what a joy the train was! Four hours door-to-door, with no sneering airline staff judging my suitcase size and threatening me with excess charges, only to lose the baggage en route. All of these factors contributed to a lower-than-expected attendance of 50,000 rather than the 80,00 that registered. It did at least mean you could walk where you wanted to go, rather than being carried along by the tide of people.
KNX grows
KNX is celebrating its 30th anniversary this year, and with an entire hall dedicated to KNX and the smart building, the growth of this section of the show was plain to see. Although Light + Building remains the stage for most KNX manufacturers to release new products (unfortunately now postponed until September), there were a few interesting arrivals worth a mention.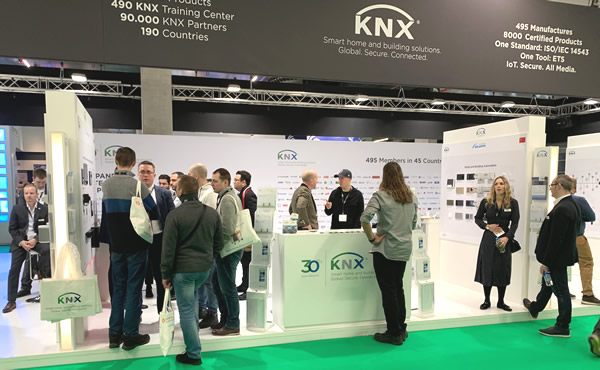 New arrivals
Faradite is a new player in the market. Based in the UK, it will be releasing a new range of keypads and PIRs later this year. Its focus is very much on aesthetics rather than technology. It has two keypad types, namely the TAP-1 and TAP-5. These can be purchased with a KNX BCU (Bus Control Unit) or they can interface to Lutron, Crestron and Loxone.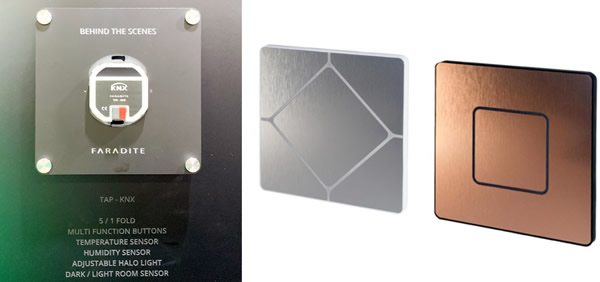 Other companies with a range of user interfaces and sockets on show included HDL, with a choice of sizes styles and finishes, and Jung, with flushmounting designs.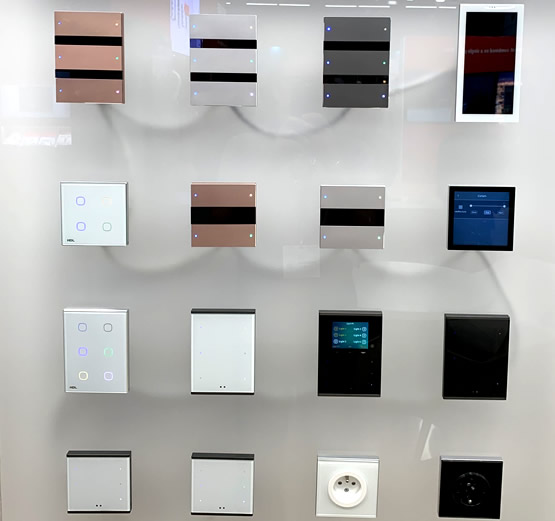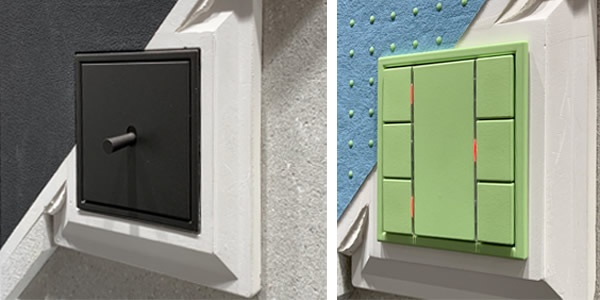 Detection
Steinel demonstrated the True Presence Multisensor KNX, or more importantly, Steinel showed off the vast amount of data you can get from the product's array of seven sensors. For environmental control, this really is a masterpiece. Feeding data from the sensors into an intelligent control system will enable installers to dynamically adjust the room controls to suit occupancy and room conditions.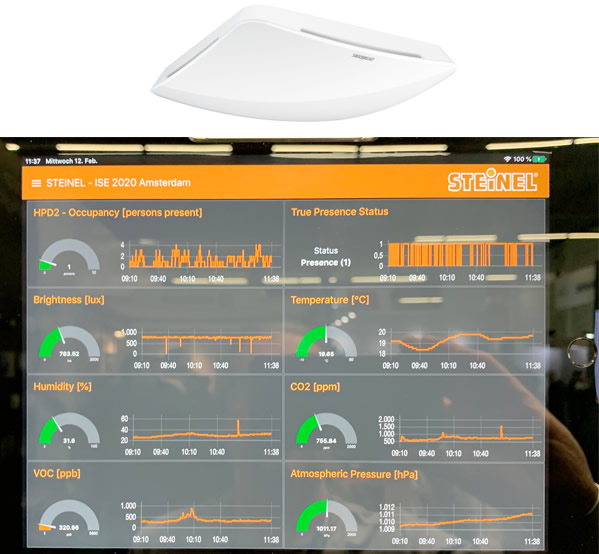 Whilst on the Steinel stand, I also saw another non-KNX-related, but important piece of newish technology, namely lighting control over Bluetooth. We're seeing more and more of this appear and it is an area to keep abreast of as it evolves.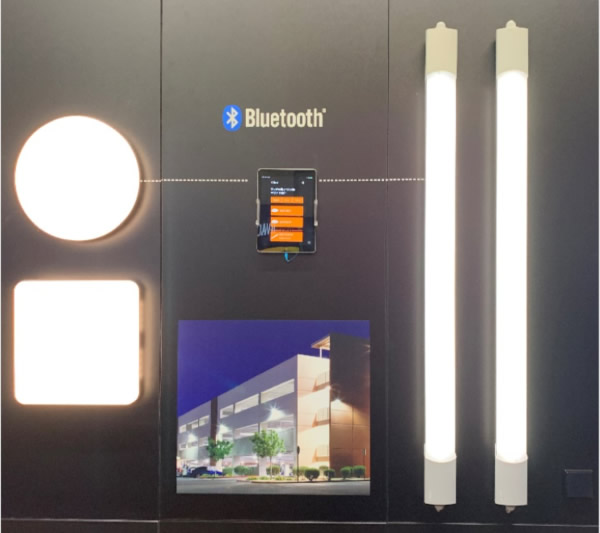 Security
With KNX Secure becoming mainstream, a new addition to the Jung family took my eye. The Jung IPR300 IP router is KNX Secure ready, boasts up to 8 simultaneous IP connections and doesn't require a separate power supply, making installation even easier.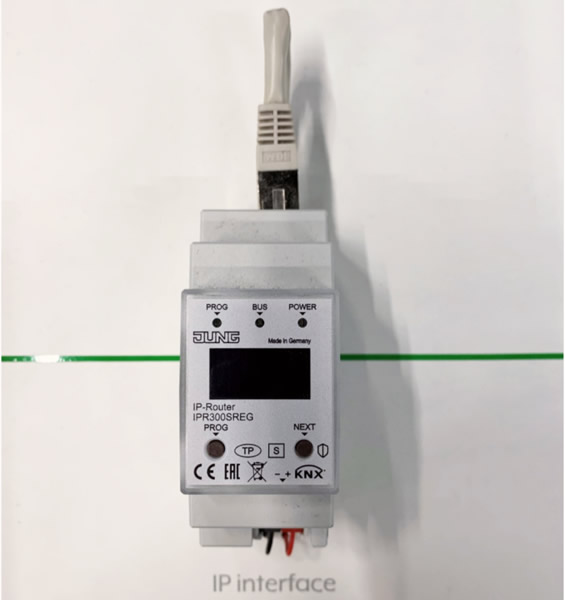 After much pressure from British installers Gira has finally created, in partnership with Comelit, a true multi-dwelling door intercom system. I spoke many years ago about the Gira G1 as a potential game changer in the MDU market. The system has concierge/switchboard facilities, making it a fully-featured door intercom. The SIP (Session Initiation Protocol) client now embedded in all new Gira G1s means that it can connect to other IP door intercom systems. Gira says that for now, it just supports Comelit, but the company is working towards opening that up to multiple IP door communication systems.
I think Gira's motto for product release is 'slow and steady wins the race'. It has been at least four years since the G1 came to market, and it can finally be said to be the great product we all hoped for.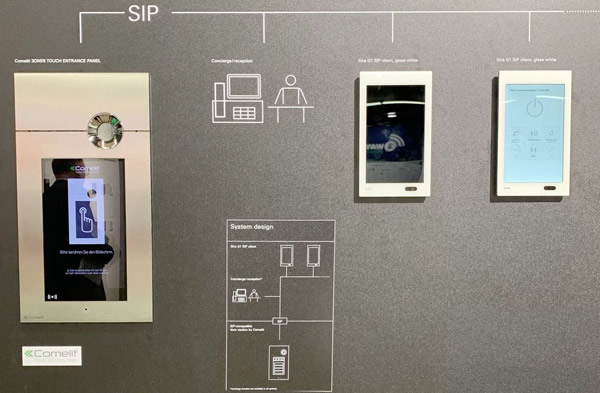 Connectivity
Among the other products that caught my eye was a series of KNX gateways from Ise that support remote access from anywhere in the world, and connection to Panasonic, Hue, Sonos, Viega, e-charge, Vaillant and others.

Control4 was showing some of its more than 100 KNX-enable products, that allow the integration of KNX lighting and comfort with audio and video entertainment in homes. The KNX line is also Amazon Alexa voice control-enabled.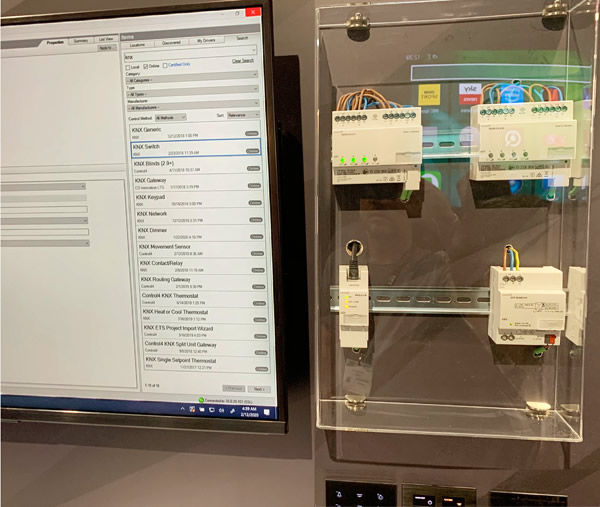 Conclusion
For me, it feels as though each trip around the sun goes a little faster every year, and the rate at which technology evolves is frightening. What will we be seeing fifteen years from now? Who knows?
Back in my day job in London, after the ISE show, I was asked to help out a landlord with a problem with some blind controls that had had their control wires cut by an over-enthusiastic electrician who was nervous that he may have damaged the controls. I connected it all back up, turned the Theben JMG 4 module back on, and everything came back to life. Quoting the landlord, "In the twelve years I've had this KNX system installed, I've never had one faulty bit of kit."
It is heartening to know that, amongst the maelstrom of technology, there are some good solid dependable products out there. So, vaarwel Amsterdam, vámonos Barcelona!
Simon Buddle CEng MIET, is a consultant for Future Ready Homes, a specialist in BMS and ELV services system design.