Better buildings for a better world
Building technology can mean many things to many people – from beautiful switches and ease of use, to energy saving and building management. We at Ivory Egg are all about providing the best possible outcome for the quality of the building, the residents, owners, community and the people who create it.
We believe System Integrators are the key to creating successful and innovative smart buildings as they can pull together diverse technologies to create simple, cohesive and reliable solutions for each project. Our aim is to help their businesses grow by achieving this.
Interior Designers and Architects are critical influencers in the design of great buildings. We help them to choose the right systems that enhance their designs and fit their client's budgets.
Engineers need the best possible advice and guidance in planning building management systems, so to them Ivory Egg provides education and assistance that is unique and based on years of experience from around the globe.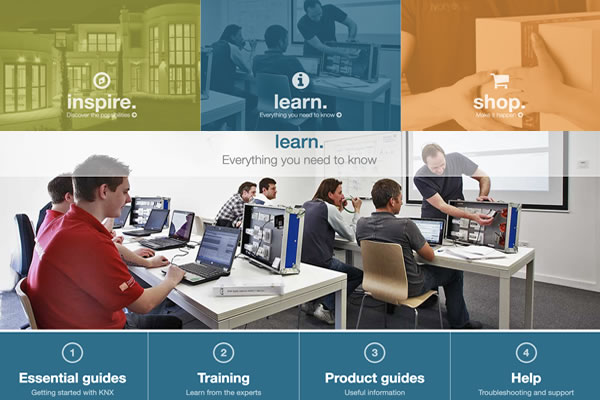 A knowledge base like no other
As the UK's longest running KNX distributor and training centre, we pride ourselves on being independent, and offering the most valuable and diverse library of knowledge in the industry. If you are an installer, engineer, architect, or M&E consultant offering building automation we can help with product information, specification, technical advice and first class training. Our website contains content developed over the course of the last 15 years by our knowledgeable team and industry partners, to support integrators at each step of their KNX Journey. 
Essential Guides
Getting started with KNX and Home Automation? Our essential guides will help you get up-and-running with KNX. They explain everything from underlying principles to installation. If you want to accelerate your learning don't forget that we offer a number of training and certification courses throughout the year. We offer full rebates on the cost of these courses based on future orders.  See our terms and conditions for full details. 
Topics include: What is KNX? KNX Wiring and Topology, Lighting Control with KNX, KNX Keypad Options and numerous other guides for technologies, processes and manufacturers.
www.ivoryegg.co.uk/essential_guides
Product Guides
A helping hand for your installations. Our product guides cover the most essential technical information from over a dozen manufacturers and over 70 individual products. We research, install and test products, then clearly disseminate the information to support you in selecting and installing the right products for your projects. 
www.ivoryegg.co.uk/product_guides
Help
Our knowledgebase of support articles. Working collaboratively with our customers means we supply, train, support and listen. The output from daily conversations between our customers and our technical team enable us to create articles in the help section of our resource library. The support articles cover commissioning, troubleshooting, fault finding and ordering for hundreds of different KNX products. 
www.ivoryegg.co.uk/support_articles
Inspire
Discover the possibilities. The inspire section of our site brings our customers cutting edge information about building technology and design. We aim to inspire the industry through sharing case studies, integrator stories, blogs and showcases. Let us inspire you with this Case Study for Fitzroy Place in London, read the success story of one of our integrators or discover how KNX can make buildings healthy. 
If you are looking for specific information on KNX or building automation speak to our team on 0203 8543 555 who will help you ordirect you to the relevant resources on our website. If in the unlikely event we don't have the answer we'll make it our mission to find out from our wide network of industry partners.