Stand 9.F170, ISE 2020
Experience and plan JUNG digitally with Augmented Reality.
Augmented Reality (AR) can widen the computerised perception of reality. The applications of this 3D real-time solution are multifaceted. The new JUNG AR-Studio app is a creative planning tool enabling builders, planners, architects and principals to better visualise their ideas and to realise and configure them in Augmented Reality scenarios. Surfaces, materials and colours can be seen like real photos as anytime and everywhere JUNG products and solutions can be depicted and positioned virtually in space with the new app.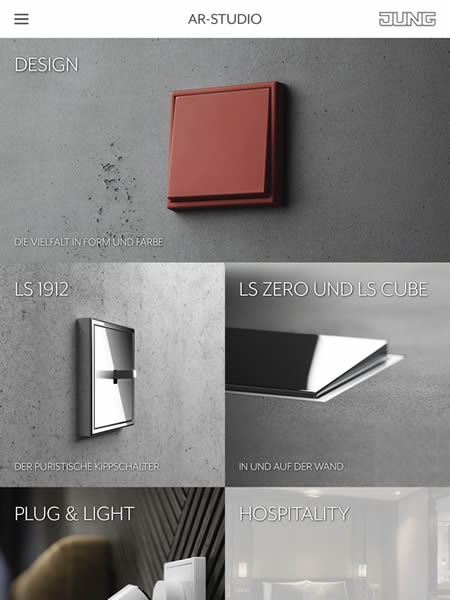 Just choose a switch programme, material and colour in the app and then fix a JUNG experience marker on the spot where the switch is to be placed later. The JUNG AR-Studio app now adds virtual 3D models of the chosen JUNG products to the live picture of the rooms. You can see on the tablet or smartphone how the switch is placed to advantage in the room and besides the interior. Trying out different frame designs, the effect of different types of metal – from aluminium via stainless steel down to brass – are depicted photo-realistically just as the 63 colours of the Les Couleurs® Le Corbusier range to be obtained exclusively from JUNG.
The intuitively operable AR app also shows the effect the flush-mounted switch series LS ZERO – integrated in walls and furniture – as well as the plain surface mount variant LS CUBE will have in a real environment. Of course, all this not only functions with the switches and sockets of the JUNG programme: KNX control elements, USB chargers, Smart Radio DAB+, spotlights and floodlights of the Plug & Light lighting system – the app allows for planning over 2,000 models of the varied JUNG product world realistically. Furthermore, AR-Studio provides valuable background knowledge and selected reference photographs of the individual products.
The JUNG AR-Studio-App is available in German and English free of charge via the App stores – or directly from: