2019 was another successful year at My KNX Store seeing the continued expansion of our client base. Driving the awareness of the KNX protocol and its benefits throughout the UK is a key company focus and we have seen the sustained growth of KNX projects across the residential, commercial, industrial and assisted living sectors.
Paul Kinghorn, General Manager says, "At My KNX Store customer service is at the forefront of our values. Building strong relationships with our existing and new clients is vital and our experienced engineers provide an unparalleled system / product knowledge for those new to the world of KNX. 2020 is set to be another exciting year for the team and with the upcoming ISE and Light + Building events later this quarter some anticipated new products to market".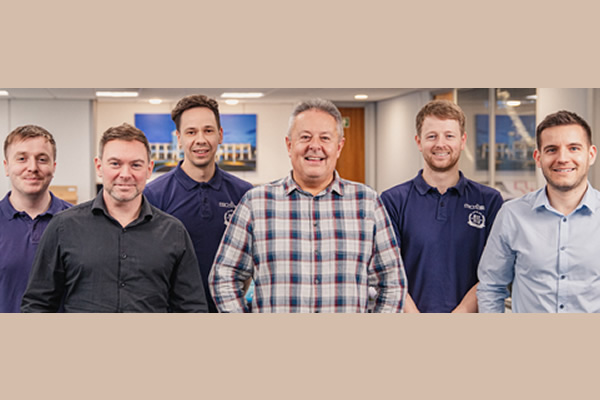 Expansion of the team:
In March 2019 we expanded our team once again with the addition of Business Development Manager, Pete Craggs and Technical Sales Manager South, Steve Lucas. Both Pete and Steve have brought a wealth of knowledge and experience to the team and have been vital assets in the fruition of various projects throughout the UK.
KNX Essentials Guide & Keypad Sample Cases:
In April 2019 we launched our My KNX Store Essentials Guide which has been a great tool in supporting our KNX Training Academy Graduates and those already working within the KNX industry. This includes a highlighted range of products from the industry's leading manufacturers, from pushbuttons, thermostats and touchscreens to power supplies, actuators and PIRs. This can not only be used as an information source across product lines but also to help specify / quote KNX projects.
Our Essentials Guide also includes a selection of front-end device bundles which are a great way to showcase various configured options across a varied range of finishes, configurations and functional capacities.
Following the publication of our Essentials Guide saw the launch of our Keypad Sample Cases. "We believe that providing our customers with a bespoke sample resource is a great way to promote the KNX range and secure KNX projects" said Kit Holmes, Business Development & Marketing Executive.
"We understand that allowing the end-user to get hands on with products, especially front-end devices such as keypads and thermostats, can be the difference between winning and losing a project for our customers." Our Keypad Sample Cases are available to our customers for free and include a selection of keypad options from the industry's leading manufacturers.
MY KNX Store Training Academy:
We are committed to driving the expansion of KNX within the UK market and to do so offer six KNX training courses to help develop the knowledge and experience of those new to and already working within the KNX industry. Our KNX Partner Certification course is our most popular holding five in 2019 and is the ideal choice for integrators wishing to offer KNX solutions. Congratulations to all our 2019 graduates.
At My KNX Store we also understand that completing the full certification course straight away can also be a big time and cost commitment if an integrator or business are still deciding if KNX is the right route for them. To assist with just this scenario, in October 2019 we launched our KNX Taster course. This free 4-hour course offers a offers a theoretical overview of the KNX protocol, its infrastructure and the benefits of KNX within the home automation, building control and BMS sectors and a great way to achieve a quick insight into the KNX protocol.
Events:
The My KNX Store team were on the road at lot more last year attending various promotional, networking and CPD events across the UK. In 2019 we were proud to sponsor all three CEDIA Tech Forums in London, Wetherby and Edinburgh. In addition, we attended the KNX UK Awards, KNX UK Summer Drinks, KNX UK Winter Drinks, London Build and CEDIA Awards.
Our 2020 event calendar will be confirmed shortly with our next stops being ISE, Amsterdam and Light + Building, Frankfurt on 11-14th February and 8-13th March respectively.
If you would like more information please contact knx@myknxstore.co.uk or visit: