CEDIA Education will return to Integrated Systems Europe (ISE) 2020 with a host of new courses at the heart of CEDIA's much anticipated professional development programme. This year, KNX Association is powering CEDIA Training at ISE to provide an extensive programme for technology professionals working with integrated systems, whatever their level within the industry.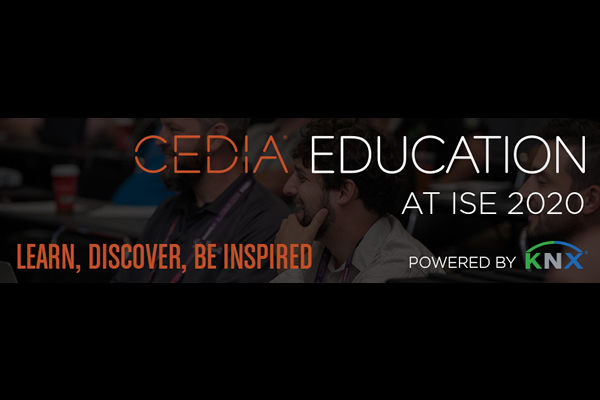 KNX is a worldwide standard that integrates unlimited solutions and design options with a unique choice of products from 500 manufacturer companies in 66 countries, into smart home and building solutions for comfort, security, and peace of mind.
"For a long time, CEDIA and KNX have existed next to each other and separately promoted the advantages of smart homes and AV systems" said Heinz Lux, CEO of KNX Association. "With KNX Training in place within CEDIA, and KNX Association empowering CEDIA Training at ISE, we made a giant leap for all professionals regarding a stronger future and a heightened availability of smart home and building solutions. The synergy between both institutes is already bearing the first fruit, best visible at ISE 2020."
"CEDIA Education at ISE has always been an important part of the tradeshow" comments Aneta Armova-Levin, CEDIA Education Manager. "Technology has continuously evolved throughout the years, and it's crucial to keep our industry updated and informed on the latest developments, and what better place to start than at ISE 2020. KNX shares our vision, and with so much great training in one place, for just one week, KNX's support of CEDIA Education at the show will prove invaluable. We have an exciting range of courses and encourage you to make the most of your time in Amsterdam and book early to avoid disappointment."
KNX's support alongside some of the most influential CEDIA instructors within the industry, promises to provide attendees at the show with informative and inspirational training throughout the four-day event. At ISE 2020, CEDIA will offer a range of classes that are valuable to all visitors, with practical advice from its global team of experts. Each programme can be identified within three overall categories, all of which are crucial for maintaining and improving skillsets in the growing industry:
• Technical Excellence
• Emerging Trends
• Business Success
CEDIA training at ISE offers something for everyone, no matter their skill level, at great value for money. CEDIA's All Access Training Pass gives attendees unlimited entry to CEDIA educations sessions during the show (excluding Monday's Cybersecurity Workshop). Register now and save with special early bird prices before 8th January 2020, available at €227.50 for members, and €280.00 for non-members.
For more information and to book your place today, visit