In 2020, KNX will participate at the ISE tradeshow, the world's largest exhibition for systems integration and AV professionals. Taking place from February 11 – 14, ISE 2020 is expecting more than 1300 exhibitors and 90,000 visitors. If you would like to learn the state-of-arts of system integration and AV, ISE is definitely not to be missed.
The KNX booth 9-F120 is located right at the entrance of hall 9, covering 168m2.
Entering the KNX booth, you will see many display panels, which are used to demonstrate the latest solutions from KNX manufacturers, as well the start@KNX space from KNX Association.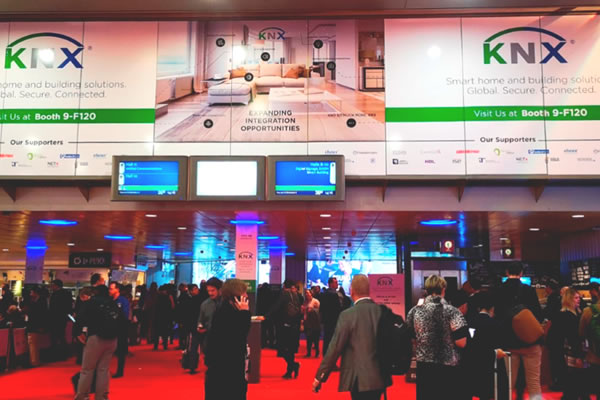 KNX members at the KNX booth
As every edition, some KNX members will be present at the KNX booth to show their novelties in KNX solutions, which will make the visiting experience eye opening and unforgettable.
Below you can find a list of the KNX co-exhibitors. Please follow us on Facebook and pay attention to this page to stay updated on their new solutions in building and home control:
Black Nova
Core Smart Home
Divus GmbH
EAE Technology
Elabnet
Elsner Elektronik GmbH
Freedompro Srl
Guangzhou SeaWin
Guangzhou tantron electronic CO.,LTD
Iridium mobile ise GmbH
IT GmbH
ise GmbH
Moorgen Deutschland GmbH
tci GmbH
Vimar SpA.
Weinzierl Eigineering GmbH
Yonnet
Zipato
Start@KNX
Discover the simplicity of home and building automation with KNX and become a certified professional.
KNX has a vast community of professional partners in more than 160 countries who have experience with our technology. Want to join this international family and become a certified professional yourself? Then visit the KNX booth and learn from Professionals, how they started with KNX and became successful.
KNX project onsite consultation
At the KNX booth in ISE 2020, KNX system integrators will be able to get onsite aid through consultation. A KNX expert will be stationed at the booth to answer your specific questions regarding your KNX projects, and work with you to find the best solutions to your puzzles.
This activity requires appointment; please keep an eye on this page and the KNX social media posts to get further details.
Pre-event highlight: Smart Building Conference
Taking place one day before the start of the record-breaking ISE exhibition, Smart Building Conference is the must-attend conference for professionals working in smart homes and smart buildings. The summit focuses on explaining the smart revolution taking place within the commercial and residential building environments.
KNX is once again one of the key participants for the upcoming conference.