By Philip R. Juneau, ATC.
As this is the inaugural article for my 'View from America' column, I'd like to be upfront about my main goal, which is to promote the adoption of KNX in the USA. So I thought I'd start by focusing on the simplicity and benefits of KNX when applied here and, specifically, how it is a proven, robust field level protocol and standard. I will also show its application in commercial buildings as a complete, multiple-trade, field level protocol with a streamlined interface into the overall building energy management system (BEMS), especially regarding IP convergence.
In this first article, I'll cover some of the key benefits:
• Streamlined design and commissioning.
• Installation material and labour savings.
• Multiple market options, proven and future-proof.
• Complete field level protocol across all trades.
Streamlined design and commissioning
The KNX topology has no limit to the size and scale of the building – it is equally well-suited to small residential buildings as well as large-scale commercial ones. One KNX line can support up to 64 KNX devices using a single power supply, and the lines can include multiple KNX lines of up to 64 devices by using an IP or KNX TP network, making it virtually limitless. This simplified engineering enables standardised and repeatable designs, resulting in projects being of higher quality and less risk, and greater ease of troubleshooting and optimisation. For the installer, it also means simplified installation requirements.
When the design is complete, the KNX components can be pre-programmed, thus reducing the technician's field configuration and commissioning time.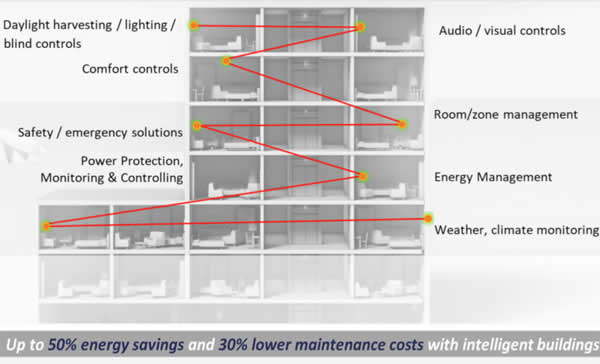 Installation material and labour savings
When using the KNX protocol completely for the occupant/room i.e., field level, you can save on costs thanks to less control wiring and power required for LED lighting, daylighting (blinds) and HVAC when compared to standard analogue control. Savings can also be made on the amount of installation labour to install the wire runs for all three trades, as well as on materials thanks to all three trades requiring only one combined room sensor/switch instead of three.
If that isn't enough, the robust KNX control signal in the KNX-rated cable allows for installation in traditional raceways, trunking, conduit and modern prefabricated wiring systems. This means that the KNX wire can be installed with the power wiring, negating the requirement for a separate raceway for low voltage (e.g., BACnet), thus saving significant time and money.
Multiple market options, proven and future-proof
The key benefit to the KNX protocol is that it is a truly open protocol system with certified products from many different manufacturers that seamlessly connect on the same network without the need for special application programs or drivers. With KNX based systems, there is a guaranteed forwards and backwards compatibility of products for extension on the existing bus network, making it virtually future-proof. Also, given the choice of manufacturers, you can select the best products for the best application. For example, you can prefer one manufacturer's DIN-rail products whilst selecting another for the switches and sensors. This provides flexibility for customers from both an aesthetic and application perspective.
Complete field level protocol across all trades
As a field level protocol for lighting, blinds (daylighting), HVAC, security, etc, KNX provides ONE platform and approach to all trades. This removes complexity and streamlines execution during design and construction for architects, engineers, contractors and building owner/operators. KNX also has multiple interfacing options with other systems and protocols through established gateways that are available from numerous suppliers. These include OPC and BACnet servers, DALI and many others. These interfaces and gateways are commonly used all over the world, having been tried and tested as proven.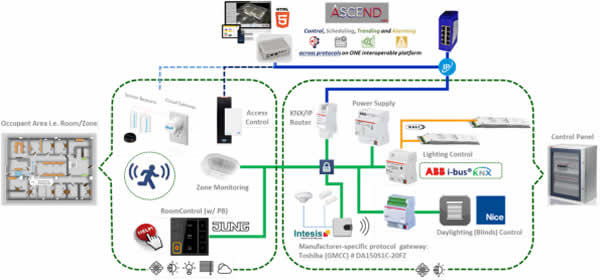 For a truly intelligent building, the interoperability that KNX offers is a huge benefit that unites the trades' control applications together, allowing them to collectively operate and share information about the same monitored and controlled space. Indeed, we now have a truly intelligent commercial building case study on KNX here in the USA, which will be shared in future articles.
Conclusion
Given the many advantages and cost savings mentioned above, KNX is the only logical choice for an interoperable, future-proof building control system that benefits everyone. With a worldwide support network, training centres and many manufacturers, it is a low-risk, high-return solution for your new-build or renovation projects.
If you want to know more, come and join our fast-growing KNX team here in the USA! We'd love to hear from you, so please write in or comment below.
Philip R. Juneau is the Chief Commercial Officer for Automated Technology Company (ATC), and Vice President of the KNX USA National Group. ATC's mission is to transform today's buildings into tomorrow's net-zero infrastructure by ensuring the highest levels of safety, comfort and efficiency for the overall well-being of its occupants and the overall environment.