By Simon Buddle, Future Ready Homes.
Fire is without doubt one of the most devastating incidents that can befall us. The ferocity and magnitude of house fires can leave a home a decimated pile of ash. People who escape stand and watch as thousands of gallons of water are poured onto their home. By the end of this terrible event they are often left with nothing more than the clothes they stand in. A truly horrendous, life-changing disaster. But life is saved if we have safety systems in place to alert and enable people to leave the building quickly and safely.
Fire alarms
A fully-featured fire alarm consists of a large control panel, typically with a display. These are, at best, unsightly – particularly given the requirement for them to be located close to the main entrance door. Cabling will consist of FP200 or FP400 fire- retardant cable with any number of call points i.e. the big red break glass panels, dotted around the building. Such a fire alarm system is required, in nearly all instances, for commercial premises.
For domestic premises, the regulations in the UK have recently been updated with some minor tweaks to system grading and the addition of carbon monoxide detection. The new standard 'BS 5839-6:2019 Fire detection and fire alarm systems for buildings Part 6: Code of practice for the design, installation, commissioning and maintenance of fire detection and fire alarm systems in domestic premises' states 'for New Build, Owner Occupied, a Grade D2, LD2D should be installed'.
The D2 part of the recommendation covers the system grading, i.e. what the system should technically comprise of, namely one or more mains-powered detectors, each with an integral standby supply consisting of a user-replaceable battery or batteries. The LD2D covers the scope for the protection within the dwelling; i.e. where and what to protect. LD2 covers escape routes plus high risk rooms and is defined as:
Category LD2: A system incorporating detectors in all circulation areas that form part of the escape routes from the premises, and in all specified rooms or areas that present a high fire risk to occupants, with the addition of Note D: including any kitchen and the principal habitable room(s).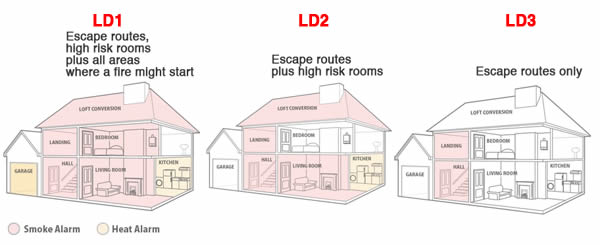 Using KNX to provide useful additional data
Many building controls officers and M&E consultants state the need for a fire alarm system to be installed. However, what they are less clear about is the grade or standard it must meet. You've probably worked out by now, that a KNX system is more than capable of meeting the Grade D2, LD2D specification.
If we are to design and install smoke and heat detection as part of our systems, we must be competent to do so. Assuming we are, then we can offer a wide gamut of data to the customer. Add in carbon monoxide detection – a 'must have' in the boiler room – and we can build a full picture of the protection status of the house.
So, what can we find out from a fully-integrated KNX fire alarm? To start with, we can establish where the fire is, and whether it is a fire or a heat alarm. The system can also constantly monitor for faults such as mains failure, battery failure or a fault in the smoke chamber itself, as well as constant monitoring of temperature. Alarm activation can be set up to trigger all alarm sounders.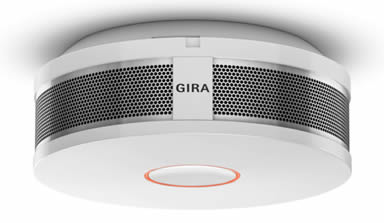 But there is more to the KNX smoke detector than meets the eye. As it is sitting on the KNX bus, it makes it easy to create a fire strategy that closes down other systems. For example, a primary action from any alarm trigger would be to shut down devices that are pushing fresh air into the house along with any associated dampers. So, the fans, AHUs (Air Handling Units) and MVHRs (Mechanical Ventilation with Heat Recovery systems) would all be switched off, and boilers, plant controls and general BMS too would immediately be disabled. Where relevant, emergency or pathway lights to lead people out of the building could be activated, and, whilst not a requirement in most residential homes, if an emergency gas shut off has been installed, this too could be closed, preventing damage from ruptured gas pipes in the building.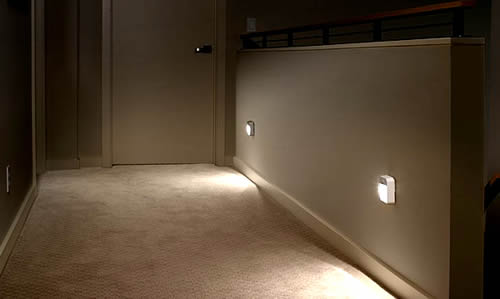 Fire strategy
Although a fire strategy is not generally required in the domestic environment, it is certainly worth considering writing one and discussing it with the homeowner. A fire strategy is simply a general plan of what will happen in the event of a fire. This might include who will be alerted and by what means (given that all sounders are going off already), and what systems will shut down, as well as a clear definition of exit routes from all rooms. (A quick note on sounder placement; the general rule is that a sounder should achieve 75dB at the bed head to wake sleeping occupants).
Conclusion
In every new home or refurbishment, a fire alarm is going to be fitted. Creating an alarm system using KNX and integrating it with all the other KNX devices would seem eminently sensible. Furthermore, the system will require maintenance and regular testing – two more areas where we are proficient.
A word of caution; please check with your insurers before embarking on such work, however, if we consider ourselves to be competent to design, install and test a fire alarm, it seems a perfect technical fit and a good addition to our business to offer such a service.
Simon Buddle CEng MIET, is a consultant for Future Ready Homes, a specialist in BMS and ELV services system design.