By Colin Price, Ivory Egg.
DALI is well known as a commercial lighting control protocol that works perfectly with KNX. The question is why and how can DALI be used for residential lighting control?

Addressable DALI lighting is organised in lines, or 'universes', of up to 64 addressable DALI ballasts. These are connected to luminaries and are each provided with a 230V and two-wire control bus (made simpler with a five-core cable), most often in a snaking daisy chain of up to 300m. If more than 64 lamps are required, then multiple universes can be connected together with KNX being used as the backbone. To keep bus traffic light, it is advised that sensors and other input devices are placed on the KNX bus. The DALI ballasts can be addressed individually, or in groups by a KNX-DALI gateway, so for instance, a group of living area downlights can be operated together as a group.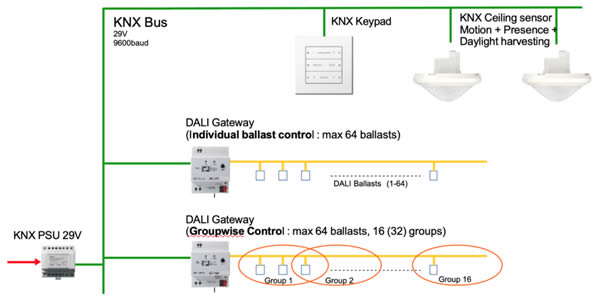 For many years, DALI has been a good solution for commercial projects such as offices due to the flexibility and ease of installation, but was not used residentially due to the high cost and poor availability of DALI-ready luminaires. Over recent years the costs and choice of DALI fittings and ballasts have dropped dramatically, making residential applications worth consideration. However it is not as simple as cost and availability, as other factors must be considered before using DALI as an alternative to more traditional phase dimming. In my view, here are the key factors:
Advantages of using DALI
DALI has a simple topology and does not require radial circuits from lamps' circuits to the distribution board. Amongst other things this means a lot less copper. It also requires less distribution board space since one module provides control for up to 64 lamps – a density not possible with phase dimmers. Within the distribution board, there is much simpler termination and cable management.
DALI ballasts typically provide a very smooth dimming curve for LED lamps, and once installed, lamps can be re-addressed and re-grouped with software rather than having to rewire circuits. Also, if an additional lamp is required after the project is complete, it can simply be added to the DALI bus and provided with 230V rather than running a new 230V radial to a dimming actuator in the distribution board.
As DALI and lighting design evolve to incorporate the wellness benefits of tuneable white (human-centric lighting), the control can be adapted without any change to the wiring already in place.

Disadvantages of using DALI
The primary drawback compared with traditional phase dimming is that the cost equation does not balance. Even if a reasonable number of circuits is being considered and so there is less cost in the distribution board, the luminaire/ballast cost is still higher. Estimates vary of a 50-100% increase in cost of a DALI installation over traditional phase dimming, depending on the number of circuits and lamps being considered.
DALI is not as simple to commission. Do not underestimate the added complication of addressing and configuring the DALI groups (largely sorting out addressing of the ballasts)! This will take added configuration and commissioning time. Likewise, do not underestimate the challenges of networks and component fault finding. DALI is not as simple to test and fault find since the ballasts are software-controlled and so are harder to test and debug for an on-site electrician.
Another point worth remembering is that whilst DALI products are designed to IEC62386, unlike KNX, they are not tested for conformity, so there is no guarantee that all products will play together. Most of the time, it is OK, but the one time it is not will be expensive to fix.
And finally, DALI is a 'send and forget' protocol, so telegrams are not acknowledge as received. This means that if a control telegram is sent to a ballast to turn on a light and there is a collision with another telegram, there is no failsafe for the light to, in fact, turn on, whereas the converse is true of KNX.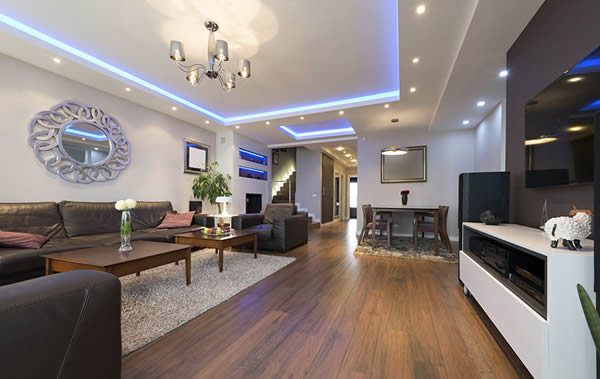 Conclusion
Installers must decide on a case by case basis whether DALI is the right solution for a project, but it may well form part of a blended technology for the lighting control that might include, phased, DALI, 1-10V and DMX, depending on the lighting designer. Also consider that the sensors in a project , such as keypads, motion sensors etc, are best on the KNX side of an installation for reasons of data traffic and functionality. With this in mind, the non-DALI lighting control may also be directly KNX-controlled with direct KNX-DMX, KNX-1-10V or KNX-LED devices.
It is worth noting that recently, we have seen many higher-end residential installations successfully benefitting from the flexibility and great dimming of a DALI/KNX installation, and have absorbed the additional costs of product and commissioning, with stunning results.
DALI certainly has its place in residential installations, but the pros and cons should be considered with eyes wide open.
Colin Price is the Director of Ivory Egg (UK) Ltd, Ivory Egg NZ Ltd and Ivory Egg Australia. He is also President of the KNX New Zealand national group.