Technology integrators who are looking to become a certified KNX Partner should look no further, as CEDIA® is hosting a KNX Basic Training course between 1st — 5th July and the 4th — 8th November 2019 at its Training Centre in St Neots, UK. This five-day course explores all aspects and principles of the KNX protocol, and for a limited time only, includes a special offer of a free one-day CEDIA Residential Networking course on the 7th October or the 4th December 2019.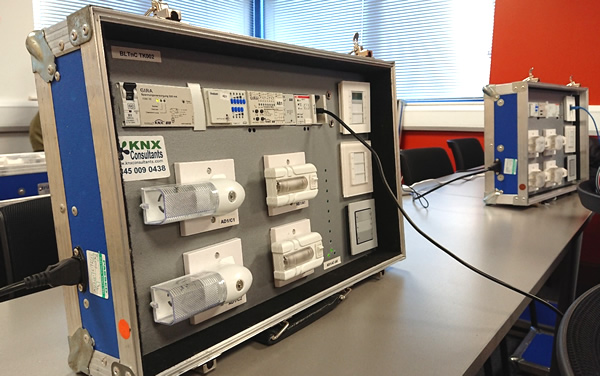 Matt Nimmons, Managing Director of CEDIA EMEA comments: "The KNX Basic Training course is a great way to really understand the fundamentals of the KNX ecosystem. This course includes both theoretical and hands-on programming exercises to build the attendees' understanding and confidence with the KNX system configuration tool."
Last year, CEDIA and KNX embarked on a partnership that saw CEDIA become an official KNX Training Centre, with the ability to provide KNX education to industry professionals. KNX Basic Training consists of several in-depth topics, providing essential information for any aspiring KNX partner and a crucial step to becoming a thorough industry leader:
• KNX Project Design ETS Professional – Basic.
• KNX Project Design ETS Professional – Advanced (only for informative purposes).
• KNX Commissioning ETS.
• KNX Diagnostics & Troubleshooting ETS.
• KNX System arguments.
• KNX System overview.
• KNX TP Topology.
• KNX TP Telegram.
• KNX Bus devices.
• KNX TP Installation.
• KNX Powerline.
• KNX RF.
The course concludes with an examination to test the knowledge gained. If a candidate passes this examination, they will automatically qualify as a KNX Partner. By the end of the course, attendees will understand the principle of the KNX Communication protocol and how to build, configure, diagnose, and examine a KNX system. In addition to the qualification, those who completed all five days will benefit from a free one-day CEDIA Residential Networking course.
CEDIA will be running the KNX Basic course on Monday 1st – Friday 5th July, and Monday 4th — 8th November 2019. For members, the course is £649 + VAT and £799 + VAT for non-members. To redeem the free CEDIA Residential Networking course on 7th October or 4th December 2019, contact education@cedia.co.uk.
For more information and to register for the KNX Basic Training course, please visit