MOU aims to revitalise smart-building industry and to establish KNX training center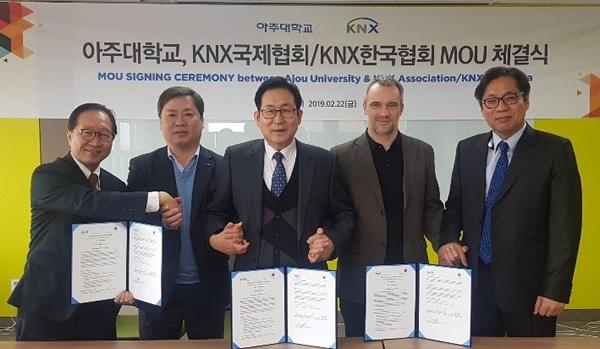 Ajou University (Vice president of Ajou University Industry-Academic Cooperation Foundation) and KNX Association (Mr. Christophe Parthoens on behalf of CFO/CTO) and KNX NG Korea (Chairman: Yun-hee Lee) announced on February 22 that the MOU Tripartite Agreement for the establishment of a mutual technical cooperation and education center was signed at the Ajou University's main building.
KNX is the worldwide standard for home/building automation, and an open-type protocol that supports interoperability of all the kinds of building control solutions in a variety of fields without manufacturers/national barriers. KNX Association is the international organization that supports the KNX standard and it has engaged in technical cooperation with over 40,000 companies from 128 countries, local national groups of 110 countries, and industry-academic cooperation with more than 100 universities worldwide.
The MOU is aimed at
(1) cultivating qualified professional human resources who have secured global competitiveness through the establishment of a domestic KNX training center in Korea, which is to be led by experts certified by the KNX Association, as well as
(2) mutual cooperation and technical interchange among the industrial-academic parties, proceeding joint projects, and technical application based on KNX by joining Scientific Partnership of KNX Association.
Mutual technical cooperation and promotion of joint projects through MOU signing
Through the MOU agreement ceremony between Ajou University, KNX Association and KNX NG Korea, each party agrees to proceed with joint projects in smart lighting/smart building field resulting in KNX-based technical cooperation.
It is also announced that each party will cooperate on solutions needed in modern commercial and residential architectural control areas, such as smart homes/smart buildings/smart cities. Through this process, it will develop technologies that can be commercialized in both local/global markets.
With the MOU signing, Ajou University, KNX Association and KNX NG Korea expect to strengthen the basis for global competitiveness, as they seek to commercialize current products/solutions toward the global market through the international standard protocol, KNX.
The Foundation plan of KNX training center in Korea for cultivating professional personnel
The MOU agreement also provides confirmation of the plan for the KNX training center, which is to be established in May this year.
This February, the experienced professional experts from Ajou University and 3 other related enterprises have already participated in KNX tutor course in Ajou University Campus Plaza, and 8 certified KNX tutors have qualified through the strict examination.
KNX tutors, responsible for the training courses of the KNX training center, are professional educators with international credentials through KNX Basic/Advanced/Tutor Courses and rigorous certification review by the KNX Association, and all the KNX tutor candidates have long field experience in the electronic/building control area.
The KNX training center will be opened in May through a joint establishment process between Ajou University and Jung Korea Electric Co. Ltd., and those professional training curricula will be set up for fostering professional personnel with KNX technical skills, aiming to revitalize the smart building control industry and job creation in domestic/foreign markets.
Mr. Yunhee Lee, the president of KNX NG Korea, said that he was encouraged to accept the agreement with Ajou University, the well-known historical place of learning and the renowned academy for industry-academic cooperation. He also said that KNX NG Korea and its partners are going to support domestic companies with new opportunities to expand the global market based on KNX, the international standard of building control solutions.
"The MOU agreement will not only offer job creation in the smart building industry but also secure technical exchanges and networks with global technical partners with our future technical personnel," said Sung-keun Oh, Vice president of Ajou University Industry-Academic Cooperation Foundation.
In the KNX training center, people can acquire expertise in smart building control solutions applicable to various types of buildings, such as residence, offices, hotels and all the special-purpose building (hospitals, exhibition halls, etc.) based on KNX, and the full knowledge of on-site technical expertise will be also offered.
For more information about KNX training center's courses/registration process contact KNX Korea Association info@knx.or.kr or info@jung-korea.com