Zennio is delighted to announce a Partner Supplier relationship with BEMCO in the UK.
"Based on BEMCO's distribution expertise and proven capability to deliver large and small KNX projects, we're pleased to formalise a Partner Supplier relationship with BEMCO", commented Fatima Poblador, Zennio International Sales Director.
"We're delighted that Zennio has recognised that we can do a job for them in the UK and are looking forward to developing opportunities with them", added Julian Barkes of BEMCO. "This is excellent news for KNX customers in the UK. We will guarantee the most competitive Zennio prices in the market and will put on training days and workshops at our London branch to raise more awareness of the Zennio brand and develop better familiarity with its product range."
The first in a series of training days is scheduled for Thursday 29th November.
To book your place sign up here.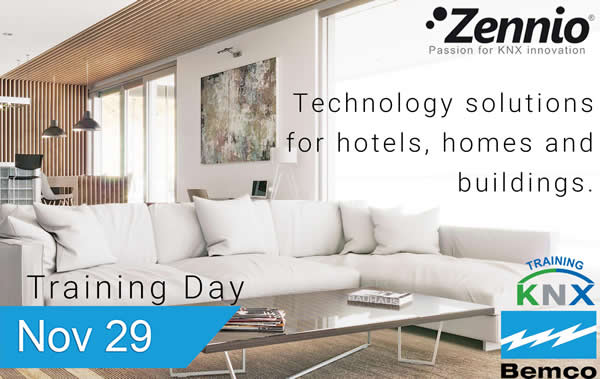 The training day will focus on Zennio's new Flat and Flat Display products, its Door Entry system and its new 24V Heating Actuator.
It will be a good opportunity for new Zennio customers to discover the level of technical support that Zennio can provide systems integrators for project design.
Zennio provides a complete documentation service that includes design visuals, detailed plans and wiring schematics as well as full Bill of Materials list. This can save an integrator an enormous amount of time in the pitching and tendering process and adds real value to their all round proposition.
To get in touch with Bemco, visit www.bemco-knx.co.uk or email knx@bemco.co.uk