Over 30 events in Europe, Asia, Australia and Latin America
Intelligent building networking has become indispensable in the private and commercial sectors. More and more functions and applications in buildings are now being networked and connected to the Internet in the spirit of the Internet of Things (IoT). This simplifies building control for the user considerably. But increasing networking can also provide a greater target for hackers, unless appropriate security measures are taken. But how can owners and occupants of smart buildings best protect themselves from hacker attacks and defend their data? What protective measures exist? KNX will keep you informed about this until the end of November as part of its worldwide KNX Secure Roadshow!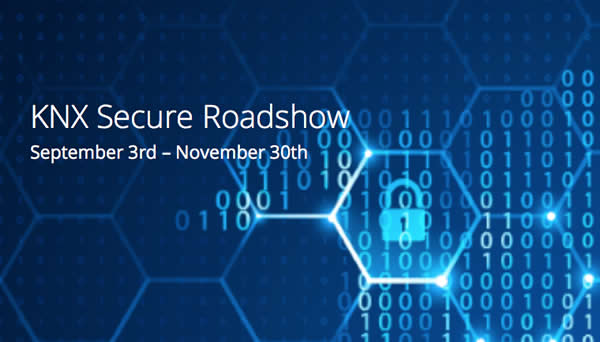 Holistic reconnaissance by security specialists
In a total of over 30 events in Europe, Asia, Australia and Latin America, visitors to the KNX Secure Roadshow will learn the basics of protecting Smart Homes and Buildings. You will experience at first hand the advantages of the world's leading security standard in this field: KNX Secure. In addition to exciting presentations and the opportunity to talk to security and industry experts, KNX also offers webinars on the protection of smart buildings. "Undoubtedly, the triumph of Smart Home and Building is accompanied by innovative changes that make our lives much easier. But intelligent building networking also brings with it challenges, especially in data protection, which can be easily mastered with the KNX Secure security solution. With our roadshow, we want to sensitise users to the topic of safety and educate them about protection options." explains Franz Kammerl, President of KNX Association.
KNX Secure: The world's leading security standard
KNX attaches great importance to security in the Smart Home and Building sector and began developing protective measures at an early stage. As early as 2015, KNX Secure was designed as a security concept and included in ETS5.5 in 2016. KNX Secure is the only security standard for Smart Home and Building that meets the world's highest cyber security requirements. The specified protection mechanisms are based on internationally standardised security algorithms according to ISO 18033-3 and use the recognised encryption in accordance with AES 128 CCM. "This revolutionary security approach is unique and offers owners and occupants of smart buildings protection against internal and external hacker attacks." says KNX President Franz Kammerl.
Further information about the KNX Secure Roadshow and the option of registering for the events can be found at: