Versatile in use and all-round security in combination with KNX Secure
With "Linky", France is currently heralding a new era of wireless building networking on a grand scale. The ambitious project aims to modernise over 30 million households nationwide with smart meters. By 2020, 95 percent of electricity meters are set to be digitalised. The KNX RF standard is used here. This is not only a technological leader in the field of wireless networking of buildings. Thanks to the possibility of a complete implementation of KNX Secure, it also offers the best possible protection of the highly sensitive data transmitted wirelessly from the smart meters. This is ensured by ISO 18033-3 standardised security algorithms and the internationally recognised CCM encryption according to AES 128.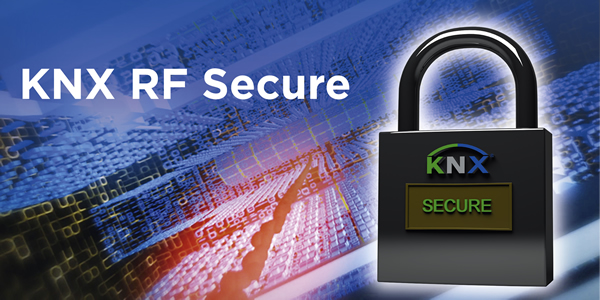 In any case, the demand for wireless applications in the smart home and building sector is constantly increasing, which is why KNX is constantly working on the further development and optimisation of wireless signal transmission. KNX RF offers a solution that is a simple but intelligent addition to wired building networking without compromising interoperability. Here, too, ETS ensures the optimum operation of KNX-certified devices.
"KNX has its finger on the pulse of the times with KNX RF. Because the demand for intelligent building networking is constantly increasing. Never before has it been so easy to wirelessly implement smart devices in existing buildings", explains Franz Kammerl, President of the KNX Association.
Wide range of KNX RF products
At Light + Building 2018 in Frankfurt, numerous new KNX RF devices were presented, demonstrating the many possibilities of wireless communication: from a motor control unit for shading or window drives to remote controls, media couplers or push-buttons. Whether as a hand-held transmitter, wall transmitter, flush-mounted or universal interface – KNX RF offers a whole range of options. Thanks to numerous different carrier frequencies that do not influence each other, the number of radio transmitters and receivers is not subject to technical restrictions.
KNX RF also available as an energy self-sufficient solution
Radio-based building control with KNX can also be carried out completely independently of batteries. This is demonstrated by the energy self-sufficient solution from KNX RF. Here too, the individual devices can be tailored to the individual needs of the user without changing the basic structure of the building. For example, touch modules can be easily attached to modern glass wall structures. A decisive advantage is the simple configuration of the modules directly in the ETS, so that the parameters can then be loaded into the devices via radio.