Earlier this year, CEDIA® and KNX embarked on a mutually beneficial partnership that saw CEDIA become an official Training Centre, with the ability to provide KNX education to industry professionals. Following the success of the inaugural KNX Basic training course at CEDIA's training facility in St Neots in May, the association has now released dates for the next session — Monday 24th – Friday 28th September.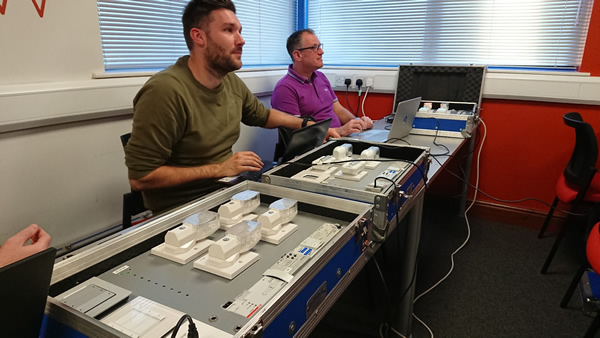 The five-day KNX Basic training course is aimed at those who are looking to gain fundamental knowledge of the KNX ecosystem, and who want to become a certified KNX partner. This session explores all aspects of the principles of the KNX protocol and includes both theoretical learning, and hands-on programming exercises to build the attendees' understanding of and confidence with the KNX system configuration tool, ETS. The course concludes with an examination to test the knowledge gained which, once passed, will qualify the candidate as a KNX Partner. By the end of the course, attendees will understand the principles of the KNX Communication protocol and how to build, configure, diagnose, and examine a KNX system.
Director and Principle Consultant at KNX Consultants Ltd, Ben Lewis runs this training course for CEDIA. He comments: "We've all seen the growth in demand for KNX as a robust, secure, and reliable building control infrastructure. Even after 20 years of working with KNX, I'm still astounded at what can be achieved with it.
"This course explores how and what it can do, and by the end of the course, it's easy to see the enthusiasm of the attendees. The KNX Partner Certification is an internationally recognised qualification which enables integrators to take full advantage of the opportunities being presented, either as a development of their business's capabilities or simply to add to the portfolio of systems that they are able to offer."
CEDIA will be running the KNX Basic course on Monday 24th – Friday 28th September 2018. The course is discounted to £649 + VAT for CEDIA member companies. For non-members, it is priced at £799 + VAT.
For more information and to book onto the course, visit