At My KNX Store we are always developing our online presence to maximise the information available for our followers, provide easy browsing and purchase options for our online customers and to showcase our in-house KNX training academy. Our new website has been designed to do just this. With a new 'Quick Order' option, updated filters to assist product browsing and a restructure of our training courses all the information you need is a few clicks away.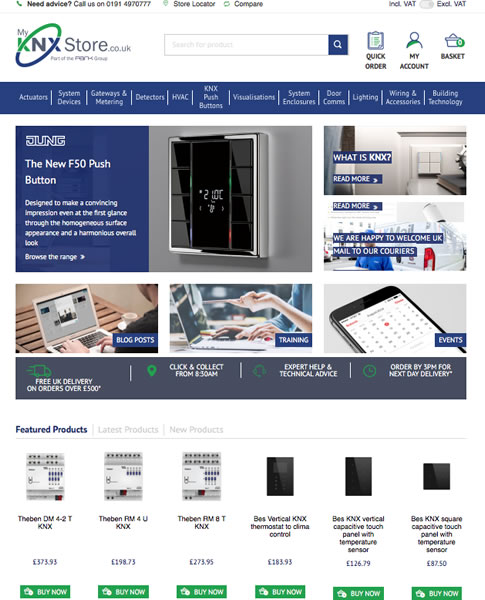 Online Shopping
With our new product selection banner on our homepage you can now easily select the products you need with just a few clicks. Configuring personal items / multicomponent products has never been easier with our drop-down options and our updated add to basket feature allows you to easily create your shopping list whilst navigating through different product categories.
With four delivery / collection options available you have the flexibility to select the delivery type that is right for you. At My KNX Store we are proud to support an extensive in-house stock allowing us to dispatch the vast majority of products the same day the order was processed.
My KNX Store Training Academy
Following a restructure of our in-house training academy we are happy to announce we now offer 6 KNX courses from foundation, to certification exams and our advanced courses. Whether you just want to understand the KNX system or be able to offer your clients the very latest in home and building automation we have the course that is right for you. We are proud to boast a 100% pass rate and offer unparalleled aftercare to all our trainees.
Information Pages
The popularity of KNX systems is extensive throughout Europe and is rapidly growing here in the UK. At My KNX Store we understand the KNX world is still new to some people and our new information pages explain the KNX protocol in more detail and the benefits available for architects, project designers, installers and home owners alikw.
We have access to the very latest KNX products for home / building automation and our technical engineers and sales team have a wealth of knowledge to ensure your requirements are met at every stage.