Program your own Smart Home: First step-by-step guide to KNX
Voltimum has published its ebook 'The Ultimate Guide to KNX Programming' for future-proof electricians, installers, architects and home-builders.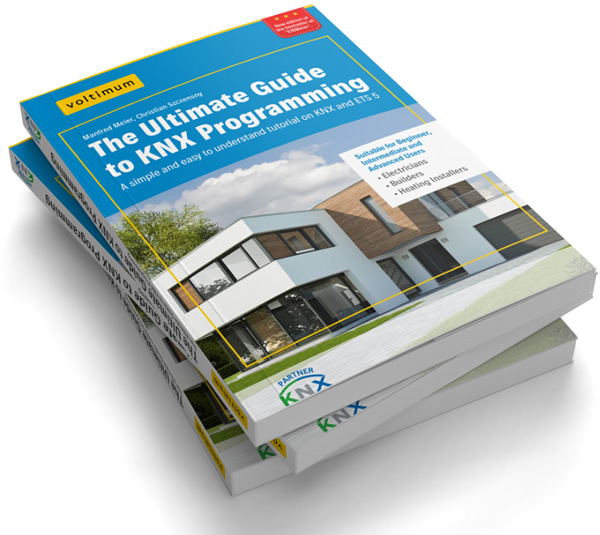 Voltimum has published its long awaited ebook: 'The Ultimate Guide to KNX Programming' in English. After the successful launch on the German market in 2004 and many versions of the ebook later, the English version has been released today. The ebook is a comprehensive step-by-step guide on how to program and commission a smart home with the worldwide standard KNX.
Christian Szczensny, COO of Voltimum and co-author and editor of the ebook, says: "As a smart-home owner myself I know the comfort of a KNX installation. There's just nothing better than a cool house when you come home after a long summer day on the beach, automatic blinding when you're watching your club's football match on TV and the overall comfort of automation that such a system provides!"
KNX provides great opportunities to electricians and installers to grow their business by offering value-added installations, focusing on energy efficiency, security, comfort, and assisted living. Christian explains: "In the last years, the German edition of our ebook has helped literally thousands of professionals to re-orientate their business from a traditional electrical company into one that offers future-proof, smart solutions. Almost all of them were successful in growing their company and profits and we wanted to bring this also in the English markets."

After the worldwide crisis the demand for smart home and energy efficiency is on the rise again. Before smart homes were something only the very rich or progressive people had. Not anymore.
Christian says: 'Smart homes are much more accessible in today's world. Everyone has smart devices in their lives. People want to save energy where possible and comfort is more important than ever. KNX offers exactly that. That's why this ebook became so successful'.
For professionals who want to implement KNX in their portfolio, the company mentions the following opportunities:
• Electricians don't just install the cables anymore, they can do programming as well. That's a plus for their revenues.
• For home-owners it can be hard to make a decision on what they want to have in their Smart-homes. The ebook helps to plan and calculate the costs.
• The home- and office markets are getting smarter. It's time to be one of the first to claim a market-share in what is to come.
The Ultimate Guide to KNX Programming eBook costs £179. For further information and to order a copy visit www.knxtutorial.com.