Building Tech Live will be the most important event in the integrated building technologies sector this October, at the NEC Birmingham. Taking place on 9-11 October 2018, Building Tech Live joins the Build Show, Timber Expo, Civils Expo, Energy 2018, HVAC 2018 and the Surface & Materials Show to make up the UK's largest event for the built environment, UK Construction Week.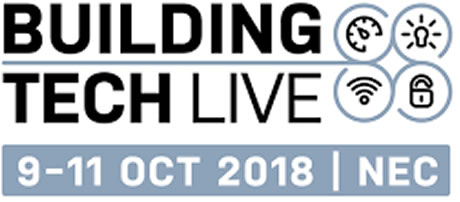 Formerly known as Smart Buildings, Building Tech Live has evolved to showcase the very latest technological advancements in IoT, lighting and Li-Fi, automation, security, communication technology and more.
Building Tech Live will be the foremost destination for anyone in electrotechnical and engineering services design, installation, inspection, testing, maintenance and monitoring and has been designed in consultation with our association partners to provide comprehensive educational content, debate and the latest technological advancements in the industry.
As part of the event's development, Building Tech Live will produce a tailored educational programme for members of the leading electrotechnical and engineering services trade body ECA, as it offers its' members increased benefits from attending the event. Mike Giles, Head of Communications from the ECA said "The ECA are delighted to be increasing our partnership with UK Construction Week, and we believe that the evolution to Building Tech Live is a very positive step for the industry. We are looking forward to working with the organisers on offering our members exclusive benefits in the form of VIP status, CPD and seminar content at Building Tech Live".
Building Tech Live will also stage the Voltimum Smart Solutions Awards alongside a Voltimum seminar programme. The Smart Solutions Awards, hosted by Steph McGovern for the second year, will champion the installers, manufacturers and wholesalers leading the charge in the building technology market. Award categories include Best Installer, Best Newcomer Installer, Best Project, Best Manufacturer and Best Wholesaler.
Eddie Embleton, Managing Director of Voltimum said "We have supported UK Construction Week since its launch in 2015, and each year we have grown our seminar programme provision with our partners like Schneider Electric, ABB, Legrand, Dimplex, Vent Axia and Nexans. Last year we launched the Smart Solutions Awards from the Hub at the show with Steph McGovern which was very successful, so we are extremely excited about growing these with Steph again on Wednesday 10th October in Building Tech Live".
Commenting on their recent commitment to Building Tech Live, Lee Martin, from Canon commented: "Canon have chosen to exhibit at Building Tech Live as technology is revolutionising the way in which the construction industry operates and with new technology comes new opportunities. We believe that Building Tech Live is the perfect place to bring Canon's business solutions to the wider construction sector, and look forward to working in partnership with companies to help them realise new efficiencies, ways of work smarter and more creatively."
Gino Stocchetti, General Manager of Gewiss UK added: 'Gewiss is looking forward to presenting our leading industrial electrical wiring accessories and LED lighting solutions at Building Tech Live for the first time, which we see as an essential meeting point for key players in the construction industry. We are experts in creating award-winning, innovative electrical solutions designed for safety, energy efficiency and easy installation that benefit end customers as well as electrical contractors and specifiers.'
Nathan Garnett, Director of UK Construction Week said "We have been working with our lead partners and exhibitors as well as listening to visitor feedback whilst forming Building Tech Live, which has been exceptionally well received. We are in an era of rapid technological advancement in integrated building tech, and it is absolutely crucial that the whole sector embraces this change for the improvement of our environment and society as a whole. Building Tech Live will be a catalyst for that evolution".
Building tech Live is free for trade professionals. Registration will open from June 1st.
Building Tech Live is supported by its associate partners – KNX, Voltimum, ECA, BCIA, BESA, FETA and BSRIA.
Keep up to date about the latest exhibitors, product launches, industry awards, speakers and specialised features at Building Tech Live on the website