The 2018 AGM of the UK KNX Association was held at the Museum of London on 6 March.
The highlight of the day was the announcement of the 2018 KNX UK Award winners.
The meeting confirmed Iain Gordon, of GES Digital, will continue as President and Stephen Payne as Vice President and they were thanked for their hard work on behalf of the membership in the past year. Graham Oliver, of Jung UK, was elected to the KNX UK Board as one of the manufacturer member representatives.
Guest speakers at the meeting included Paul Jones from BEG UK who updated us on the potential for human centric (tuneable) lighting, and Matthew Samways from BIM Consultancy Aimis Solutions who informed delegates on how to seamlessly integrate BIM into commercial projects.
The winners of the 2018 UK KNX awards show, once again, how KNX control is giving architects, M&E engineers and integrators the tools they need to put creative flexible and efficient intelligence into their projects.
KNX is the only global, open protocol for building control, and it brings together thousands of products from hundreds of manufacturers that operate together with guaranteed compatibility. Under the control of the KNX software, it becomes possible to design systems that unlock multiple layers of control functionality built in to devices and create synergy between them. Manufacturers continue to develop new devices and controllers that take full advantage of KNX capabilities.
As KNX UK President Iain Gordon said: "I liken KNX to computer gaming when you've been stuck on Level 3 for years. Then you discover KNX, and take a quantum leap to Level 10! Systems designers can achieve so much more, and our award winners demonstrate this."
The KNX UK Awards help to show everyone involved in the built environment just what can be achieved using KNX. Case studies of the winning projects will be posted at www.knxuk.org and the project teams are always happy to discuss their experiences of using KNX with other professionals interested in finding out more about the KNX advantages.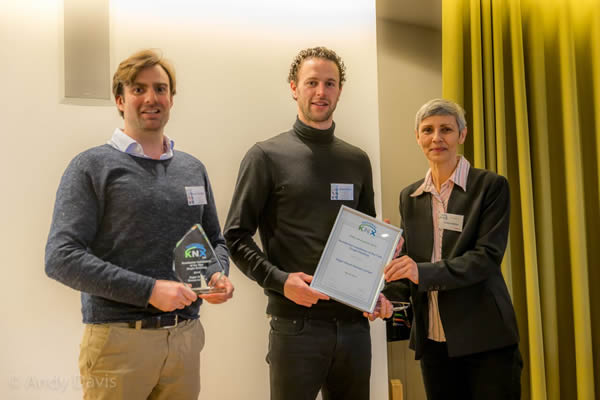 The 2018 KNX UK Awards Winners are:
Residential Installation of the Year – Single Dwelling
Winner: Sagar Smart Homes for Narrow Street
This residential project called for the creativity that KNX unlocks in dealing with unique lighting and space challenges. The team used AI to learn the occupants' habits and optimise control and devised a new solution to take advantage of the building's natural solar gain.
Highly Commended: Harris Grant for Amels Superyacht project
Apart from the obvious glamour of the project, this is a great example of how KNX requires less cabling. It also demonstrates the importance of an open protocol, guaranteed compatibility and global each. Yacht owners and operators know that, in the unlikely event of device failure or if they want to amend or extend the system, products can be soured anywhere.
Residential Installation of the Year – Multi Dwelling Unit
Winner: Ark M&E for Chelsea Island
KNX was a latecomer at Chelsea Island really, but the project team were determined add it once the benefits of a modular KNX approach to apartment living and management were explained. In an ideal world, KNX will be on the M&E engineers' table at master planning stage, but here Ark M&E's success shows how easily it KNX dovetails with a project workflow – even when introduced at a late stage.
Commercial Installation of the Year
Winner: IBT Controls for Newcastle University – Urban Sciences Building A holistic approach to energy saving and monitoring, meeting current standards while enabling architects to realise futuristic new concepts for building use.
Product of the Year
Winner: Theben DM 8-2 T 8 Way Universal Dimmer
Nominated by installers, this product meets a core need – 8 channels of dimming – with extra functionality and an innovative space-saving design.
Highly Commended: BEG PICO DX KNX Presence Detector
Small and discrete in size but with a large detection area, multi light channel detector has a built-in temperature sensor and logic channels.
KNX Champion of the Year
Winner: Martin Hawley, Ivory Egg
Each year the KNX UK Association recognises individuals who have gone the extra mile in helping the industry to catch up with KNX. It is always a hard choice as the Association has a remarkably enthusiastic. However, this year, the final vote was for Martin Hawley for his tireless work in spreading the word, including his work with universities and colleges to tell the next generation what's possible.