Light + Building is one of the main events in home and building automation. KNX will not only be present with different booths to show you our newest technical developments but also hand out the prestigious KNX Awards at the KNX Top Event.
Visit us at KNX IoT city booth (main booth at Galleria), 2 KNX Members booth at Hall 8 F98 and Hall 11.1 C92, KNX Home booth at Hall 9 B30, Smart Living Booth at Hall 9.0 B63, The KNX secure stand at hall 9.1 F86.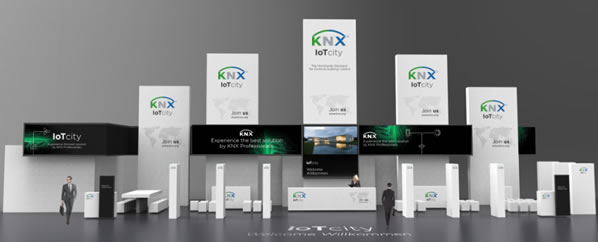 KNX IoT city at Galleria
KNX Association will present the latest technologies and applications at the KNX IoT city at Galleria at the Frankfurt Fairground during Light + Building 2018. This main KNX booth will be the most impressive KNX presentation with a surface of more than 700 square meters and a wide range of different areas to visit:
Secure IoT Solution Area with Fairhair Alliance and Thread Group
KNX Association in liaison with Thread Group and Fairhair Alliance will have a joint area presenting the Secure IoT Solution at the KNX IoT city.
Visiting the area of Thread Group will show you how to extend the so-called "KNX Classic" (traditional installations made with TP) with further possibilities, like IP-based solutions within one common installation. Thanks to the creation of KNX IoT protocols such devices will be more native part of the KNX ecosystem.
By visiting the area of Fairhair Alliance, you can learn how KNX Association is working on creating better standards and protocols to be used on top of IP networks. With this liaison we showcase how to use IP based networks and to keep the way IP is used and shared on more layers.
The KNX Technology Area with IoT, Secure, RF panels
The KNX IoT panel: The KNX IoT Area will demonstrate how KNX extends its current system by fully IP-based communication by means of a KNX IoT Demonstrator. The KNX IoT Demonstrator will include solutions of the Thread based network, as well as the conclusions reached by Fairhair Alliance.
The KNX Secure panels: From a concept to reality! KNX Association is proud to present the first available KNX Secure devices. Covering KNX IP Secure and KNX Data Secure, the famous double protection by KNX Association can now be implemented. Secure your existing installations or start with a completely new installation! KNX Secure offers now the highest standard of Security for smart homes and smart buildings.
The KNX RF panel: No cables, fully programmable with ETS and Secure! KNX RF combines all futuristic features and makes them available to you! The KNX RF Panel impressively demonstrates a selection of available KNX RF devices, which will turn your home into a smart home without the need for cabling.
The Applications Area by the KNX Professionals
KNX finds its use in various applications and solutions, from residential to commercial, from small to large. However, what they all have in common: They are all Secure! Using the latest KNX Secure devices, all shown installations demonstrate how important data is secured with AES128 encryption, which is used in KNX Secure!
The various ETS Areas
Want to learn more about the only manufacturer independent tool for smart homes and smart buildings? Visit the ETS Area to learn more about the flagship tool of KNX Association, the Engineering Tool Software, along with all ETS apps and the new updates of the ETS Inside.
The Training Area and the Championship
Getting started with KNX has never been easier! Visit the KNX Training Area and get in touch with KNX Training Centres from all over the world and see, how you can start your carrier with the world leading protocol for smart homes and buildings. Try your luck at the ETS Championship and receive many attractive prices.
The KNX Plaza
Come to where the action is happening! The KNX Plaza will be once again the centre of all activities in the KNX IoT city! Not only entertainment will await you at the KNX Plaza, but also knowledge from more than 190 countries, ready to be shared with you. Do not miss your visit of the KNX Plaza.
2 KNX Members booth at Hall 8 F98 and Hall 11.1 C92
With more than 425 members worldwide, needless to say that KNX Association will again offer its members a platform for demonstrating their newest developments, this at two separate KNX Member booths. 28 KNX Members from 9 different countries will showcase their KNX solutions there, next to more than 130 KNX Members with an own booth at Light + Building 2018. Come and meet the KNX Members at their individual booths and at the KNX member community booths in hall 8 F98:
Agentilo GmbH
AYPRO Technology
Control4 Corporate
Dinuy S.A.
EAE Enerji Aydinlatma Elektrik San. Ve Tic. A.S. Elaborated Networks GmbH
enno electronics Co., Ltd.
Franke Aquarotter GmbH
Gira Giersiepen GmbH & Co. KG
Guangzhou Tantron Electronic Co.Ltd.
Guangzhou Video-star Intelligent Technology Co.Ltd controLED GmbH & Co. KG
Insta GmbH
Intesis Software S.L.U
Osram GmbH
Red sh Group Pty Ltd
SIEMENS AG
STMicroelectronics Application GmbH
The Qt Company
Thinka B.V.
Träum deutsche Elektronik GmbH
WAREMA Renkho SE
Yonnet Bilisim Yazilim Egt. ve Dan. Hizm. Ltd. Sti.
ZF Friedrichshafen AG
Zhuhai Sation Technology Co,.Ltd.
and hall 11.1 C92:
BEMI Smart Home
Black Nova
KNX Home Booth at Hall 9 B30
This area is dedicated to Smart Home Initiative Germany, who is proudly presenting the winning projects of its annual Smart Home Award. The booth offers visitors a deep insight in the world of smart homes, including trainings, solutions and demonstrations. Do not miss this booth, in order to see the ground breaking smart home innovations, Made in Germany!
Smart Living Germany Booth at Hall 9.0 B63
KNX Association is supporting the Smart Living Initiative Germany at their booth in Hall 9.0 B63. Visitors at this booth will discover the new solutions for smart living, demonstrated by Smart Living Initiative Germany.
The KNX Secure stand in hall 9.1 F86
This stand is dedicated to KNX Secure. Security has been one of KNX's key features. As time goes, the safety requirements of KNX installations are growing. Critical and confidential information is increasingly transmitted due to extended application areas. How to protect in future even better media and devices of KNX installations will be an increasing challenge for planners, installers and manufacturers. According to these but also to other requirements KNX has developed new security concepts: KNX Data Secure and KNX IP Secure. Both of them are based on worldwide established security protocols and can be integrated seamlessly into existing KNX systems.