CEDIA® has announced a reciprocal agreement with the KNX Association to develop closer collaboration on training and additional initiatives which will add value to technology integrators.
"Integrators in the connected home sector are broadening their skill sets to meet homeowner demand for entertainment technologies that can be integrated and controlled with HVAC, lighting, and security systems on a single platform," says Matt Nimmons, Managing Director of CEDIA EMEA. "In light of this trend, it makes sense for CEDIA to build a stronger alliance with the KNX Association. The partnership will bring valuable benefits to members of both our organisations, starting right away with access to KNX training and an exclusive discount on the ETS Inside software tool."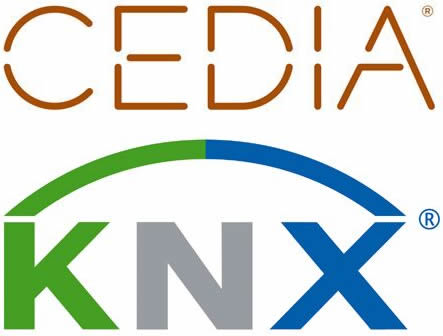 With KNX appointing CEDIA as an official Training Centre, members will now be able to attend the KNX Basic training course at CEDIA's training facility in St Neots. This course explores all aspects of the principles of the KNX protocol and includes both theoretical learning, and hands-on programming exercises to build the attendees' understanding of and confidence with the KNX system configuration tool, ETS. The course concludes with an examination to test the knowledge gained which, once passed, will qualify the candidate as a KNX Partner. By the end of the course, attendees will understand the principles of the KNX Communication protocol and how to build, configure, diagnose, and examine a KNX system.
"Training has always been a key factor for success for us" says KNX President, Franz Kammerl. "The cooperation between CEDIA and KNX will redefine the availability and impact of training for AV solutions and smart homes. Thanks to the KNX certification scheme for training centres, CEDIA has the possibility to further extend its training portfolio, addressing a completely new type of professional. We will support CEDIA in providing this new training opportunity to its members in various countries, starting with the UK."
As part of this new partnership, CEDIA members can receive an exclusive discount on the KNX ETS Inside product licence, reducing its price from €160 to only €60*. The ETS Inside software tool allows set up, monitoring, and management of a KNX home installation from a mobile device.
CEDIA will be hosting the KNX Basic course on weeks commencing Monday 21st May and Monday 24th September 2018. The price for this course is £649 + VAT for CEDIA members and £799 + VAT for non-members.
*Available for 3 months
For more information, visit: