BEMCO will be at ISE, making the case that the electrical contractor can displace the custom installer (CI) as the ultimate smart installer.
The free 30-minute presentation, to be made by BEMCO Sales & Marketing director, Julian Barkes, will be held between 11:30 – 12:00 on Wednesday 7th February in the Smart Buildings Solutions Theatre.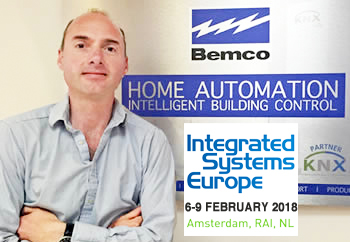 The session will explain why the electrical contracting market has a fantastic opportunity to make up ground lost to the CI world as satellite and AV installations are displaced by IoT devices. Barkes will discuss how a fundamental understanding of electricity and structured wiring is key, and why the electrician is ideally placed to be the ultimate smart installer.
For more details click here

www.bemco-knx.co.uk