Integrated Systems Europe is the world´s largest systems integration show. The annual four-day event takes place at the RAI Amsterdam, The Netherlands, 6th-9th February 2018, and hosts an extensive range of manufacturers from the AV and intelligent building sectors.
Once again, Ivory Egg will be at the show supporting key KNX manufacturers ABB, Basalte, Gira, Lithoss, Jung, Theben and Revox. There are also three different KNX stands, one promoting some of the smaller KNX manufacturers (Hall 9-F120), a new stand in the entrance of Hall 1 showcasing what can be achieved with KNX, and finally a dedicated stand all about ETSInside, demonstrating just how easy it can be to program and commission KNX (Hall 1-N130).
The Ivory Egg sales team will be at the show for the duration, so make sure to say hi or get in touch to arrange a personal meeting or tour of the key stands.
The show also has a big focus on training and education with 4 different theatres on the show floor and extensive professional development opportunities from both CEDIA and AVIXA. The show kicks off on the Monday with the Smart Building Conference which explores the latest technologies, business strategies, market research and case studies from the world's leading smart building experts and thought leaders.
Our technical director, Mark Warburton, will be busy throughout the show supporting these various education opportunities, however some events are charged so make sure to book in advance to guarantee your place.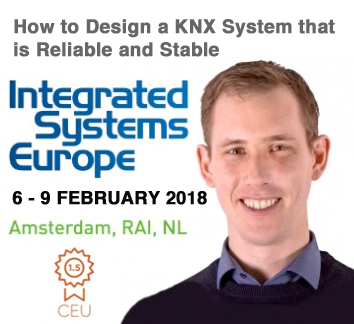 Ivory Egg talks:
February 5 | 16:20-16:50 | Smart Building Conference 2018 | Residential Track, Room E102
How to Design for the User (Not the Tech)
www.smartbuildingconference.com/session/how-to-design-for-the-user-not-the-tech
6 Feb 2018 | 15:30 – 16:00 | Smart Building Solutions Theatre
Debunking KNX myths
www.iseurope.org/session-detail/?sss_session_id=70&sss_date_id=37&return_to=show-floor-theatres%2Fsmart-building-solutions%2F&searchterm
7 Feb 2018 | 11.30 – 13.00 | This is a charged session and is upstairs in the training rooms
Cedia Training Session on 'Advanced KNX System Design'
www.iseurope.org/shop/#ticketshop-product?product_gtin=388aabea-dc2e-4fde-8c3e-cee66364a851-1&product_do=setProduct
8 Feb 2018 | 15:00 – 15:30 | Smart Building Solutions Theatre
Debunking KNX myths
www.iseurope.org/session-detail/?sss_session_id=108&sss_date_id=7&return_to=show-floor-theatres%2Fsmart-building-solutions%2F&searchterm