The Market
When you see a true smart home for the first time, you often experience a powerful, lasting 'wow' moment. There's this exciting technology in front of your eyes with an amazing potential to improve your life.
But that potential also comes with its challenges, and the smart home market still has a couple of them.
On the one hand are premium, stable, bus-based solutions such as KNX, with somewhat slower innovation speeds but a lifespan that can last a generation. These solutions, however, rarely come with easy-to-use interfaces that would provide average users with the possibility to self-manage and adapt their smart homes through different phases of their lives.
On the other hand, a number of IoT solutions are popping up, many highly-innovative and simple-to-use, but only a handful will survive the test of time in a very fragmented market.
And then there is voice recognition – the new technology – with machines that can now understand our speech far better and even more accurately than human listeners.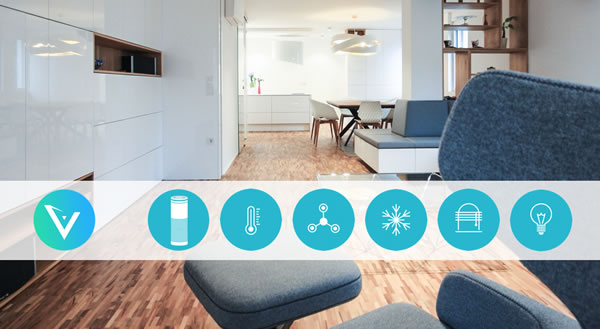 Voice, the simplest and most intuitive of interfaces, is now fueling user adoption rates far beyond anything we have seen before, even when compared to smart phones, which also disrupted a bunch of industries and reshaped the technological landscape. Remember your Nokia some years ago? No big screen, photos, apps, emails. How many iPhones ago was that?
In a very similar vein, voice control is setting a completely new standard for smart homes by offering intuitive control to its users without any intermediary devices such as keyboards, mice or screens. It's an elegant solution – one that users have been waiting for.
Our Approach
As a team of smart home enthusiasts, entrepreneurs and seasoned IT experts, Voxior saw a challenge worth taking on. We went on a mission to make premium smart homes even smarter by finding the best use cases from different fields and delivering them to the premium segment.
The goal? To empower non-technical users to bring their smart homes to their full potential and unlock new possibilities for them – new ways of living.
We started by bringing the voice of Alexa to KNX and Loxone. No hardware – just a seamless setup through a web interface without any programming changes to the smart home server, plus continuous updates of new features and support 24/7 in multiple languages. Voice assistants were just the first step.
The voice of our customers followed. Together with our users, mostly big enthusiasts just like us, we developed a host of innovative features that enable users to effortlessly tailor their home's voice interface according to their needs, without any programming whatsoever.
Users who don't have the ability to configure their network or users who want complete control over their network will soon be able to benefit from our on-premises solution, which has been developed in such a way that it is incredibly easy to set up, even for users with little technical knowledge.
Want to know more? Register for a free trial here.
Next Steps
We see people seamlessly using different voice assistants from Amazon, Google, Apple, Microsoft and Samsung alike, throughout their whole day – on phones, smart speakers, in cars, refrigerators, etc. With Alexa and Google Assistant already onboard, and Siri launching soon, we are already working on solutions beyond just voice control. We are taking IoT integrations in premium smart homes to the next level. Users will soon be able to add new hardware to their home, effortlessly, and integrate it as if it were connected to the bus.
"Alexa/Google/Siri, turn the cinema on" won't just work with lights and blinds but also with projectors and A/V receivers. A new Voxior product will allow users to control several thousand smart home and entertainment devices right from their smart home server, not just with voice but also with a wall switch or a mobile app.
Partners
As companies are getting ready to demonstrate their latest products at ISE and Light + Building in just a couple of months, our focus is to work together with a few handpicked partners to enhance their products with voice control functionalities, IoT connectivity and secure remote access, without impacting their other development priorities.
The effortless Voxior experience will soon be available with a range of visualisation servers and IP routers – integration is designed in such a way that it can run even on basic KNX hardware.
Would you like to join the future as our partner? We'd be delighted to hear from you. Drop us an email at info@voxior.com.
1Home Solutions GmbH has now acquired Voxior Inc.