ISE, Integrated Systems Europe, is Europe´s no.1 show for professional AV and electronic systems integrations. Whatever your level of interest in audiovisual technology might be, ISE has something for you and many also benefit from the diverse range of education and networking opportunities available before and during the show. The fair will take place from the 6th until the 9th of February in Amsterdam (The Netherlands) at RAI Exhibition Centre. Once again, KNX will have its own booths during the fair in hall 9 booth F120 and hall 1 booth N130 of 329 m².
In addition, 25 KNX member companies will be present with their own booths at ISE, making KNX visible all over the fair ground.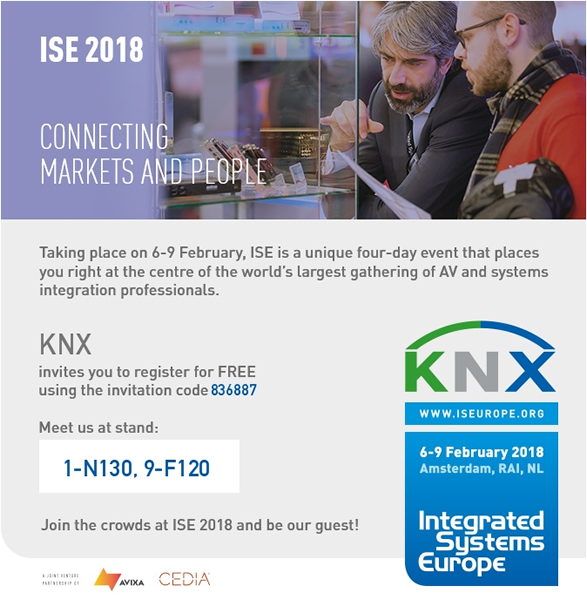 Hall 9 stand F120: Discover KNX Members' latest solutions
The KNX Association booth, located at hall 9 F120 will cover nearly 200m² and will again be one of the fair's highlights. Twelve KNX manufacturers will be represented at the booth, presenting the latest innovations in home and building control:
B.E.G. Nederland B.V.
Divus GmbH
Elaborated Networks GmbH
Elsner Elektronik GmbH
EMT Controls
Intesis Software S.L.U
Iridium Ltd.
ise GmbH
ProKNX SAS
Redfish Group Pty Ltd
tci GmbH
Yonnet
Hall 1 stand N130: Latest KNX Solutions, Projects and Training
For the first time at ISE, KNX will be present with a second booth, at the prominent hall 1 of the ISE exhibition. KNX Professionals will be present to show their latest solutions and integrations possible with KNX. Find out the limitless possibilities of KNX in your home or building. Not only solutions, but also high profile KNX projects will be shown as a reference of the what you can achieve with KNX.
Get training on ETS Inside at the KNX stand
But personal development does not end here! KNX Association invites you to further training sessions at the KNX booths about the new ETS Inside, the new tool to create your smart home project. A visit at ISE offers the unique opportunity to learn more about the ETS Inside through hourly presentations, which also offer a first ETS Inside hands-on.
KNX Members with their own stand(s)
In addition to the 12 KNX manufacturers at KNX booth, another 25 KNX members are also exhibiting their solutions with their own booth(s) all over the ISE 2018 show. Take a look at the list, seize the opportunity to speak with them face to face and get updated on the latest technologies and innovations:
Albrecht Jung 9-E122
ATEN 8-E200
AV Stupmfl 1-H5, 1-H10
Basalte 5-R120
Belden 15-G246
Bird Home Automation GmbH 9-D160
Busch – Jaeger 9-B120
Control4 10-N130
Crestron 2-C20, 2-E20, 2-E30
Domonetio 9-A155
ekey biometric systems 5-U137
ELKO EP s.r.o. 1-Q70
HDL Automation 9-E160
Legrand 1-N10, 1-M15
LG Electronics 12-K90
Lithoss 9-E170
Lutron Electronics 1-M120
Mean Well 9-D127
METEL s.r.o. 9-A120
Panasonic 1-H20
Philips Lighting B.V. 9-D180
Remote Technologies Inc (RTI) 1-N90
Revox GmbH 7-M205
Russound 1-M60
S. Siedle 9-D150