UK independent electrical wholesaler, BEMCO, was awarded 'Best Wholesaler' by the portal for the UK electrical industry, Voltimum, as part of its Smart Solutions awards.
Presented at the recent UK Construction Week 2017 show, the award for 'Best Wholesaler' went to BEMCO because the judges said it had demonstrated a commitment to training customers about KNX integration, and focused its trade counter displays on smart solutions, such as Philips Hue, Nest and Amazon Alexa in order to better engage with its traditional customer base.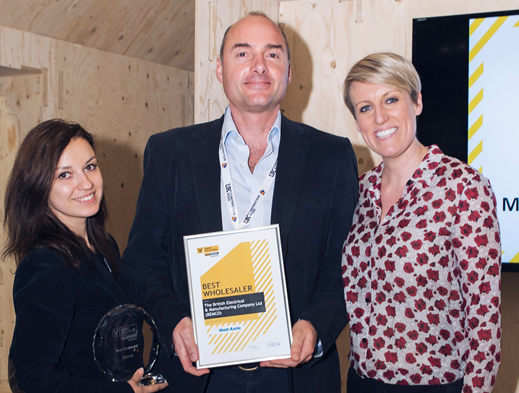 Sponsored by the Electrical Contractors Association (ECA), the awards were conceived to champion installers who have demonstrated creativity and excellence on residential and light commercial projects and celebrate manufacturers and wholesalers who are helping facilitate the growth of the smart buildings market.
According to BEMCO's Marketing Director, Julian Barkes, "We are delighted to have received this award. It recognises us as one of the leading electrical wholesalers who are making strides in diversifying their business into smart home technologies and building automation. We set up an Energy Saving and Controls division in 2013 with a particular emphasis on KNX, we offer certified KNX training from our flagship London branch, and we have an impressive Innovation Room next to our busy trade counter showcasing a KNX smart home and the latest technologies."
BEMCO's focus is on educating its customers by providing training opportunities including:
• A free introduction to KNX 'taster' course. This runs every month and is hosted by an experienced KNX Integrator. It's an ideal environment for installers to get a better understanding of KNX and how it works.
• Certified KNX Installer (Partner) courses at both the Basic and Advanced levels. These courses last five days and take installers with all different types of experience or background (whether it be custom installation, electrical tools or IT networking) to the same level. The qualification enables the installer to promote themselves as a KNX Partner and to specify, design, commission and support of KNX projects.
• Regular KNX product training days and technical workshops. These are one-day sessions with manufacturers promoting new products (KNX and non-KNX) and automation protocols, such as Lutron and ABB free@home.
• Mentoring scheme. This was recently introduced to enable newer-qualified integrators to benefit from the knowledge and experience of seasoned KNX professionals. This is vital to help minimise mistakes, save time and maximise earning opportunity.
As Barkes concludes, "BEMCO has invested in its staff and training equipment in order to provide the necessary technical service to support our growing customer base. We combine first-class service and competitive pricing to provide real value-add across a wide range of projects. It is very rewarding to have been recognised for our efforts with this prestigious award."