By Hans Walltin and Rikard Nilsson, KNX Sweden.
The market for KNX in home and building control in Sweden is growing. Historically, proprietary systems were commonly used to provide control of HVAC, lighting and blinds etc, and whilst customers accepted these types of solution, they did not always appreciate being locked into one or, at best, a few suppliers.
As customers began to realise the benefits of completely open solutions, the demand for KNX products in Sweden began to grow. Facility owners could now enjoy better integration possibilities and functional transitions through a standardised bus system such as KNX, and they had a choice of hundreds of suppliers, with the guarantee that all products would work together.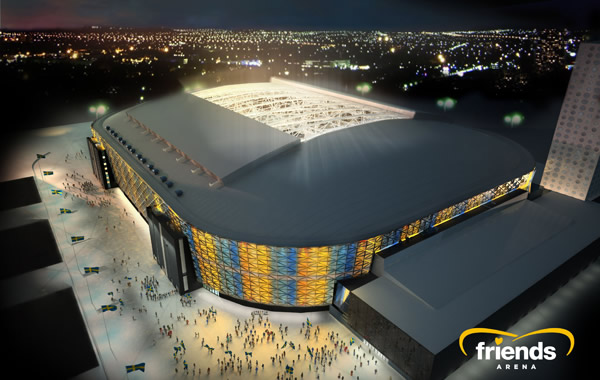 The birth of KNX Sweden
KNX (or EIB as it was formerly known), has been present in Sweden since the early nineties, when Siemens began to introduce EIB products to a receptive Swedish market. In direct response, Sweden's market leader in switches and socket outlets, Eljo, also decided to introduce EIB products, and soon EIBA Sweden (now KNX Sweden), was formed. It was formally established on the 11th of March 1994, and was the first national group in Scandinavia.
The first board members were Wilmar Olsson of Eljo, Lars Näslund of ABB, Stefan Pettersson of Hager, and Roland Aurich of Siemens. Siemens, Eljo (later Schneider Electric), ABB and Hager have, for many years been the leading players in the market as well as in the national group. Stefan Pettersson spent a lot of time, from 1994-2003, as secretary, whilst past presidents have included Roland Aurich from1994-1995, Robert Mueller from 1996-1998 and Maths Rehnström from 1999-2002.
At the annual meeting of 2003, the Swedish national group had nine manufacturer companies as members. They decided to select Rikard Nilsson, MD at Merten in Sweden, as the President, and hire an external secretary who would also handle ETS support. The role was filled by Kenneth Andersson who was also the EIB tutor at the Swedish official electrical development and training institute, the EUU. Kenneth remained as secretary until his retirement in 2012 when another systems integrator, Andreas Helgesson from Bergendahls Energiteknik, took over.
In December 2013 when Andreas was headhunted by the consultant company WSP, another systems integrator, Jan Hammarsköld, stepped in. Jan is still there today, together with Rikard who has been re-elected every year. Currently, KNX Sweden consists of 14 main Members; ABB, Ahlsell, Esylux, Garo, Gycom, Hager, Schneider Electric, Selga, Siemens, Steinel, Storel, Tekniska Byrån, Zennio and 2Ctrl. It also has two other types of member, called Company Members and Supporting Members, which bring the total membership to 120, all of whom are able to influence the work of the national group.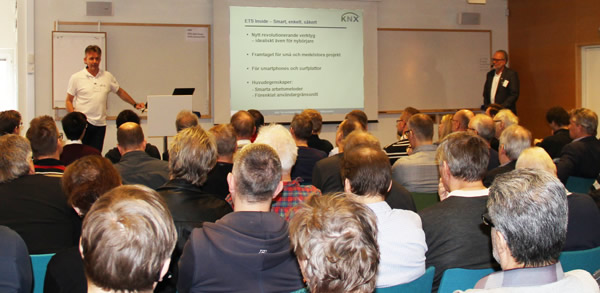 Growth of KNX in Sweden
Although KNX Sweden has been active for some time, the KNX market in Sweden had remained relatively small compared with other countries in Europe. The electrical industry often relied on traditional installation methods, probably due to a lack of knowledge about modern systems such as KNX. Despite this, there have been many interesting projects over the years, including larger villas, commercial buildings, schools and other public buildings. Examples include:
• Jönköping University, Jönköping.
• Bromma Airport, Stockholm.
• Military training facilities, Motala.
• Friends Arena, Stockholm.
• Rudbecks laboratory at Uppsala Hospital.
• Tele 2 Arena, Stockholm.
• Karolinska Hospital, Stockholm.
• Hospital, Gothenburg.
• The Opera, Malmö.
• Kulturväven (offices, restaurants, hotel), Umeå.
• Subway stations, Stockholm.
• Forsete (galleria, hotel, restaurants, school, apartments), Umeå.
• Malmö Airport, Malmö.
• Fiskarhedenvillan private villas, Östersund.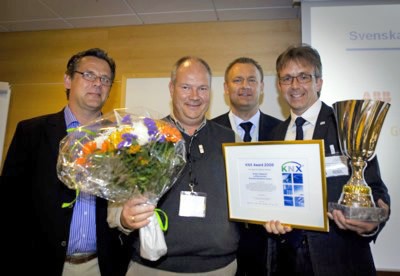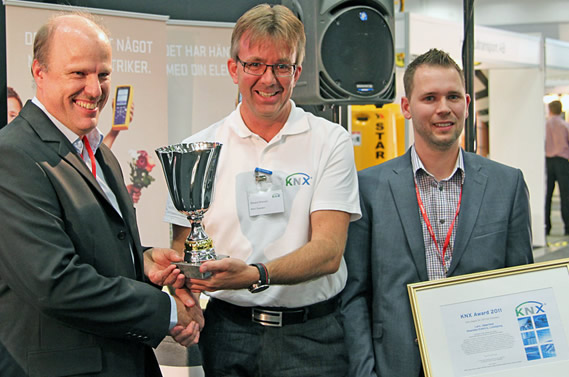 Larger companies embracing KNX
Historically, most KNX projects have been commissioned by small or medium-sized companies, but since interest in KNX is increasing, particularly in terms of controlling HVAC, larger companies are starting to work with the technology.
Today, almost all commercial buildings are specified with some form of building control. In addition, Swedish consumers are increasingly interested in comfortable and safe everyday living, where lighting, climate, security and multimedia can be controlled by smartphone and tablet.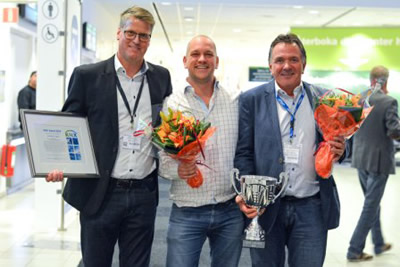 KNX handbooks
To support the market, in 2012 KNX Sweden started a project to produce practical guidance documents. The first one, for consultants, was launched at the biggest fair in Scandinavia, ELFACK, in May 2015.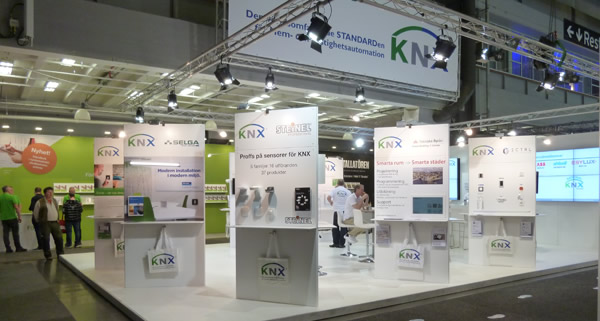 The KNX Konsulthandboken (KNX consultant handbook), includes guidelines on how to create a proper KNX specification, with the most popular sections being the complete project examples with all necessary KNX-related text, schematics and drawings. Now, only two years later, we are seeing clear improvements by several consultants, thanks, in part, to this handbook.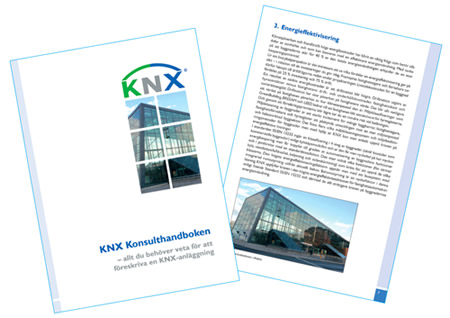 Directly after the launch of our first handbook, there was demand for a second one, the KNX Installatörshandboken (KNX installers handbook). Launched at ELFACK this year, it explains how to perform a KNX installation, how to handle checklists and documentation and, finally, how to hand over projects properly to the end customer. Other countries have shown great interest in these handbooks, so they are now available in translation and local adaptations.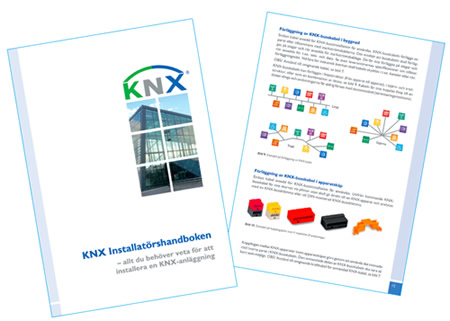 Debunking myths
Conservative players in the Swedish market have often told their customers that modern technologies and new installation methods are too expensive and far too complicated. To challenge this, in 2015 KNX Sweden asked independent professional consultants, installers and systems integrators for a comparison between a conventional installation in a private villa and a KNX one, with no more than standard functionality. The conclusion was a little surprising, even for us. The KNX installation ended up EUR€160 cheaper. So, the answer is clear: if you know how to do it, it doesn't have to be more expensive. And we would argue that over time, even further savings can be made thanks to the efficiency of KNX automation.
Educating the next generation
For several years now, KNX Sweden has provided schools and newcomers with a training package that includes devices from all of our manufacturing members. One of our ongoing activities is to further develop these packages with better technical and pedagogical content. The aim is to provide the next generation with good and solid KNX knowledge before they enter the professional market.
A bright future
As KNX Sweden, it is rewarding to see that the KNX market in Sweden is constantly growing. For example, from 2015 to 2016, whilst the general electrical trade grew by 6%, KNX grew by 15%.
We believe that our local support has had some positive effects on the KNX market as a whole, and we are proud to be part of an international organisation that is growing and developing in every way, from software to the number of participating manufacturers and installers and fascinating new applications.
Join us
As a member of KNX Sweden, you have the opportunity to influence and be active within the Swedish electrical community through magazines, seminars, fairs, newsletters, award ceremonies and networking events. Furthermore, all members benefit from the deep knowledge that all parts of this association share with each other in a very open way. For more information email president@knx.se