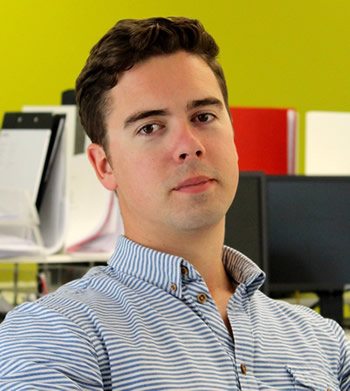 Ivory Egg was founded in 2005 as the first dedicated, UK-based, KNX supplier and training centre. Since then, the company has expanded across multiple territories, including the UK, Australia and New Zealand.
Sam Pound-Jones joined in 2014. With a background in systems integration and financial sales, he spent the first 7 months as an account manager, progressing to Sales Manager where his role has allowed him to combine his interest in new technology with his profession.
In light of the recent BSRIA report showing KNX as the leading communication protocol in the European and Chinese smart home/light commercial markets, it comes as no surprise that Pound-Jones is upbeat about the standard's future. His in-depth knowledge of working on projects combined with a great understanding of the supply side gives him a unique perpective on how we can all help the KNX market to grow further.
KNXtoday: What is your take on the KNX market currently?
SPJ: Products from key innovators; such as Apple, Google and Amazon are leading a lot of end users towards automation, and so, by default, to the KNX market. There is an awakening in terms of what people expect from building and automation technology.
I'm seeing KNX appearing in more and more specifications, from residential to light commercial use, care homes, schools, offices, hospitals and even superyachts. KNX's versatility is proving itself.
The number of new products and services appearing at the moment is astounding, particularly within in the IoT product space. Whilst it's hard to make sense of each and every new product out there, we stay informed and communicate with the key innovators, which enables us to provide the best advice on which technologies meet our customers' needs.
KNXtoday: What are the opportunities and challenges?
SPJ: There are plenty of opportunities for us to push KNX as the building control solution of choice, worldwide, and the challenges are varied for everyone involved in the marketplace.
Manufacturers need to continue to meet the demand for innovating, developing and producing products that integrators, and, more importantly, customers, actually want.
Integrators must continue expanding their knowledge and experience of the protocol, in order to push the boundaries of their installations and offer customers unique, modern and future-ready environments for people to thrive in.
Distributors must make sense of the enormous range of products and services available, then pick the best available with the integrator/customer in mind. They must then support integrators incredibly well, to save them time so that they can get on with what they do best: creating high quality solutions for their clients.
KNXtoday: How is Ivory Egg helping to develop the KNX markets in the UK, New Zealand and Australia?
SPJ: We approach the challenge using a holistic approach. Ivory Egg exists to educate and inform anyone, at any level of knowledge, about KNX. The approach is the same across all of our territories.
We offer a range of training, from basic KNX partner courses, to advanced modular courses that meet very specific needs such as HVAC control and lighting design.
We're very busy behind the scenes, making sure KNX is being discussed by all those who should be discussing it, in order to grow the market for our customers. The more people who are able to effectively specify KNX into projects, the more business there will be for our customers.
Ivory Egg provides valuable insight to architects, interior designers, M&E consultants and industry peers, through CPD training, product demonstrations and specification design.
KNXtoday: What can the KNX industry as a whole, do to help?
SPJ: Manufacturers need to invest heavily in generating more of their own customers who in turn will learn about, specify and ultimately buy their products. They also need to 'out innovate' rival companies in order to convert market share to KNX.
Systems integrators should continue to perfect their use of the KNX protocol, and there are plenty of resources to help them do this. For example, they can exploit the wealth of information at the Ivory Egg website, as well as attending the various training courses we offer independently and in conjunction with our KNX manufacturers.
All too often, businesses take the easy route of competing directly with their KNX peers, as opposed to investing in the long-term development of the market as a whole. But if you work out where your organisation fits within the industry, you can establish which activities you must undertake in order to achieve real market growth.
Sam Pound-Jones is the Sales Manager for Ivory Egg, a supplier of leading KNX products and provider of KNX training courses.