KNX UK revealed the winners of its 2017 awards at its recent AGM, held at Hanbury Hall, London on Thursday 30th March.
The 2017 awards celebrated the very best in the design and implementation of KNX technology across commercial and residential projects in the UK, as well as acknowledging the finest individuals, integrators and products in the KNX community.
The hotly contested category of KNX Residential Installation of the year saw Sagar Smart Homes triumph for the second year in a row. 102 Jermyn Street is home to Beau House, a stunning collection of 8 luxury apartments in the heart of St. James, London. KNX technology provided a fully scalable, holistic control platform to manage features expected from the end users. Union Systems was highly commended for its Chronicle Tower project, which demonstrated exemplar design and integration of a KNX system.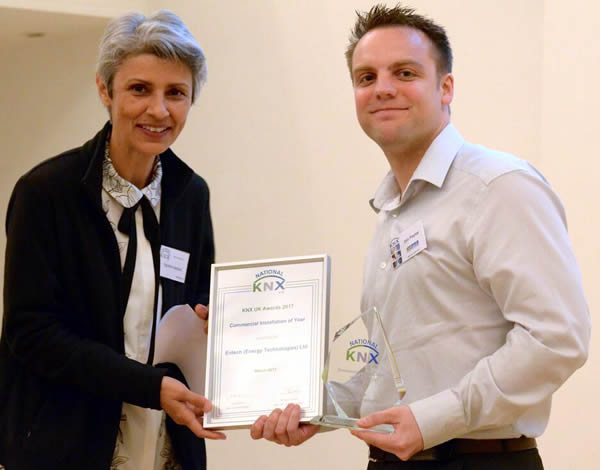 The prestigious KNX Commercial Installation of the year was awarded to Entech, continuing its success from the 2016 awards. City View is a redevelopment of Phoenix House into student accommodation. Entech designed and delivered a bespoke system to eliminate wasted energy and judges commended the project for having a demonstrable payback.
Schneider Electric was awarded KNX Product of the year for its Multitouch Pro. Heralded as a new generation of KNX user interfaces, the KNX Multitouch Pro combines the functional versatility of a thermostat and a multifunction push-button with the operability of a smartphone.
Hughes Electra Ltd collected the KNX Integrator of the year award. The judges referenced work completed in the commercial sector as award-worthy, particularly in the larger multi-dwelling projects completed in the last 12 months.
A returning category for 2017 was KNX Champion of the year. Recognising an individual's achievements in the KNX community, Mark Warburton of Ivory Egg was commended for his dedication to the industry, as well as his breadth of KNX knowledge influencing seminars, conferences and training sessions.
"We are delighted with the success of this year's awards programme. Award entries grew significantly again for 2017, a trend that has continued over the last few years. The outstanding quality of work and projects carried out by our members continues to drive the KNX standard forward," commented Iain Gordon, President of KNX UK.
Contact KNX UK for more details on 0845 869 5908, email admin@knxuk.org or visit