By Simon Buddle, Future Ready Homes.
It is once more the turning of the season's tides. The long grey is finally giving up and the days are, at last, beginning to brighten and lengthen. And with it comes the day-by-day rise in ambient air temperature, solar gain and sudden and often dramatic temperature drops late at night. All through the winter the heating system has, by and large, simply been on. Now, however, the seasonal temperature fluctuations bring with them significant swings in heating demand in the home. Rooms begin to overshoot or undershoot as they try to maintain set point.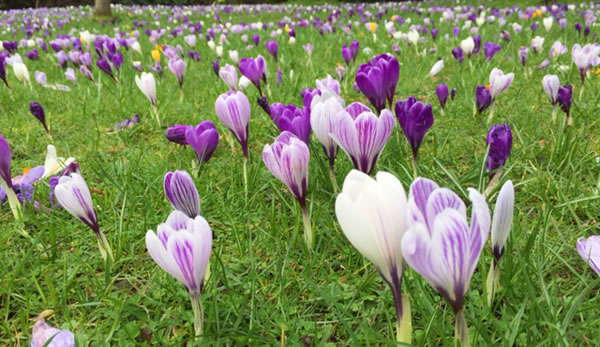 We have many settings that we need to attend to in our KNX system; heating cycle times, dead bands, type of heating system; radiators, underfloor coupled with typical Kelvin rise times. And even if we do manage to successfully set all of our parameters correctly, there may be forces beyond our control that prevent the system from performing optimally.
As we head towards galaxies that 'no man has been before', so many of our plumber friends are finding themselves in uncharted waters. Pumps were pretty straightforward back in the day. You applied power and it started spinning – and at some pace! You had the choice of a red one or a yellow/gold one – for recirculation of hot water the pumps were made of bronze or stainless steel. Then before you knew it, they had a little switch on the side that gave us three speed settings. Hmm… what to do? Set it on low speed and you run the risk of not pushing enough heat into a room. Too high, and the pressure may push closed valves open. So, I ask, 'Does anyone know a plumber who knows which speed to set or how to determine that? And moreover, do they even care?'
Keeping up standards
On a recent site, I saw only one of the two duty cycle pumps actually wired in. The plumber, when asked, said "If it breaks we'll come and wire-in the second one." Unsurprisingly, they are no longer working for the homeowner.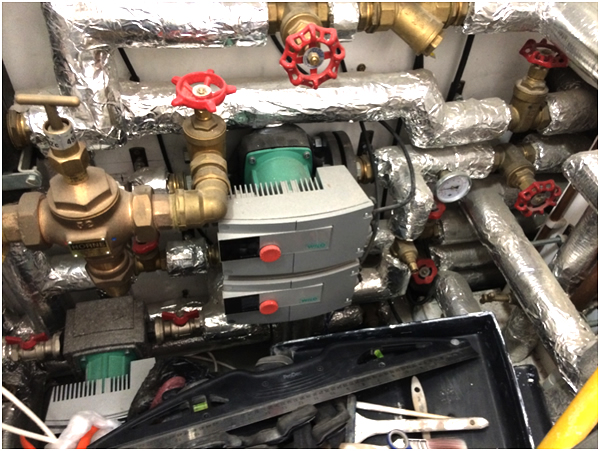 The pumps are now both wired-in and controlled via KNX, and do operate on a duty cycle. The pump in question, a Wilo Stratos D, had set the customer back a pretty penny, the better part of four thousand pounds. That's more than twice the price of the entire plant room's control gear. In fact the pump has options for infra-red control, ModBus, BACnet, LON and others. It also has a simple fault signal relay output. That's a pretty clever pump by any standards. But the part we (really the plumber) should be most interested in, is the operating mode(s). So here they are:
Operating modes
• Manual control mode (n=constant)
• Δp-c for constant differential pressure
• Δp-v for variable differential pressure
• Δp-T for temperature
Manual functions
• Operating mode setting
• Differential pressure set point setting
• Setting automatic setback operation
• Pump ON/OFF setting
• Speed setting (manual control mode)
Automatic functions
• Variable power adjustment depending on the operating mode
• Automatic setback operation
• Deblocking function
• Soft start
• Full motor protection with integrated trip electronics
External control functions
• "Overriding Off" control input (possible with Stratos IF-Modules)
• "Overriding Min" control input (possible with Stratos IF-Modules)
• "Analogue In 0 ? 10 V" control input (remote speed adjustment)
(possible with Stratos IF-Modules)
• "Analogue In 0 ? 10 V" control input (remote set point adjustment)
(possible with Stratos IF-Modules)
Now I don't know about you, but I've seen simpler TV instructions than that. Grundfos pumps also have a similar set of modes and functions. New pumps must be built to comply with the EuP Directive which provides a framework for setting eco-design and minimum energy efficiency requirements for Energy using Products (EuP).
Variable differential pressure mode
It is stated by many pump manufacturers that by setting their pumps to variable differential pressure mode, or variable flow based on demand, you can save around 80% on the pump's energy consumption. Not only is that good for the homeowner but it's good for us too. Why? Well it solves the problem of too much pressure in the system forcing open valves that should be closed. Indeed the system design should incorporate differential pressure from the outset, along with other system design considerations such as two-port valve and correct system pressure balancing.
Checking the set-up
Manifolds have pressure gauges and each loop has a flow regulator. It is worth checking that each zone has been set up correctly. If the system has been designed properly, the underfloor pipe layout drawings will also show the manifold locations and flow rate for each loop, typically anywhere from one to four litres per minute. This should be set using the regulators on each loop.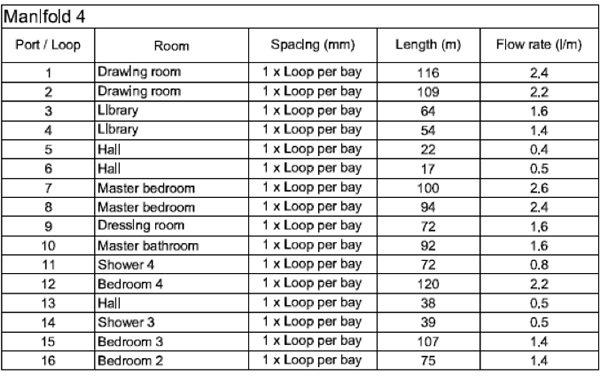 Incorrectly-set-up pumps and flow regulators can lead to some of our control problems. Pumps that are driving water so hard that the force is pushing open our valves will put heat into a room when it is not desired. Similarly, flow rates that are set too low run the risk of never properly heating the room. These problems are most evident at the changing of the seasons. Is it any of our business? Yes of course it is – we're the ones being told that our system doesn't work!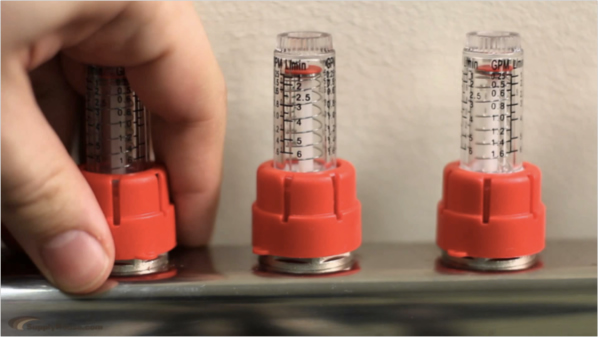 Conclusion
We may still request the installation of a manifold bypass valve to compensate for pressure issues. We should also understand pumps, valves and regulators from a design principles perspective. That will enable us to have an informed conversation around the design table and hopefully ensure that our KNX controls deliver the heat when it's needed and at the speed required.
Simon Buddle is a consultant for Future Ready Homes, a specialist in BMS and ELV services system design.