By Yasmin Hashmi, KNXtoday.
For systems integrators, KNX is an excellent protocol to use as a building control system. It is a worldwide standard and is very reliable. It uses a bus structure onto which thousands of compliant products, such as power supplies, sensors, actuators and user interfaces, from hundreds of manufacturers, can be attached.

There is no need for a central control processor since intelligence is distributed between the devices. Each device has its own microprocessor, so all of the devices attached to the bus can exchange data and commands with each other, and if one device fails, the others will continue to function, meaning a catastrophic breakdown of the entire system is very unlikely.
Communication between devices is via 'telegram' (data packet). Typically, a sensor, such as a daylight sensor, might, for example, detect a fall in light level. It might then put a telegram on the bus, addressed to two different actuators, one of which will send an electrical signal to the motor of a blind, in order to close it, and the other will send a signal to a light ballast, in order to switch a light on.
The conditions for which the specific sensors take action, and the reactions of the actuators, are all programmed via ETS Professional. ETS Professional is a design and commissioning software that runs on a Windows PC. There are special courses for KNX integrators to be trained in ETS Professional, enabling them to realise the full potential of KNX and program KNX projects ranging from simple home control, to large-scale and highly-complex public/commercial building automation.
Until now, the only alternative way to program a KNX system was via the 'Easy Mode'. This was developed for electricians who have little or no software skills. It typically involves a handheld unit, push buttons, or other means of programming a system. Obviously the range and complexity of functions that can be programmed in this way are limited.
Simpler control
Traditionally, if the end-user wants to fine-tune a system, they would have to employ the services of their KNX integrator or electrician, even if the change is a small one. So to make life simpler, KNX Association has launched ETS Inside. Aimed at integrators involved with less complex projects, as well as end-users who wish to make minor changes to their setups, ETS Inside offers entry into KNX technology at a fraction of the cost of ETS Professional.
ETS Inside allows KNX installations to be created and managed using a phone, tablet or PC, with a simplified user interface. Once an ETS Inside project has been integrated into an installation, it remains part of it, which means that inconvenient project recoveries or lost KNX project files are a thing of the past, and the end user can make minor changes after commissioning.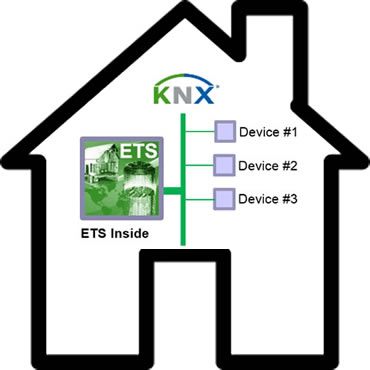 Making a system ETS Inside-capable
An ETS Inside-capable installation must include an ETS Inside server device, such as a KNX device with an integrated ETS Inside licence or a mini-PC. Thereafter, all devices that do not require a plug-in can be configured, i.e. over 7000 KNX-certified products. Of course, since ETS Inside has only just been launched, the number of ETS Inside server devices is currently small, but this is expected to grow significantly. The project created with ETS Inside is stored on the installed mini-PC, so it remains with the installation rather than with the integrator.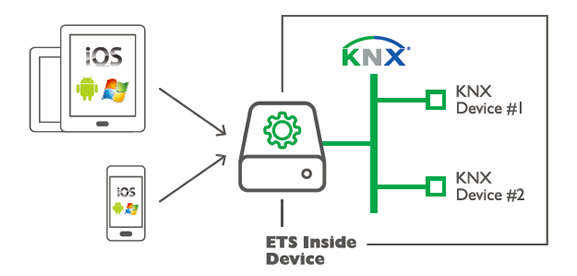 Should the installer wish to take the same ETS Inside project to the next installation (e.g. where apartments have the same requirements), they can do so, provided they purchase a licence each time. The licence also ensures that the end-user can make minor modifications to their installation.
Future plans include the ability to synchronise ETS Inside with ETS Professional, meaning that a project started on the integrator's computer with ETS Professional, could be transferred to ETS Inside, or vice versa.
Capabilities
Whereas ETS Professional includes the full range of functions needed for configuring and programming every type of KNX device, ETS Inside is a version that is capable of handling configuration and downloads of devices for less complex installations (i.e. no plug-ins, or gateways with complex functionality) of up to 255 KNX devices.
End-users with an existing KNX Professional installation can have their current home configuration synchronised with ETS Inside software through an initial synchronisation by their KNX integrator. Thereafter, they will be able to access the project from anywhere in the world via KNXnetIP to get a detailed status update for each device and make modifications.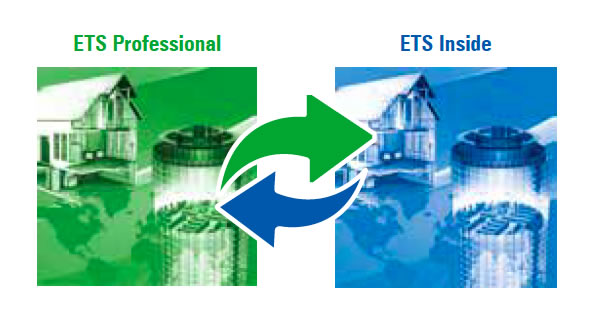 Should urgent changes by the integrator be required or a device have to be replaced while the integrator is not around, remote commissioning is possible since ETS Inside is accessible via the Internet. This means that remote device configuration no longer requires a KNX IP interface.
For security, ETS Inside offers password protection to prevent unauthorised access. It also takes advantage of the new KNX Secure that uses the AES 128 international encryption standard to make KNX installations invulnerable to hack-attacks.
Availability
ETS Inside (server) can only handle one project, so the installer must buy an ETS Inside (server version) licence at MyKNX and use it with a dongle. This can be purchased through the MyKNX part of the KNX Association website, and costs EU€160 including dongle.
The end user requires ETS Inside (client) for iOS, Windows or Android devices that they wish to use as their interface. The ETS Inside (client) is available in all standard app stores, such as the Google Play Store, Apple App Store and Windows Store and is available for download free of charge.
For manufacturers wishing to offer ETS Inside devices, a special version of the ETS Inside software can be installed on the device(s). A web server does not need to be installed. ETS Inside supports all certified KNX devices, except those with plug-ins. No gateways are needed. For existing certified devices, ETS Inside can be added without requiring additional certification if the application program of the standard KNX functionality is not modified.
Conclusion
KNX is such a reliable and flexible control technology that it can be used for projects ranging from the very large and complex to the small and more simple. For systems integrators involved with the former, in-depth training using a comprehensive software tool such as ETS Professional is clearly necessary. For the latter, ETS Inside offers a cost-effective route for more installers to expand their businesses into the world of KNX, whilst providing their customers with the means of making helpful changes as the need arises. A win-win for all!
Yasmin Hashmi is the Editor of KNXtoday magazine.
If you have any questions or observations about ETS Inside, you are welcome to comment below.