The opportunity to test his skills on some of the most prestigious homes in the North East is now part of the regular working day for electrician Gary Warne.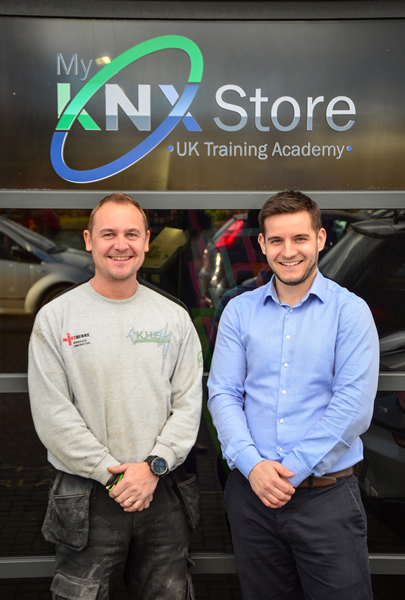 Gary, 48, formed his business Kenton House Electricals Limited six years ago with the aim of looking for a niche in the market that differentiated him from the competition.
Based in Hetton-le-Hole, County Durham, Gary enjoyed projects that were based around the concept of the 'smart home' and demonstrated his skill in this area while working on the highly desirable Ramside Developments in Durham. It was while he was working at Ramside that he made contact with Park Electrical Distributors, which was also providing lighting design.
Gary said, "It was while I built a relationship with Park that I began to understand the extent of the serious commitment to and level of investment the company was making in KNX, both as a stockist and the training it provided for people wishing to be KNX integrators. I quickly decided to pursue this avenue as it would equip me with invaluable new skills around the latest smart homes technology and also give me the opportunity to work on larger projects. In a short space of time I have won high end housing projects and I am now also looking to open up the commercial market."
Established in 1990, Park, which has outlets in Newcastle, Gateshead, Teesside and Sunderland, is the largest, independent electrical wholesaler in the North East. It has four specialist divisions: Lighting Design, Energy Solutions, Industrial Services and Building Technologies.
Alongside the divisions sits My KNX Store which includes the only academy in the whole of the North of England to offer specialist training courses to enable people to become KNX integrators. Gary attended a full one-week course that provided him with the skills to install, program and commission a full KNX in a domestic environment.
Gary said, "KNX functionality allows total control and integration over lighting, visual, heating, blinds, cctv and door communication. Essentially, it is the most sophisticated and future-proof protocol and, where possible, I recommend it on every project I undertake."
My KNX Store runs a series of courses throughout the year, both full week training modules and bite-size tasters for those wishing to find out a little more about KNX before committing.
Paul Kinghorn, General Manager, KNX Building Technologies, said, "We offer KNX certification at one of the most competitive prices in the UK. Our priority is to grow the number of KNX engineers and therefore installations. The syllabus for this course is designed by the KNX Association in Brussels and must be undertaken by all those wishing to install, program, commission and design KNX systems. We have invested in our training academy and feel we have an excellent resource and are well placed to serve delegates."
Paul added, "New for 2017, a number of short, specific courses aimed at furthering a KNX Partner's knowledge and expertise. Held in-house, we cover a number of topics using multiple manufacturers' products in a variety of locations in the north and south of England."
With all necessary accommodation and transport links close by, the next course takes place on January 23, 2017. Details on this and other courses can be found at