2016 comes to a close with more than 65,000 certified KNX installers located in nearly 160 countries
KNX Association has revealed in 2016 an unprecedented 30% increase in certified KNX installers in 160 countries worldwide. Driving this impressive success is the KNX Association's significant investment in education which today sees 388 KNX training centres in 63 countries, delivering more KNX education supported by extra online training and the introductory eCampus online platform for those new in KNX.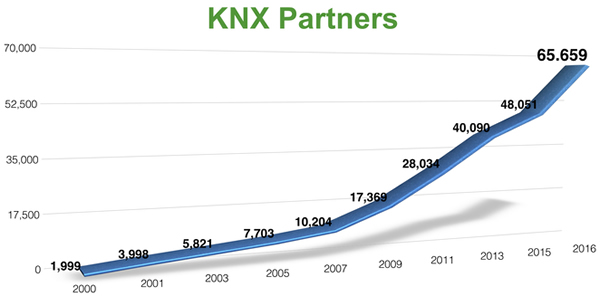 From Albania to Vietnam, and in 160 countries in-between, certified KNX installers now offer comprehensive worldwide coverage for design and installation expertise using the KNX protocol. Strongest growth was reported in Germany, Spain, Austria, France and Italy whilst certified KNX installers now exist for the first time in Cote d´Ivoire, Jersey, Madagascar, Saint Barthélemy and Tajikistan.
Mr. Franz Josef Kammerl, President of KNX Association commented: "The huge growth in certified KNX installers underlines the continued success of KNX as the worldwide standard for home and building control (ISO/IEC 14543-3). Undoubtedly, KNX training is powering this rapid expansion. Installers now have many more opportunities to learn the skills they need to work with KNX. We are delighted that they are responding in greater numbers than ever. This means more end-users can enjoy the benefits of open, interoperable control in home, public and commercial building project applications."
Unstoppable growth of KNX eCampus
During the last five years the KNX Association has doubled the number of KNX Training Centres across the world to 388. In 2016 this expansion has been fuelled by delivering more delegate content with online learning. The introductory eCampus online platform is used by 2000 new KNX users from more than 100 countries worldwide every month.
More success ahead in 2017
"2016 has been a great year for KNX training but we are already building on this success for 2017," adds Mr. Franz Josef Kammerl. "We are working to make it even more convenient, informative and valuable in the future. So, we are currently designing a programme that combines webinars, eCampus and certified training to help delegates become an expert on KNX as quickly and efficiently as possible. More information on this initiative can be found at the Start@KNX microsite and on KNX eBooks which can be purchased on Amazon, currently the top-selling eBooks for their category."
Each KNX certified installer saves the world
Market confidence in KNX translates into an ever growing community. This year saw the largest annual increase in KNX Partners, i.e. those persons who invested in attending training at one of the nearly 400 KNX certified training centres worldwide. No fewer than 65,000 KNX Partners are now qualified worldwide to install KNX!
In order to underpin that KNX is a technology that helps to protect our environment and instead of traditional Christmas presents, KNX has this year decided to make a 1€ donation for every KNX partner that joined the community in 2016 to the Plant-for-the-Planet initiative (see https://www.plant-for-the-planet.org/en/home).