Returning to the NEC in Birmingham last week, the UK's largest construction trade event UK Construction Week attracted more than 30,000 trade visitors and over 650 exhibitors to showcase their latest innovations, debate the industry's biggest issues and do business together.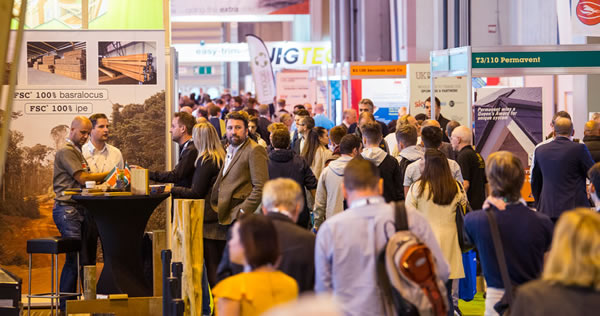 Featuring nine shows under one roof, the event began on Tuesday 18 October with eight strictly trade shows running for three days: Build Show, Timber Expo, Civils Expo, the Surface and Materials Show, Energy 2016, Plant & Machinery Live, HVAC 2016 and Smart Buildings 2016. Then, overlapping the last two trade days and running on until Sunday 23 October, Grand Designs Live offered a unique crossover experience between trade and public.
Now in its second year, UK Construction Week attracted visitors from across the full spectrum of the construction industry – from tradespeople, self-builders and SME owners to architects, civil engineers, national house builders and interior designers. Organised by Media 10, the show covered over 70,000 square metres of exhibition space and featured more than 165 hours of seminar content from 100 plus speakers.
In total there were 13 different seminar theatres at the event with the main stage being hosted by television presenter and architect George Clarke, business journalist Steph McGovern and television broadcaster and business journalist Victoria Fritz across the three days. Debating topics such as productivity, the skills shortage, BIM, offsite construction and intelligent environments, the seminar theatres provided a powerful platform to share best practice, devise new strategy and drive progress.
UK Construction Week also hosted a raft of major new product launches from leading industry companies such as CEMEX, Easy-Trim Roofing and Construction Products, Condair, Cotherm, Instant Upright Ltd, OX Group UK, Irwin Tools, Banbury and SAVANT to name but a few.
Feedback from exhibitors has been very positive and the show has received a high number of re-bookings for the 2017 event. Some of the companies confirmed so far for next year include Festool, Easy-Trim, Theben AG, White Haus, ForgeFix, Ecovolt, Combilift Ltd, Creagh Concrete and many more.
Joshua Watkins, Managing Director at Swiftec (Build Show exhibitor), said: "There have been a really broad variety of people here, which has been exciting. It's a great place to meet clients and visitors as well as getting a good grasp of what's going on in the industry."
Mick Jackson, IT & Marketing Manager at Joseph Ash (Surface and Materials Show exhibitor), commented: "Honestly we've been surprised with the footfall, which has been excellent and has lead to some strong leads. We're excited to see what tomorrow brings!"
Ian Thornton, Specifier Consultant at Calor Gas (HVAC 2016 exhibitor), also commented: "We did our research before coming and knew we would meet a lot of relevant people here. That's exactly what has happened and we've done a lot of business this week!"
Dave Cole, Sales Manager at Vandecasteele (Timber Expo exhibitor), added: "We've long been an exhibitor at Timber Expo and will continue to be in the future as it is a valuable meeting hub for our UK customers."
In addition to all the new products and services on display, UK Construction Week hosted a variety of unique features and industry award ceremonies. The Business Advice Centre provided free professional advice to SMEs at the show, while the Gamification Zone offered visitors an opportunity to learn more about their leadership potential. Among the seven award ceremonies hosted at the show, the inaugural Construction Enquirer Awards were a huge success with more than 500 people in attendance to recognise the construction industry's best companies to work with and for.
Nathan Garnett, Event Director for UK Construction Week, commented: "We are so pleased with how this year's show has gone and want to thank all of our exhibitors, visitors, speakers, association and media partners for helping us put on such an impressive event. I believe the show is testament to the willingness to progress and collaborate within the construction industry as a whole.
"With representatives from across the entire sector it was great to see all the innovation and life present in the industry. The seminars were really well attended and engagement was high from visitors, which goes to show that we were able to hit the mark in terms of content. The interest in next year's show has already started to flood in and with booking the NEC until 2019, we are confident that UK Construction Week will go from strength to strength over the coming years."
Returning to the Birmingham NEC, the dates for UK Construction Week 2017 are set for 10 – 12 October. For more information about UK Construction Week or to register your interest for next year's show, please visit