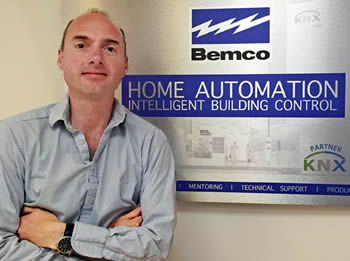 Julian Barkes is the Purchasing Director for Bemco, a third-generation family-run electrical wholesaling business that started in 1893 in Newcastle, UK. Bemco was originally set up to provide cable and lighting for the mining, railway and steel works industries in the North East of England, and it also imported batteries from the USA. It still has a switch gear manufacturing branch, as well as two branches in Scotland, a domestic appliance branch, seven wholesale branches across the UK and a KNX Control division in London.
Julian runs the company with his father and brother, who were switched on to KNX variously through word of mouth, desktop research, being a member of ANEW (Association of National Electrical Wholesalers) and IMELCO (the leading consortium of independent electrical wholesale companies in Europe, Australia, Russia and US) as well as by visiting the Light+Building show in Frankfurt 2014.
The company now deals with 29 different KNX manufacturers, including brands such as Jung, ABB, Theben, Zennio and Gira.
In this exclusive interview with KNXtoday, Julian explains how BEMCO is reaching out to electrical contractors, and gives us his view on how the KNX market is developing in the UK.
KNXtoday: What is currently driving you in the KNX market?
JB: Through our pool of customers, we are trying to get electricians more interested in control products. Our aim is to transition electricians to smart technology, with a particular emphasis on KNX.
Our message is that, although the upfront cost of KNX may be higher, savings can be made overall by having the infrastructure in place to make additions and changes. The end-client can make efficiencies, have lower bills and live more comfortably. It can sometimes be a hard sell, but education is key.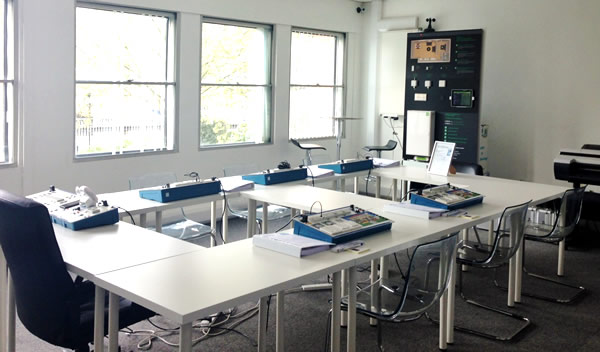 KNXtoday: What are the main challenges in switching electricians on to KNX?
JB: Until KNX becomes as easy to use as, say, Apple products, there are massive issues surrounding usability and confidence. Confidence is a major factor, especially among electricians in their mid-40s plus. The idea of having to program something with software is daunting for them, which is why support and hand-holding are so important. We need to de-mystify the technology, help electricians through potential complexities and give them the confidence that they do not need to be a computer whiz kid in order to deal with this technology.
However, we cannot build the required confidence on our own – it has to be a combination of manufacturers, our national KNX country group (KNX UK), and us suppliers. We are all playing our part to help raise awareness and grow the market.
KNXtoday: How are you introducing installers to KNX?
JB: The high-volume, low-margin electrical wholesale business is tough. We see KNX as adding value to projects, so we need to get this across to our customers. We offer free introductory courses as well as certified KNX training, customer mentoring, advanced classes and product workshops.
There are several lines of approach, one of which is through our trade counter. Not only do our staff talk to our customers about KNX but we have various marketing materials on display to provoke interest. It's all about relationships really – people buy from people, we have a good reputation in the trade and we have loyal customers, some of whom have been with us for decades. We tend not to sell out of a catalogue, but find ourselves providing advice and helping customers with solutions to everyday problems. We're bringing our expertise in the standard electrical install market to the automation market too.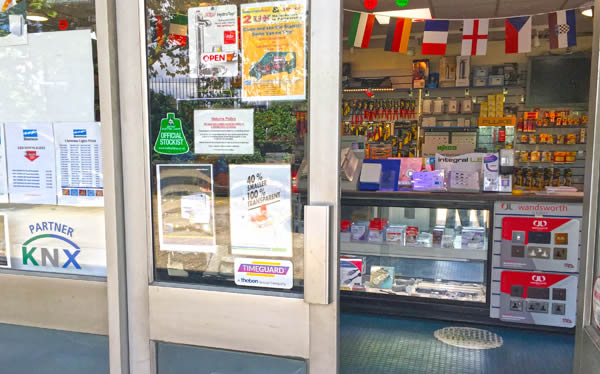 Next to the trade counter is a walk-in Innovation Room. This features a TV video that introduces KNX, a Philips Hue lighting system with a control app, presence detection for lighting, and a series of interactive demonstration displays with varying levels of sophistication. One of these allows KNX dimming from a standard on/off switch using a binary input, another allows lighting scene control, as well as shade and temperature control using ETS to manipulate the functions of a KNX switch. Visualisation is also provided, showing the cost-benefit of using KNX over proprietary systems, and/or different types of luminaire, such as halogen versus LED.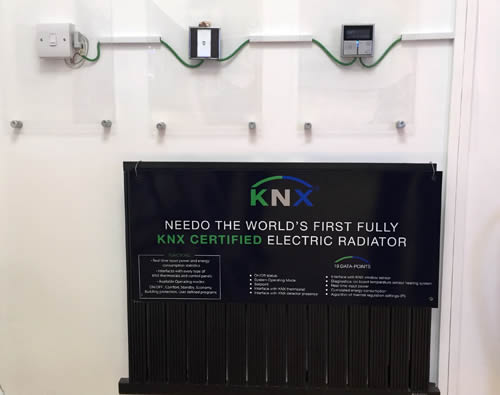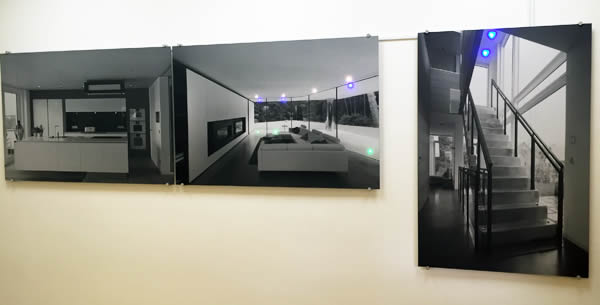 KNXtoday: What about training?
JB: Our training room features an entry-level KNX board and an advanced board. There is also a standard MK switch with a binary input to make it smart, a touch controller for visualisation, a weather station outside and lux sensors inside. We also offer a keenly-priced starter kit that is pre-packaged in an enclosure and ready for students to take away with them once they have completed the course.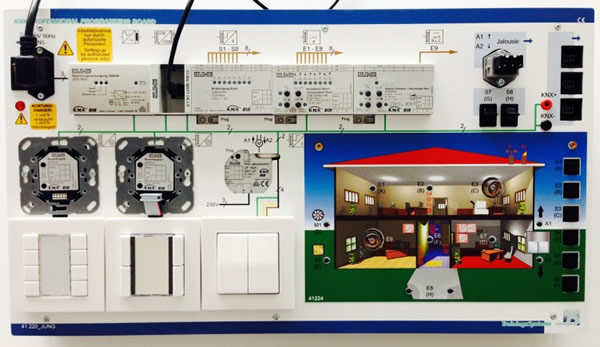 Our Certified KNX Tutor is Gordon Fry who is a vastly experienced Integrator. He's been at the forefront of KNX for the last 20 years. Our free KNX Intro courses are given by systems integrator Jeremy Aston, who has plenty of hands-on experience and electricians/contractors tend to find his perspective very real and interesting. Learning the theory is one thing, but putting it into practice, where each project is different, can be quite another. That's why we've set up a mentoring scheme to help new installers with their first few projects and get them up to speed. In fact this helps both parties, as the mentors themselves often get business from the relationship.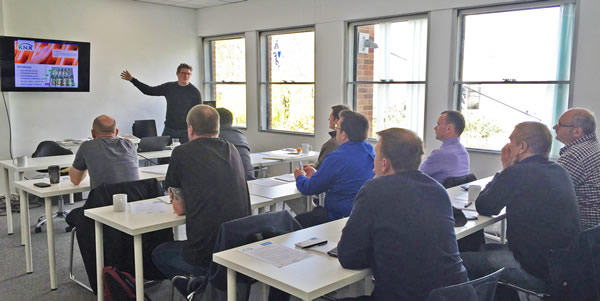 For existing KNX integrators and installers we provide regular product training days and manufacturer workshops. We back this up with excellent all round support and consistently fair and competitive prices.
KNXtoday: What is your reaction to Brexit?
JB: I have to say that we are disappointed. The current fall in Sterling is going to hit importers hard – including KNX suppliers. We are all in the same boat, as there are no UK-manufactured alternatives. Short-term, it's making life uncomfortable. It has already had an impact on the commodities we buy, especially cable and steel which are priced in US dollars, making them more expensive
Longer-term, I doubt whether the high-end of the KNX world will be that much affected, but no market enjoys uncertainty, and we just don't know what impact Brexit will have on the KNX market in general. I'm sure there will be more political and economic twists and turns, but in the meantime, we are making a big effort with our European suppliers to make sure they know that we want to work with them!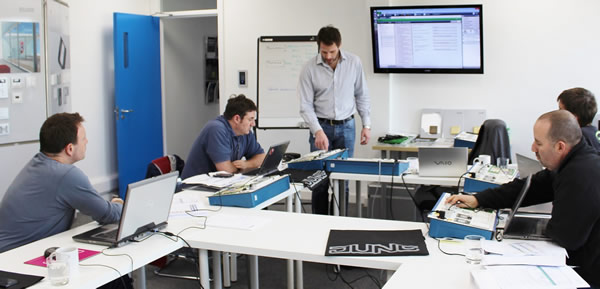 KNXtoday: What is your outlook for the future?
JB: The electrical wholesale market is changing. We distribute, we sell and we provide banking facilities – just like others. But in order to stay ahead we need to offer additional services as well. The KNX market allows us to broaden our business base and to help us extend our skillset and the capability of our customers too. We major on service and in creating value in the market. This is a long-term project for Bemco; we're committed to helping educate our customers in the opportunities that KNX offers and supporting them at every step. We want them to share our confidence in the KNX market. We are here all of the time, to help with design, planning, product selection and technical implementation – all the ingredients necessary to help our customers complete successful and profitable projects..
I genuinely believe that the KNX market is developing in the UK. IoT and Controls are the direction of travel, and while there is plenty of jockeying for position among the DIY products, whichever technology wins out, we will be in a stronger position to exploit opportunities because KNX stands up against all of it.
Julian Barkes is the Purchasing Director for Bemco, a privately-owned independent wholesaler to electrical contractors.