Futurasmus has been a driving force in the KNX market, both as a multi-brand KNX wholesaler and as a KNX++ training centre. We are proud to represent a large number of high-quality brands internationally, and to be a pioneer in KNX online training.
Competition
To celebrate our 15th birthday, we have launched an exciting contest: the 'KNX Tips & Tricks Awards', sponsored by IPAS, MDT, Intesis, Elsner, Arcus, Lingg&Janke, Iddero, ekinex, ISE, GePro and enertex. Participants simply need to share an experience in KNX installations/programming that might be of help to other integrators, thereby creating the most interesting KNX forum ever. Prizes totalling up to 15,000 Euros in KNX devices are up for grabs!
Also, everyone who votes for the best KNX Tip or Trick will be automatically entered into a Lucky Draw for a prize worth 1500 Euros in KNX devices!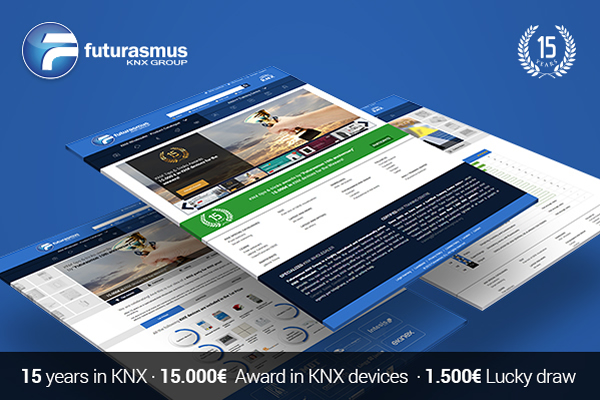 New Website
A number of new sections have been added to the Futurasmus website:
• Top Selection of New KNX Devices: a .pdf catalogue with over 60 devices from different manufacturers launched at the light+building 2016 fair.
• Free test of the CBSE visualization software: try for yourself one of the most powerful KNX visualizations on the market, completely free of charge. Book your session and create your project with the full functionality of this software.
• The most complete solution for Smart Metering in KNX in one place.
• Get to know the µBrick Actuator series with tutorials.
• Participate in the µBrick Actuator Trivia Game and receive a 16GB Memory Pen with your µBrick order.
• Watch our video tutorials on the main features of the CBSE visualization software, by IPAS.
• Assist with any of our free technical/commercial webinars.
• Latest news on KNX devices and great web offers.
We will be releasing a lot more new stuff on KNX soon. Until then, 'How can we help you?' Our commercial and technical staff members are ready to provide any KNX professional freelancers/companies with non-binding cost estimates, discounts, shipping costs to any country in the world, special solutions for your KNX requirements, etc. You will be pleasantly surprised by our prices and new devices!