By Yasmin Hashmi, KNXtoday 
Ever since the last Light + Building in 2014, where we were blown away by the sheer scale of the event and the impressive KNX presence there, we have been looking forward to this year's show.
Hailed as the world's biggest event for lighting, electrical technology and home and building automation, L+B 2016 did not disappoint. Held during 13-18 March in Frankfurt am Main at the same time as the fabulous city-wide Luminale, it broke previous records, playing host to 2,589 exhibitors from 55 countries in 22 exhibition halls; and 216,000 trade visitors from 160 countries – almost half of whom came from outside of Germany.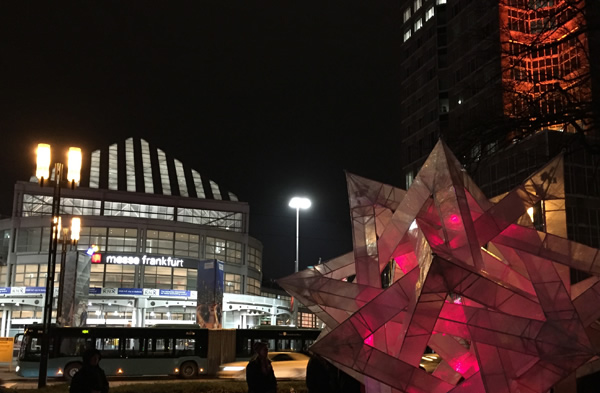 KNX Association
The KNX Association pulled out all the stops, and visitors were in no doubt as to which standard means business. As we entered one of the four main halls featuring major KNX exhibitors and over 180 dedicated KNX Member stands, I heard a young man exclaim "KNX is everywhere!"
The Association took over a glass-roofed area called the Galleria, where it created the KNX IoT city based on a Times Square, New York theme. There it provided training, information, competitions and entertainment, and on the Tuesday evening, in a large auditorium called the Forum, it played host to the renowned TOP Event (more on that later). The KNX Championships in the KNX IoT city were a hit, hosting around 45 people each day who competed to program and commission 6 tasks.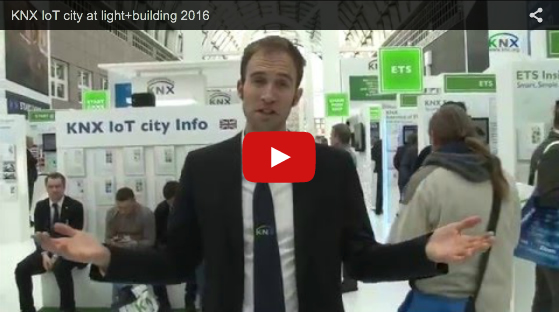 Trends
The advantage of having a show that takes place every two years is that manufacturers have a realistic deadline to work to, and visitors get the chance to see some real changes and developments. Yes, there was plenty to see in terms of beautiful switches and clever devices, but the big difference from last time, is how important apps are becoming.
There will always be a demand for dedicated controllers, but with mobile devices now being a part of everyday life, the app has become an essential part of the offer. For example, the Building Management Systems KNX App communicates directly with the BMS MCU Modular actuator. With a wireless connection to the bus system, it allows you to control each channel individually in various ways (blinds up/down, stop, position, angle, automatic lock reset etc), all using a mobile device.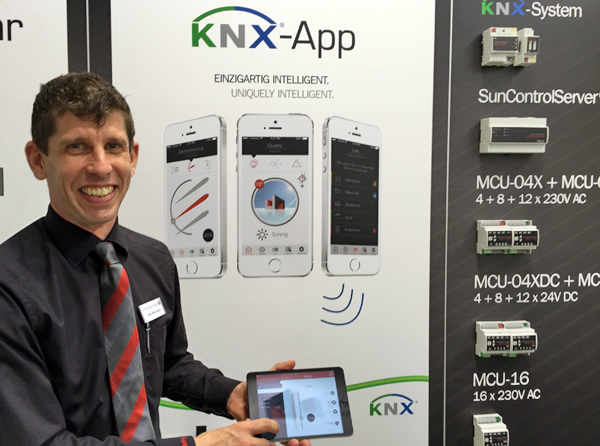 Other noticeable differences at this year's show were the effort that has gone into simplifying ETS programming, explorations into the IoT, more audio integration, and an increase in KNX RF solutions. Here are just some of the highlights:
ABB was showing how KNX works in 'Living Space' and 'Building Space' environments. There was a technology demonstration of the Point Grab system that detects people in the room along with their position, and reacts automatically by opening blinds and switching on lights for example. Also on show was an update of the ComfortTouch touchpanel that has an interface to the Sonos music system; the new ControlTouch app, that allows control through a web server of almost all of the same functions as ComfortTouch; and the new ABB Security Panel that is KNX native and complies with all European regulations.
Easy Programming
To help with KNX project programming, the ABB ibus KNX Logic Controller allows sophisticated control functions to be designed using a graphical interface within the ETS environment, which can be tested before they go live.

Another company offering a simple way to configure KNX projects was Hager with its 'easy' software. This uses the same standard as KNX but has a very visual interface that allows inputs to be assigned to outputs by simply touching the screen. Exporting 'easy' projects into ETS is straightforward, and they are future-proofed because they are based on the same standard.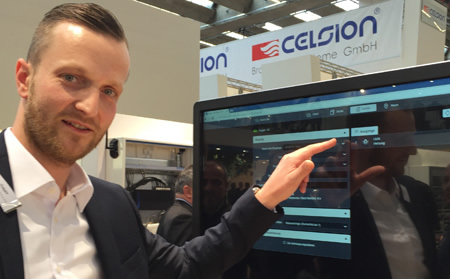 The Internet of Things
The E-Haus, created by the German Electrical and Information Technology Industry Association (ZVEH), was fascinating. It featured an 'energy-saving power plant' and control via KNX of different features including Sonos audio and Philips Hue lighting using an iPhone and QR codes as well as via smart watch. It also featured RF and powerline control for the retrofit market.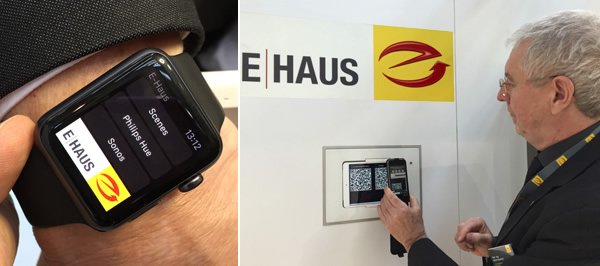 Next to the new LS Zero flushmount range of switches on the Jung stand was a demonstration of iHaus, a manufacturer- and system-independent app that can control KNX functions and IoT applications through a consistent user interface. It is pre-installed in the Jung Launcher and only needs to be enabled by the user.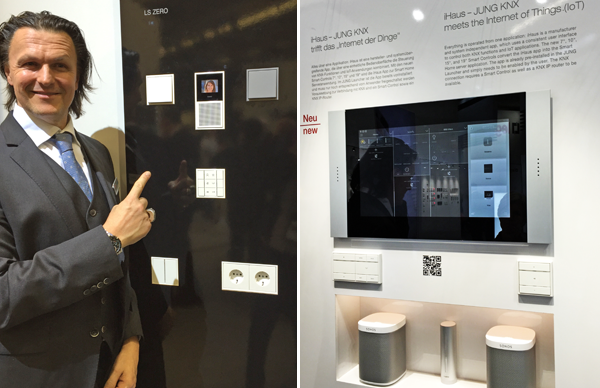 In the KNX IoT city, ProKNX was demonstrating augmented reality, whereby a KNX system with an integrated KNX-proServ controller (which permits a user interface to be configured for iOS or Android devices using ETS) could be controlled using only the camera of a smart phone. The user opens the RealKNX app which activates the camera. The user then moves the camera around, and when a controllable device is recognised, options for controlling it appear and can be activated by touch.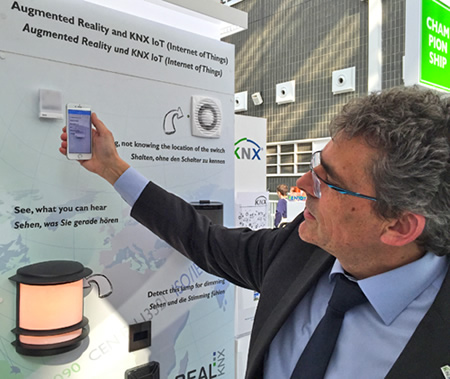 Audio Integration
While a number of companies, such as Jung, Merten, iKNXiX, Ise and others offer a gateway to the Sonos multiroom audio system, a growing number of KNX-native audio systems are coming onto the market.
In addition to a new fer forgé finish for its Deseo and Sentido switches, Basalte showed a complete line-up of the Asano KNX-based music system, including the new S4 server and M4 four-zone multiroom audio amplifier. The S4 hosts four digital audio streams with extensive room management tools. It allows you to stream content from an iOS device to multiple rooms, listen to Internet radio stations, and access a NAS-based music library.

The Trivum SC348 supports up to four rooms, and various inputs including streaming only and/or analogue. Multiple units can be combined for larger installations, and it can be set up via web browser and controlled via the Trivum web server or TouchPad.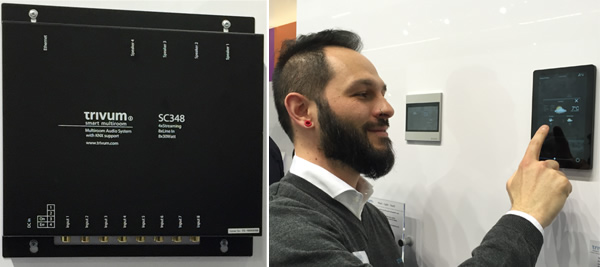 Another audio system on show was AudioFy by thinknx. It is available in different modules and has optional ears for rackmounting. It has an internal streamer that supports USB sticks as well as Internet radio and most common streaming services, and can be controlled via tablet, KNX controller or the thinknx Envision 7″ touchscreen with built-in server.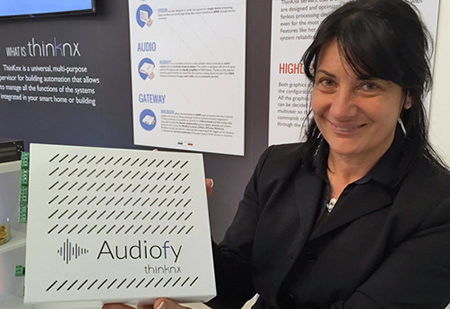 KNX RF
There was a growing number of companies offering KNX RF products for wireless and retrofit applications. Among these was Elsner, which was showing a new KNX RF line coupler between twisted pair and RF. It allows data traffic to be shown on its display, and can communicate with, for example, Elsner's Corlo range of RF control panels. The company also offers an RF actuator.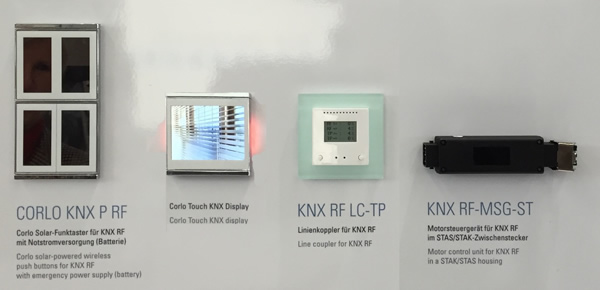 In addition to the new G1 user interface that can operate over PoE and Wi-Fi, Gira was showcasing a complete KNX RF system. This comprised RF push button sensors, remote controls, a USB data interface and a media coupler that allows existing KNX systems to be integrated with RF.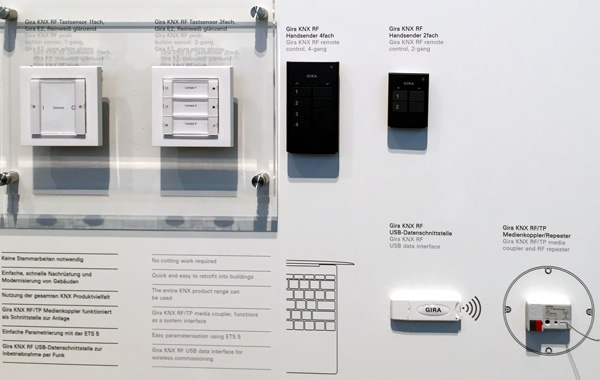 Other Developments
On the Theben stand was a new 8-channel dimmer with 200W of LED dimming that is aimed at high-end residential, as well as a fan coil actuator for HVAC that supports 0-10V linear control, and the Theben theServa that can now control four cameras instead of two.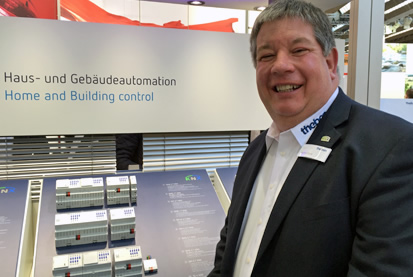 It was hard to pass the Tense stand without saying 'Wow'. This year, among the fabulous switch designs in various finishes were new flushmount models of single and multifunction switches and power sockets.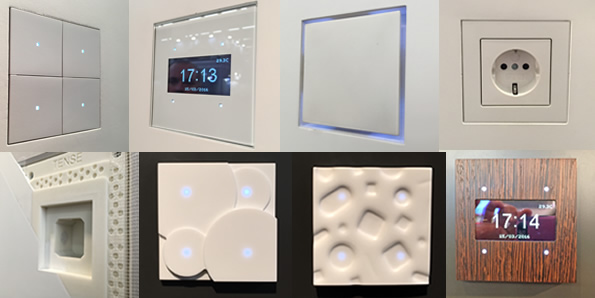 KNX Press Conference and Top Event
The KNX Association had three main messages at this year's press conference, namely KNX and the Internet of Things; KNX IP Secure and KNX Data Secure; and ETS Inside. More on these can be found in George Lavos' excellent show report. The Association also informed us that there has been a 20% increase in members since 2014 and a 30% increase in training centres. There are now over 48,000 KNX partners in 138 countries and over 7000 KNX-certified devices.
The KNX Top Event was packed, and was a mixture of fun, celebration and congratulation. The main theme was KNX in the USA, and we were treated to various American-themed acts, a "video link-up" with Times Square, and some words from David Thurow of KNX USA. The KNX Awards also took place, and highlighted some of the best KNX installations around the world. There was indeed plenty to celebrate, and it is hoped that at L+B 2018, there will be better representation of women in the world of KNX.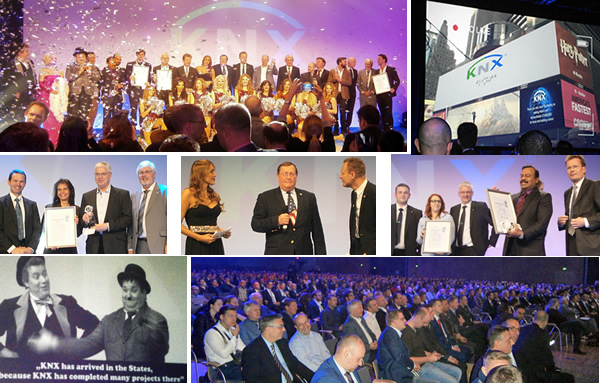 Conclusion
Light+Building is a must in the KNX professional's calendar. There was so much to see at this year's show that we would need a few months to write about it all. What is abundantly clear is that KNX is not standing still. KNX is developing, growing, spreading around the world and expanding into new areas, and nowhere was this more apparent than at L+B. What is perhaps even more remarkable, is that despite its growing size, KNX manages to maintain a strong sense of community and enthusiasm. We have to congratulate everyone concerned for a magnificent effort, and we look forward to the next show (Frankfurt 18-23 March 2018)!
Yasmin Hashmi is the Editor of KNXtoday magazine. For more news on Light+Building 2016, check out our Spotlight on Light+Building page.