ETS Inside opens up exciting perspectives in the growing smart home market.
The advantage of intelligent functions in the home has found its way into the minds of most people. Smart Home is on everyone's lips and the market stands before breakthrough. Therefor KNX releases the new ETS Inside. Even installers with little experience in building automation are able to create KNX projects fast and easily when using this tool for small and medium sized projects. The inhabitants will be delighted, too: They experience their intelligent home by becoming active themselves and by adapting functions to their own needs. That's because ETS Inside is a fixed part of the KNX installation und always up-to-date on site. The easily understandable user interface actually runs on tablets and smart phones. Even – just by a touch – the remote control of one's home is possible. Nevertheless the project is protected against unauthorized access.
KNX has proved its investment security since many years in a countless number of projects. Openness, compatibility, flexibility and last but not least the common tool ETS, currently version 5, belong to its secrets of success. The well proven ETS Professional allows realizing all KNX installations and all sizes of projects. Knowledge and practice can be acquired in certified KNX training centers. But, in the smart home market exist also smaller projects requiring less sophisticated configuration work. Thus, ETS Inside is congenial for all installers, who do not have building automation in their service portfolio or just do it occasionally. ETS inside allows the realization of KNX projects in a simple way and does not require extensive training.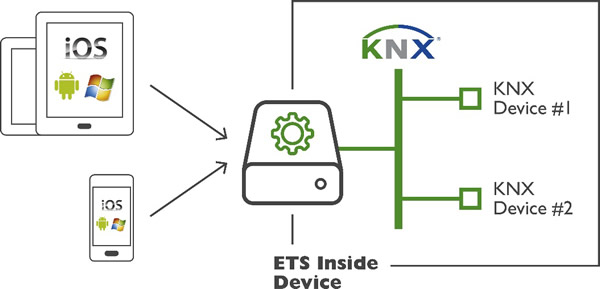 Operation and ETS Data decoupled
It is a basic principle of ETS Inside to decouple the user interface from the ETS data. This allows the editing of projects on all common operating systems. The underlying KNX basic software is installed in the ETS Inside device being a part of the installation. This hardware contains also the KNX project and offers a web server for a decoupled user interface. Due to this new concept – in contrast to the Windows based ETS Professional – projects can be edited on tablets and smartphones with diverse operating systems, like e.g. iOS, Android or Windows.
At any time projects created with ETS Inside can be synchronized with ETS Professional, e.g. in order to extend a KNX installation with devices, the topology with some further lines or to use devices requiring very extensive parameterization.
Smart – Finger tap instead of mouse click
The new ETS Inside is suitable for the today commonly used and simply to handle tablets and smartphones. The new user interface organized in a minimalistic way is adapted to the displays of iPads, iPhones, Android tablets, Windows tablets etc. and offers an intelligent design. The flat buttons with easily understandable symbols enable an intuitive operation. Parameterization is very simple even with smartphones because ETS Inside is touch sensitive.
Simple – A Tool for Installers and End Users
Installers and end users benefit from ETS Inside. KNX projects can be realized cost-efficient and in an easy way. It is also possible that a system integrator designs the project with ETS Professional and synchronizes it later on with the Inside device. Thereafter the responsible electrical installer maintains the project for his customer.
A further topic favors ETS Inside: End customers can ask their electrical installer to unblock certain parameters in order to make smaller modifications by themselves at any time. Thus e.g. dimming values, time schedules, light scenes etc. can be modified by themselves and adapted to their own preferences without the need for calling a craftsman.
ETS Inside will be available from October 2016. For each installation a license is required.