Deadline for entries: Friday 4th March 2016
KNX UK is launching its 2015 KNX UK awards scheme today to recognise excellence, product innovation and best practice across residential, commercial and public building projects within the KNX UK community. Winners will be revealed at the association's AGM event, scheduled to take place on April 21 2016 at The British Library, London.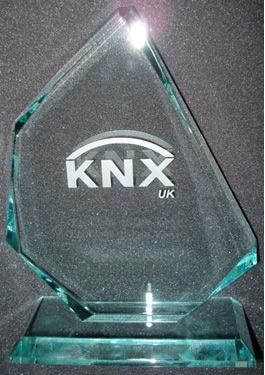 For 2016, KNX UK is unveiling several new and re-aligned categories, bringing the total to seven. The complete list of categories is as follows:
• KNX UK Integrator of the Year
• Residential Installation of the Year
• Commercial Installation of the Year
• Public Sector Project of the Year
• Best Project for a Developer
• KNX Product of the Year
• KNX App of the Year
The scheme is free to enter for all KNX UK members, but non-members will have to pay a £100 entry fee per entry. Deadline for receipt of all entries is Friday 4 March, and to be eligible, projects must have been completed between 1st January 2015 and 31st December 2015.
On the independent judging panel this year will be Yasmin Hashmi, Editor of KNXtoday, Tim McManan Smith, Editor of The Energyst, Paul Doyle, Head of Access, Research and Development at Hereward College, and KNX UK President, Di Stickland.
"This year's awards are bigger and better than ever," commented Di Stickland. "We are delighted to be introducing several new categories to the scheme, further increasing the scope of entries. I am keen to see the ways in which KNX technology has been used by UK members this year to deliver great energy management and integration solutions for clients. We wish everyone entering the best of luck!"
Judges will be looking for the most creative and forward thinking solutions brought to the market, as well as homes and commercial spaces that enhance the client experience through its use of KNX technology. Last year's winners included Great Minster Show Home and Concierge Area by Design Innovation and Siemens Building Technologies' DALI Twin and Twin Plus KNX.
Winners of each category will receive the coveted KNX UK trophy, pride of place on the KNX UK webpage and newsletters, as well as press coverage in trade and consumer titles.
Contact KNX UK Admin on 0845 869 5908 or admin@knxuk.org for an entry form or download from: