Messe Frankfurt and ZVEI launch a strategic partnership
Intersec Forum to be held concurrently with Light + Building 2016, the world's leading trade fair for lighting and building-services technology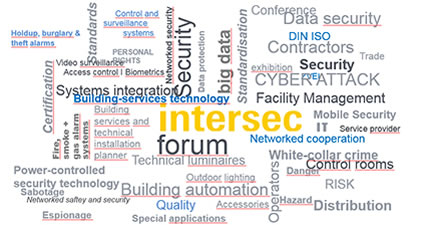 Messe Frankfurt will launch its new Intersec Forum – Smart Security Conference – on 14 and 15 March 2016. The new event is part of Messe Frankfurt's 'Safety + Security' portfolio of eleven successful events held around the globe. Next year, Intersec Forum will be held concurrently with the world's leading trade fair for lighting and building-services technology, Light + Building in Frankfurt am Main.
"With Intersec Forum, we are bringing the expertise gathered outside Germany to Frankfurt where the emphasis will be on the future-oriented networking of different safety and security technologies", says Wolfgang Marzin, Chairman of the Board of Management of Messe Frankfurt, explaining the objective of Intersec Forum. "Intelligent, networked control and monitoring systems for both greater efficiency and optimised safety and security will soon be reality in modern buildings. And that is the thematic starting point of the first Intersec Forum in 2016", adds Wolfgang Marzin.
The cooperation partner of Messe Frankfurt is the German Central Association of Electrical and Information Technology Contractors (Zentralverband Elektrotechnik- und Elektronikindustrie e.V. – ZVEI). "The digitalisation of business and society is proceeding apace. The security of and confidence in technology will decide on whether the great opportunities offered by digitalisation can be used. The ZVEI and the electrical industry are ready to enter into a dialogue – and Intersec Forum is being held at the right time and place", says Dr Klaus Mittelbach, Chairman of the ZVEI Board of Management, explaining his association's decision to cooperate with Messe Frankfurt.
'Security meets Smart Building'– under this motto, Intersec Forum invites planners, electrical technicians, security-system installers, safety officers and other planners, decision-makers and engineers responsible for security, building automation and networking to take a look into the near future. In 2016, Intersec Forum will focus on intelligent building-services technology (smart buildings) and technological trends in the context of networked security technology. Other focal points will highlight standardisation and systems integration.
Smart buildings are one of the areas of application that make similarly active use of innovative technology as, for example, Connected Cars and intelligent power networks (Smart Grid). More and more Light + Building exhibitors are showing developments in this field so that security technology will certainly be one of the main themes at the leading trade fair in the future.
Intersec Forum 2016 concurrently with Light + Building
Holding Intersec Forum at the same time and place as the world's leading trade fair for lighting and building-services technology is purposeful, attractive and synergetic for visitors from the relevant installation, planning, contracting and development segments. Accordingly, Intersec Forum will offer expert lectures and the opportunity to exchange ideas and information in the 'Portalhaus' at Frankfurt Fair and Exhibition Centre, and enable participants to visit exhibitors of Light + Building showing products and services for the field of
current-regulated safety and security technology. Also being planned are guided tours of selected product groups and appropriate exhibitors at Light + Building for participants interested in these fields. Trade-fair access will be particularly attractive for Intersec Forum participants because the coming Light + Building in Frankfurt is set to spotlight the safety and security products as one of its main themes.
The integration, networking and inclusion of safety and security systems, such as video surveillance and access control, in the building-automation technology of smart buildings and smart homes are important aspects of interest to both the industry and users and a broad spectrum of relevant new products and innovations will be on show at Light + Building 2016. Moreover, parts of the complementary programme of events are tailored to these subjects with expert lectures on research, development and practice in the field of safety and security technology. Around 2,500 exhibitors, including all market leaders, have registered for the trade fair from 13 to 18 March 2016.
intersec-forum.messefrankfurt.com/frankfurt/en/besucher/willkommen.html
www.light-building.com