By Frederic Chaussy and Christophe Lavergne, DMC Technology.
CEDIA Expo is a leading trade show in the world of home automation. It is held every year in the USA, and provides an opportunity to see the latest technology, participate in certified training, and benefit from various networking and social opportunities.
The show is run by the Custom Electronic Design and Installation Association (CEDIA), which celebrated its 25th anniversary last year. This year's event took place on October 14-17 at the Kay Bailey Hutchison Convention Center in Dallas, Texas. More than 18,700 attendees and 510 exhibiting companies participated, and CEDIA also conducted 108 training sessions.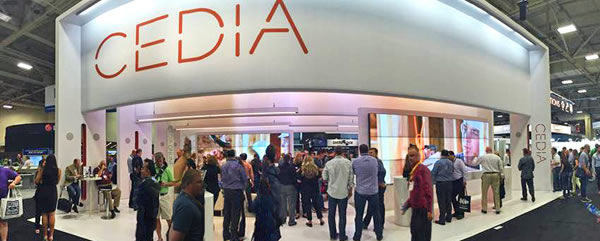 KNX USA was founded in May 2015 by Siemens, DMC Technology and Somfy. DMC Technology opened a new office in Los Angeles, and in cooperation with Siemens, started the first US-based KNX-certified training centre. The main goal of KNX USA and DMC Technology, through its CEO Marc Antoine Micaelli, is to promote KNX as the energy efficiency solution, and this was the main focus at the CEDIA show.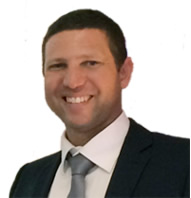 KNX at CEDIA
CEDIA Expo was a great opportunity for KNX USA to strengthen its position in the USA. Its expansion into the US was only announced in May at the LightFair show in New York, so we were pleased to be at CEDIA in full force, just a few months later.
Whilst our main message focused on energy efficiency, especially KNX solutions for LEED certification, CEDIA Expo also gave us the opportunity to create awareness of KNX technology and its possibilities in term of features. We were able to show systems integrators the advantages of an open protocol, and to promote the training that is available in the US as well.
The number of KNX products that are currently available in the USA is growing. Indeed, our stand featured KNX access control solutions from Siedle and Jung, design touchpads from Basalte, multiroom audio from Trivum, light and shade control products from Somfy, keypads from Eelectron and controllers from Siemens. We also presented a new control system solution from Vectorial Automation that is unique to KNX.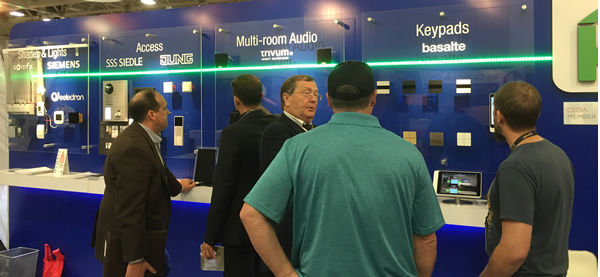 We spoke to at least 150 visitors who came to our stand during the show. The vast majority were systems integrators, and most only had a very basic knowledge about KNX. Questions tended to concentrate on the operating principles behind KNX: how can different manufacturers communicate through a single and unique protocol, what are the main KNX advantages compared with other technologies, and how sensors and actuators can communicate with each other without any central processor. We also spoke with manufacturers such as Control4 and Lutron, who were very interested in finding out more about the system and how it can integrate with their own control solutions.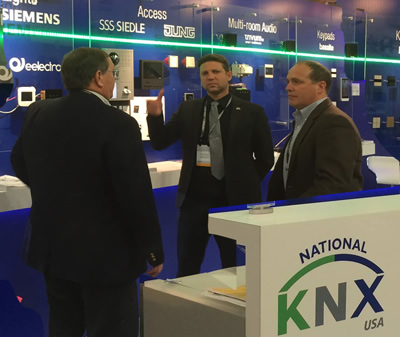 It was also very encouraging that KNX USA was not the only representative of KNX products at the show. In fact, an impressive number of manufacturers such as Basalte, Jung and Siedle, among others, had their own stands and presented many KNX products that are currently available in the US market.
Conclusion
CEDIA has a great reputation in the systems integrator world, and it proved to be a particularly well-organised show, with many participants, both in terms of exhibitors and visitors. To capitalise on the success we had at CEDIA, KNX USA will continue to encourage companies to join and become members of our National Association, and further motivate systems integrators to train and learn about the technology. We will reach out by means of a monthly newsletter, and we will host webinars as well.
In order to help generate interest in KNX in the American market, we intend to be present at Light+Building in Frankfurt in March 2016, as well as LightFair in San Diego April 2016. We also plan to strengthen our communication with the trade press, conduct interviews and release videos of current KNX projects in the US, including residential, commercial, museums, stadiums and more.
KNX has just begun its adventure in the United States, and by the time we go back to CEDIA Expo 2016 (which will, once again, be at the Kay Bailey Hutchison Convention Center in Dallas September 14-17), we hope to have even more exciting KNX projects to talk about!
Frederic Chaussy is the COO and Co-Founder of DMC Technology, a provider of training and technical support to homeowners, builders, and installers. The DMC Training Center promotes, teaches and supports KNX technology in the construction of energy-efficient buildings and homes. Christophe Lavergne is the webmaster for the DMC Technology website, technical moderator of its blog, and a KNX trainer.