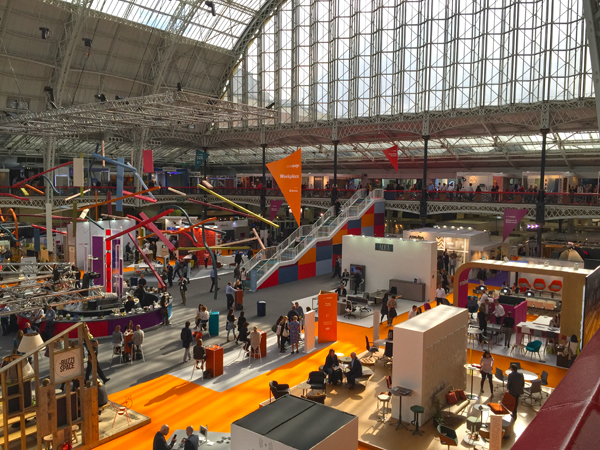 100% Design is the UK's largest design trade event, attracting architects, specifiers and designers. This year, the event was held at the Grand Hall, Olympia London, from 23 – 26 Sept 2015.
There were all kinds of imaginative products and services on show to inspire building professionals, from fabulous flooring, worktop surfaces and furniture, to creative lighting and acoustic materials, plus everything in between. In addition, an increasing amount of building control technology was on show, including many products that support the worldwide standard KNX protocol.
The following is a taster of just some of the KNX technology that was exhibited:
A wide range of products could be found on the Home of Technologies (HoT) stand. These included switches from Tense and CJC; the NETx KNX OPC server that acts as a bridge between KNX and other systems; touchpanels from Divus; and switches, touchpanels, apps, actuators, frames and sockets and hotel HVAC controllers from Eelectron.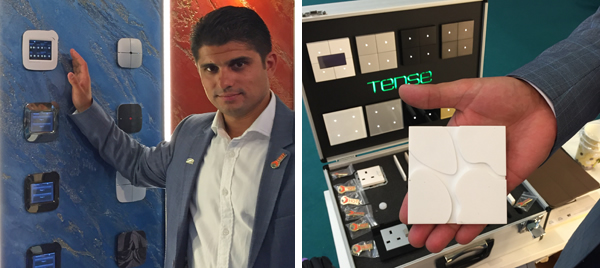 For those interested in integrating multiroom audio with KNX, Jung was showing a KNX gateway to the Sonos music system. Jung controls can be used to operate up to 30 Sonos devices, together with traditional room functions such as lighting, shading and temperature. In addition, music can be played from a microSD card in the KNX Sonos gateway.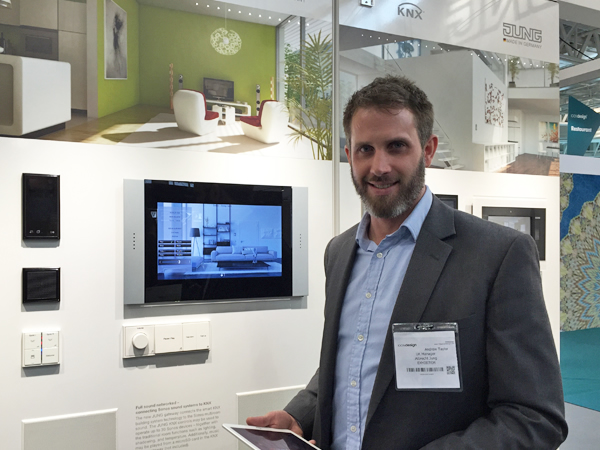 Gira was previewing the new G1 controller that allows all functions to be activated by touching or gesturing on the multitouch display. The G1 operates as the central control unit for an entire building, and in conjunction with the Gira DCS-IP gateway, it can also be used as a home station. The G1 will be launched in Germany in October, and will be available in the UK in Q1 2016.
Also on the Gira stand were new Q-Label smoke detectors that have a permanently-installed battery with a ten-year life, and a new range of presence detectors with paintable bezels. For integrated audio applications, Revox was showing Voxnet on the Gira stand. The system offers multiroom audio up to 24-bit 192kHz quality, that follows you around the home, and a choice of wall controllers and speakers.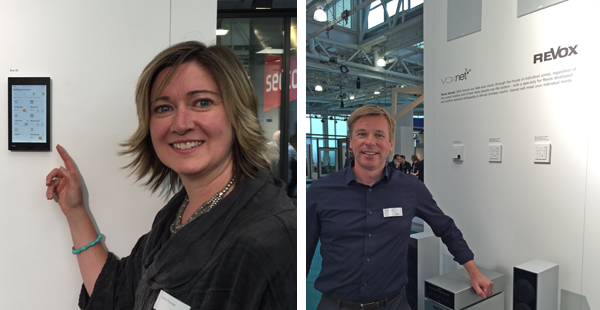 Basalte concentrated on multitouch controllers with a choice of switches in the Sentido range, including various metallic finishes, and a plaster-in switch. Also on show were Deseo thermostats, and the Eve iPad tabletop stand that has discrete connections and cabling.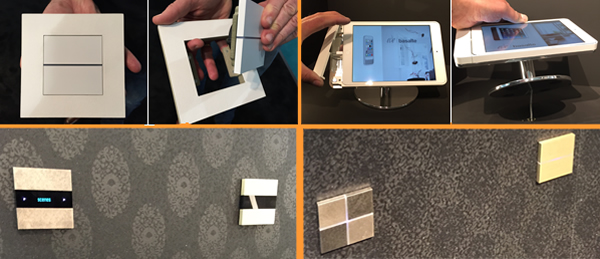 Among the KNX offerings from ABB were comprehensive solutions for hotels, businesses and the home, plus new wall panels to suit the tastes of different markets, and a new presence detector. ABB also launched free@home, an entry-level home control system aimed primarily at electricians and simple MDU installations. While not based on the KNX protocol, it uses the same wiring system, and could therefore be upgraded to KNX at a later date.

Finally, Vimar's expanded KNX offering included its By-Com range of solutions that is suited to any kind of building. Designed to increase performance, comfort and energy savings in order to make buildings more intelligent and increase their value, these automation, security and communication systems are compatible, centralised and interoperable with KNX.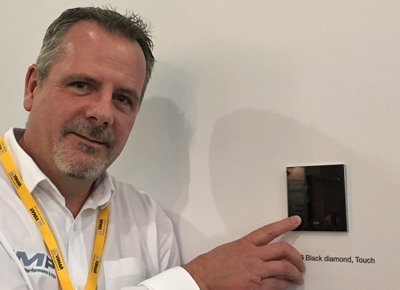 Conclusion
100% Design is a great environment in which to see, try out and discuss a range of KNX technologies with well-informed suppliers, as well as to gain inspiration from the wider breadth of exhibits. It is well worth putting in your diary for next year.