Over 400 industry professionals joined CEDIA (the Custom Electronic Design & Installation Association) on Friday night at the Natural History Museum as it revealed the winners of the tenth annual CEDIA Awards.
The CEDIA Awards celebrates design, installation and integration excellence in the home technology sector. This year, the scheme attracted over 120 impressive entries from 17 different countries, all competing for the best media room, home cinema, integrated home, super yacht and other category prizes. Attendees to this year's landmark Awards were treated to a memorable night of high-class dining, networking and comedy in the awe-inspiring Natural History Museum, featuring the iconic 26-meter Diplodocus, Dippy.
Comedian and modern Renaissance man, Danny Wallace, and writer on Dead Ringers and The Mighty Boosh, hosted the evenings proceedings and presented a total of 17 awards to this year's winning schemes. Alongside the project and showroom categories, Danny also awarded prizes to CEDIA Trade Suppliers competing in Best Innovative Product, Training Initiative and Trade Supplier categories. Journalist Hayley Gilbert secured the media award of the night for the Best Technology Feature, following her article on High-Tech Homes which appeared in the April issue of KBB Magazine. Finally, Peter Aylett received the CEDIA Special Recognition Award for his dedication to CEDIA and the industry.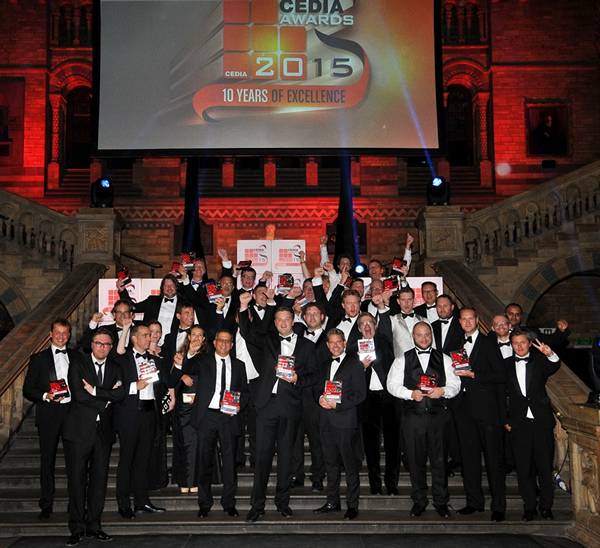 The full list of winning projects is as follows:
Best Media Room under £10k
Winner: H&H Audio Visual Ltd (UK) – Highgate Media Room
Best Media Room over £10k
Winner: New Land Solutions Ltd (UK) – Hidden Cinema
Highly Commended: Kensington Audio Visual (UK) – Vertice
Best Dressed Rack
Winner: Cornflake (UK) – Child's Play
Best Home Cinema under £40k
Winner: The Big Picture (UK) – Leafield House
Best Home Cinema £40k-£100k
Winner: Art Cinema | 3Logic (Poland) – Connoisseur Cinema
Highly Commended: The Big Picture (UK) – Roman Way
Best Home Cinema over £100k
Winner: MACBEE Pvt. Ltd. (India) – The Red Carpet Cinema
Best Lighting Scheme
Winner: Brilliant Lighting (UK) – Lighting a Georgian Townhouse and Mews
Best Yacht Installation
Winner: Archimedia (UAE) – Majesty 122
Highly Commended: Archimedia (UAE) – Majesty 135
Best Showroom
Winner: De Opera Domotica (Netherlands) – Discover Your Senses
Best Custom Solution
Winner: H&H Audio Visual Ltd (UK) – Westbourne Grove Legacy Upgrade
Best Multiple Scheme for a Property Developer
Winner: Grahams (UK) – The Paladio
Highly Commended: Design Innovation (UK) – Great Minster House
Best Integrated Home Under £100K
Winner: Lifestyle Technologies (Cyprus) – Smart Contemporary Living
Highly Commended: Grahams (UK) – London Penthouse 20
Best Integrated Home £100K-£250k
Winner: Woelf (Belgium) – Golf Loft
Highly Commended: SONA (UK) – Project 1047
Best Integrated Home £250k
Winner: Défi Technique SA (Switzerland) – Jewelbox
Best Energy Management Solution
Winner: Défi Technique SA (Switzerland) – Jewelbox
Best Technology Feature
Winner: Hayley Gilbert – KBB Magazine
Best Training Initiative
Winner: Habitech Ltd (UK) – ProNet Training
Highly Commended: AWE (UK) – Foundation Workshop
Best Innovative Product
Winner: Habitech Ltd (UK) – Ihiji Remote Network Management
Highly Commended: Rako Controls (UK) – Rako NFC Walls Panels
Best Trade Supplier
Winner: AWE (UK)
Special Recognition Award
Winner: Peter Aylett
"As a landmark year for the CEDIA Awards, we are delighted with the exceptional quality of this year's entries" comments Wendy Griffiths, Chairman of CEDIA EMEA. "We'd like to congratulate all winners who displayed high quality integration at system and design level, and who have undoubtedly set the benchmark higher for next year's Awards and the industry as a whole. As the most internationally acclaimed industry Awards to date, this year's winners demonstrated inspiring creativity, innovation and supreme excellence in home automation. We would like to thank all companies who have taken the time and effort to enter the CEDIA Awards 2015."
The successful winners and highly commended projects have all been captured in the CEDIA Awards 2015 yearbook. The yearbook celebrates the hard work and creativity put into every project with impressive imagery, project synopsis and kit lists included. The Awards yearbook is available to download from www.cediaawards.org with printed copies also available.
AMX, ELAN, Indigo Distribution, Kaleidescape, LILIN, Origin Acoustics, Pulse Cinemas and Rako all supported this year's event as sponsors. After the ceremony, attendees were invited to continue celebrating the night's events at the lively after party, hosted by Artcoustic, at the Natural History Museum.
For more information on the winning projects, the Awards scheme and CEDIA, visit