CEDIA is celebrating its tenth anniversary of the CEDIA Awards this year, and is pulling out all the stops to mark the occasion, beginning with the announcement that the awards ceremony will be held at the Natural History Museum in London. Guests and award nominees will join CEDIA on the 3rd July 2015 for a mammoth celebration at the tenth CEDIA Awards.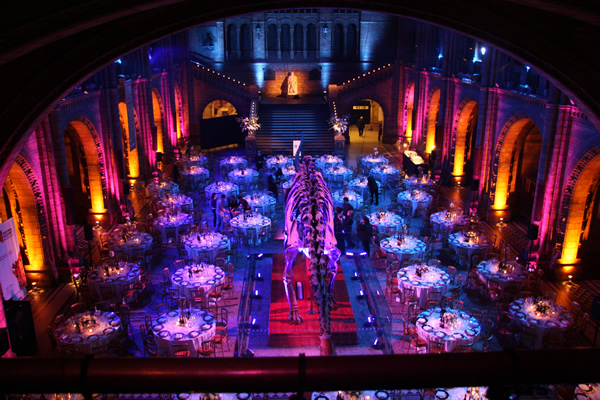 Attendees to this year's CEDIA Awards will walk amongst history's most magnificent animals and natural phenomena, from the skeleton of a dodo to the bones of a killer whale, and not forgetting the iconic 26-meter Diplodocus, otherwise known as Dippy. This world-class visitor attraction and leading science research centre welcomes CEDIA and its guests to be enthralled by the 80 million specimens on display, whilst celebrating the industry's most impressive custom installation projects of 2015.
Now in its tenth year, the prestigious CEDIA Awards will return this July. Standing firmly as one of the most anticipated events in the smart home calendar, the CEDIA Awards recognises and promotes high quality system design, installation and integration within the smart home industry. Since 2006, CEDIA has awarded a total of 121 winners in categories covering Best Integrated Home, Best Yacht Installation and Best Training Initiative. The winners include a mixture of Home Technology Professionals and Trade Suppliers, from countries throughout the EMEA region, including India, Holland, France, Spain, South Africa and Pakistan.
With CEDIA members from across the EMEA region already showing interest in entering this year's award scheme, CEDIA will be welcoming more guests than ever before to the awards ceremony. The night will commence with a drinks reception before moving into the Hintze Hall for the presentation, under the watchful eye of The Natural History Museum's famous dinosaur cast.
"We are excited to have secured the Natural History Museum for this year's CEDIA Awards," says Wendy Griffiths, Executive Director of CEDIA EMEA. "It is always difficult to find a venue that will surpass previous locations which have included The Tower of London and Hampton Court Palace. Following last year's sell-out event at the Royal Naval College, and celebrating the Awards tenth birthday, we were determined to ensure this year's venue was bigger and better than ever before. The Natural History Museum certainly fulfils this endeavour. It is without a doubt, this year's CEDIA Awards will be an unforgettable evening."
Tickets are now on sale for the CEDIA Awards black tie event, including a sit down dinner and drinks. Early bird tickets are priced at £140.00 per person for members and £175.00 per person for non-members. Please visit www.cediaawards.org for further information, including the price for a table of ten guests. The early bird discount is available until 22nd May 2015.