Enthusiastic feedback from the leading brands with approximately 90% exhibition space confirmed
The 12th edition of Guangzhou Electrical Building Technology will be held from 9 – 12 June at Area A, the China Import and Export Fair Complex in Guangzhou, China. To accommodate the growing needs of China's building and smart home industry, electrical engineering as well as building and home automation will be the two major highlights for the 2015 edition.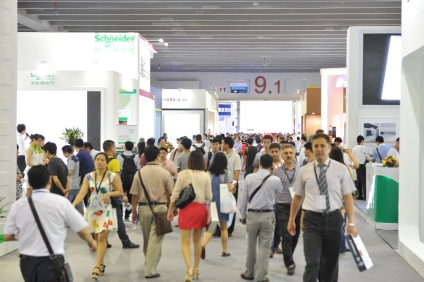 Recognised as Asia's premier platform for building technology, prominent industry players have shown strong confidence towards the show with approximately 90% of exhibition space booked. New and returning exhibitors confirmed for 2015 include ABB (Switzerland), Control4 (the US), DADE (China), DOOYA (China), Echelon (the US), EnOcean Alliance (the US), HDL (China), HEE (China), IISFREE (China), KNX Association (Belgium), Lite-Puter (Taiwan), Murata (Japan), ORVIBO (China), Schneider Electric (France), T&J Electric (the UK), SINGI (China), WAGO (Germany), Wulian (China), Z-Wave Alliance (the US) and others.
Ms Lucia Wong, Deputy General Manager of Messe Frankfurt (Shanghai) Co Ltd commented: "The enthusiastic exhibitor response for the 2015 fair indicates that industry players see great potential in China's evolving building industry, and they value the professionalism of the show. Our goal has always been turning Guangzhou Electrical Building Technology into one of the most specialised and professional exhibition to support China's fast-growing building technologies market. Through the continued support from industry players, I hope to carry this momentum into the 2015 edition and provide a professional platform for both domestic and international building technology and home automation enterprises to seize opportunities in China's lucrative market."
Guangzhou Electric Building Technology receives strong support from international and domestic business associations
In addition to the positive feedback from exhibitors, the support received from industry associations continues to be one of the key factors to the show's success. This year, the fair organiser has already confirmed several new associations to its list of supporters, including the China Smart Home Industry Alliance, the Intelligent Engineering Branch of China Exploration and Design Association, Modern Architecture Electric Magazine, the Asia Pacific Intelligent Green Building Alliance and the Bluetooth Special Interest Group Inc. Other reputable show supporters include:
Building Electricity Magazine Agency
China Hotel Purchasing and Supplying Association
Guangdong Association of Automation
Guangdong Real Estate Association
Intelligent Building Branch of China Construction Industry Association
Asian Institute of Intelligent Buildings
Continental Automated Buildings Association
The Electrical and Electronics Association of Malaysia
EnOcean Alliance
The Federation of Asian and Pacific Electrical Contractors Associations
The Hong Kong Federation of Electrical and Mechanical Contractors Ltd
The Hong Kong Institution of Engineers – Building Services Division
KNX Association
LonMark International
Macau Construction Association
The Macau Institution of Engineers
Taiwan Intelligent Building Association
ZigBee Alliance
Z-Wave Alliance
Furthermore, a comprehensive series of forums and seminars will also be held in conjunction with the fair. These concurrent events allow end-users to connect with field experts for cross-sector business collaborations and exchange ideas to facilitate greater future developments. Some of the highlighted topics include:
– Future trends in China's intelligent building and home automation market
– International intelligent building standards for building control systems
– Latest building automation technology for real estate development
– Internet-of-Things technology and smart home development
– Electrical engineering designs and applications
The 12th edition will be held concurrently with the Guangzhou International Lighting Exhibition. Together, the two fairs will serve as a comprehensive platform for showcasing the latest electrical engineering, lighting, and building and home automation technologies and solutions. A diverse range of visitors are anticipated to join, including energy service providers, power companies, system integrators, architects, designers, contractors and end-users.
Guangzhou Electrical Building Technology is organised by Guangzhou Guangya Messe Frankfurt Co Ltd. The fair is a part of Messe Frankfurt's building and energy shows, headed by the biennial Light + Building event in Frankfurt, Germany which will take place from 13 – 18 March 2016. The show also follows a series of light and building technology events in China, including:
• Beijing International Building Technology Spring 2015
• Guangzhou Electrical Building Technology 9 – 12 June 2015
• Guangzhou International Lighting Exhibition 9 – 12 June 2015
• Shanghai Intelligent Building Technology 23 – 25 September 2015
• Shanghai International Lighting Fair 23 – 25 September 2015
To find out more about these events, please visit