KNX Association, the worldwide STANDARD for home and building control, will be present at the most important Trade Fair for HVAC in Europe, the ISH fair.
The fair will be held in Frankfurt, Germany between the 10th and the 14th of March. On this occasion KNX will have a booth of 150 m².
The focus of the booth is on the KNX City concept and ETS5. KNX City provides on one hand energy efficiency in buildings and on the other hand affects the city in order to make it efficient and sustainable. The solutions focus on the interaction of buildings, energy generation, mobility, and infrastructure. The solutions are:
– KNX Demand Side Management in interaction with the cities utilities
– KNX connectivity solutions in the field of HVAC, White Goods, Electro mobility and conventional building loads for the implementation of a holistic KNX Generation-, Load-, and Tariff management
– Charging solutions for electric vehicles with only renewable energy generations coming from the city or from the building
– KNX Infrastructure solutions which provide an energy management across many buildings over IP and Internet
– Smart Metering Solutions in all fields (Gas, Water, heat, Electricity, special fields) which form the basis for city utilities and sustainable cities
There are also 10 KNX Members, Professionals and training centres presenting their own solutions at various totem points at the KNX booth. These include:
– EMT Controls
– function Technology AS
– ise GmbH
– Siemens AG
– Sinapsi srl
– tci GmbH
– Warema Renkhoff SE
– DIAL
– TÜV International GmbH
– KNX Professionals Germany
In total more than 60 KNX Members will be exhibiting at the ISH 2015 fair: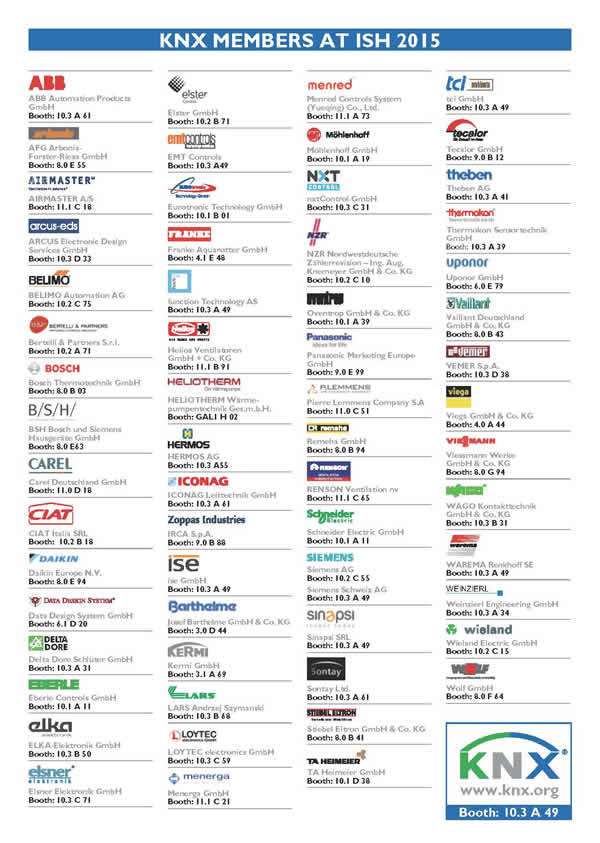 Additionally, a joint-solution between KNX & Opentherm will be shown at the stand.The KNX-OT-Interface serves as an interface between boilers with OpenTherm communication and KNX systems. This enables the bidirectional exchange of data between the OpenTherm boiler and the KNX system.Via OpenTherm, KNX individual room controls can optimize the flow temperature and energy efficiency of a heating system.
Visit us at the booth 10.3 / A49.